The Supreme Court has overturned a High Court judgment which found there were public rights of way to the Lissadell Estate in Co Sligo.
The court found there were no such rights of way, except for a small part of an avenue with access to the coast.
The original High Court case lasted 58 days.
The judgment will have serious implications for Sligo County Council, which had argued there was an inferred dedication of public right of way through decades of public use.
The house was bought by Constance Cassidy and her husband Eddie Walsh in 2003 for around €4m.
The couple spent €9m restoring it and took legal action after the council passed a motion amending the county development plan to include rights of way through the estate.
The family's eldest daughter, Elanor Walsh, said her parents were very happy that the Supreme Court had found public rights of way did not exist, particularly in front of the house.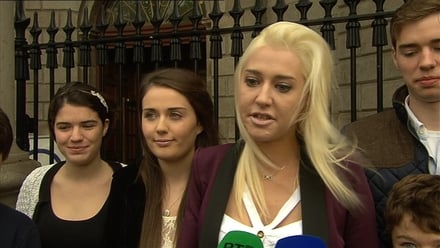 The only right of way recognised by the court, she said, was the right to walk along the seafront by the Alpine Garden which they had always permitted.
She said the last five years had been very difficult for Lissadell and the family and they would now take time to decide what the future would hold.
The house and gardens, which attracted thousands of visitors, are closed.
The costs of the case are estimated at around €7m.
In a statement, Sligo County Council said it was disappointed by the decision, adding the four roadways had been used "extensively by the public for well in excess of 100 years."
The local authority said its overriding concern was to safeguard the public interest.
"Legal opinion advised that there was a 'strong prima facie' case that public rights of way existed and that the council had a statutory obligation to protect such public rights of way.
"The council therefore had no option but to defend the proceedings issued by Mr Walsh and Ms Cassidy."
The local authority said proposals to appoint a mediator had been rejected by the owners who "made it clear that they wanted the issue dealt with by the Courts."
A hearing to decide on costs will be held at a later date.
Sligo County Council is likely to face a substantial bill even if the full costs of the case are not awarded against it.