Authorities in the Philippines grounded air and sea transport and urged fishing boats to return to port, as an approaching super typhoon gathered speed.
Typhoon Haiyan is expected to make landfall early tomorrow between the central islands of Samar and Leyte.
With centre winds of 215km/h and gusts of up to 250km/h, the storm, rated as category five, the most severe, was moving west-northwest at 33km/h in the Pacific Ocean.
President Benigno Aquino appealed to citizens to evacuate danger zones.
He said 100 coastal areas face the threat of storm surges, bringing waves higher than five or six metres and ordered action by local officials to limit damage and loss of lives.
Thousands of residents were moved from coastlines, riverbanks, and mountain slopes to safer spots, while military transport vehicles were put on standby.
Strong winds and heavy rain buffeted areas in the path of the storm, as the state weather bureau raised alert levels in more than 20 parts of the central Philippines.
The coast guard suspended ferry operations, ordered a halt to fishing and warned deep-sea fishing boats to seek shelter or return to port.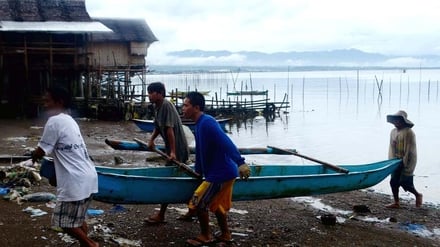 Carrier Cebu Pacific announced the suspension of more than 100 local flights.
Hospitals were put on alert, with schools and some offices shut and power and communication lines turned off for safety.
Officials used bullhorns to urge residents of coastal and upland villages to move to safer areas, as trees were trimmed and boats dragged to shore.
The state weather bureau raised storm alert to level 4 on the coconut-growing islands of Samar and Leyte.
Officials in 12 more central provinces also began stockpiling food, water and relief supplies.
An estimated ten million people face disruption from typhoon Haiyan, say international relief agencies that are stepping up operations to tackle the storm.
"The humanitarian impact of Haiyan threatens to be colossal, not only in areas directly in its path, but also for nearby islands such as Bohol," said Patrick Fuller of the International Federation of Red cross and Red Crescent Societies.
Particularly vulnerable, he added, were thousands of people living in makeshift shelters on Bohol after a magnitude 7.2 earthquake last month that killed more than 200 people and displaced thousands.
An average of 20 typhoons hit the Philippines every year.
In 2011, typhoon Washi killed 1,200 people, displaced 300,000 and destroyed more than 10,000 homes.
In September, another category-five storm, typhoon Usagi, with central winds of 205km/h and gusts of up to 240km/h, battered the northern island of Batanes before causing damage in southern China.
Bopha, last year's strongest storm, flattened three coastal towns on the southern island of Mindanao, killing 1,100 people and wreaking damage estimated at $1.04bn.