The death toll from an earthquake in the Philippines has risen to 144 as rescuers dug through the rubble of collapsed buildings.
Nearly three million people were affected by yesterday's 7.2 magnitude quake, which caused landslides and widespread damage to infrastructure in the tourist destinations of Bohol island and the nearby Cebu islands.
The number of injured rose towards 300, with at least 23 people missing.
The national disaster agency said at least 134 of the dead were on Bohol island, 630km south of the capital, Manila, which took the brunt of the earthquake.
Officials fear the toll will rise as communications with remote areas are re-established.
Mobile phone links from the country's main provider have been restored but a rival provider still has to fix some of its damaged equipment, a state telecommunications official said.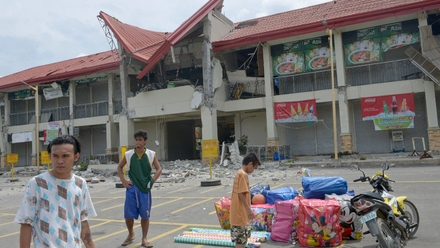 Many of the millions hit by the quake spent the night outdoors, including patients at some hospitals, because of aftershocks.
More than 840 aftershocks have been recorded, with one of magnitude 5.1.
Officials said most of 23 damaged bridges in Bohol were impassable and five roads were closed. 17 churches suffered irreparable damage to their old coral-stone structures.
Ferry and airline services have resumed despite damage to ports and airports in Bohol and Cebu.
The air force was flying 11 tonnes of relief supplies to Bohol, a military spokesman said.
President Benigno Aquino, who made an inspection by air of quake-hit areas, warned of stiff penalties for profiteers exploiting the disaster.
The government has declared a state of calamity in both Bohol and Cebu, triggering a freeze on prices there.
Tourism has also been hurt.
The country's tourism office said it had seen about 1,000 cancellations to Bohol and Cebu by tourists from South Korea.