335 new jobs are to be created in Ireland by nine US and European technology companies.
The announcement was made by the IDA as thousands of technology leaders attended this year's Web Summit in Dublin.
Earlier trading on the NASDAQ stock exchange was opened in Ireland for the first time ever as part of the event.
Taoiseach Enda Kenny and the NASDAQ's executive vice president Bruce Aust opened the stock market live on stage at the summit at Dublin's RDS.
The event marked the first time that the NASDAQ bell had been rung in Ireland and it was witnessed by 10,000 attendees, the conference's largest audience to date.
"Ringing the NASDAQ bell from Dublin is symbolic of Ireland's prime position as a hub of digital enterprise and innovation," said the Taoiseach.
"Ireland continues to be a global magnet for tech start-ups and I'm confident they will play a large part in shaping the future of the internet."
Paddy Cosgrave, the founder of the Dublin Web Summit, said hundreds of jobs have been created through the showcasing of Dublin and Ireland through the summit.
"It is important to us that we support Enterprise Ireland and IDA Ireland in promoting Irish companies and Ireland as an investment location," he said.
Almost 10,000 technology leaders have converged on the RDS in Dublin for the two-day conference, which will see more than 60 events take place across the city.
Just a few hundred people attended the first Web Summit three years ago.
One of the most high-profile attendees is serial tech entrepreneur Elon Musk, who founded PayPal, electric car maker Tesla and space exploration company SpaceX. But there is also a strong focus on smaller start-up companies.
More than 300 people will address the summit and the organisers estimate €24m will be spent in Ireland as a result of the two-day event.
The main event will be accompanied by a night summit arts and music festival and a food summit, which is a showcase of Irish food production.
Nest to create Irish jobs
The man widely credited for developing the iPod for Apple has told RTÉ News that his new company is to establish an office in Ireland.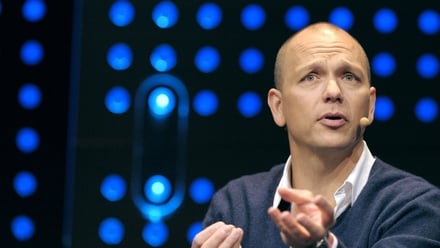 Tony Fadell, CEO of Nest, declined to confirm how many jobs would be created, but said initially it would be "in the tens".
US-based company Nest designs and manufacturers smart thermostats and smoke and carbon monoxide alarms for the home.
Mr Fadell said the initial positions will be in areas such as product localisation, support and logistics.
However, he said the company is currently deciding where to locate its sales and marketing team for Europe and that most likely it will be based in Ireland.
Mr Fadell said the decision followed advice he had received from a large number of people who had recommended Ireland as a place to do business.
He said his decision was influenced by seeing the likes of Google and Facebook had located in Ireland.