The Dáil has passed the Social Welfare and Pensions Bill after 77 TDs voted for the cuts and changes in the bill while 46 opposed it.
Throughout the day the Government comfortably won a series of votes on some of the most controversial parts of last week's Budget.
These included the scrapping of the bereavement grant, cuts to maternity benefit and illness pay, and a reduction in dole for new claimants aged under 26.
The change to Job Seeker's payments was described by independent TD Stephen Donnelly as illegal and wrong.
Fellow independent td Mick Wallace said young people do not have a prayer of surviving on the reduced payments.
He warned many will be forced to emigrate while those who stay at home will end up in poverty.
Minister for Social Protection Joan Burton promised to invest multiples of the savings achieved from this change in training for young people.
Ms Burton added that the Government has ambitions for young people and does not want to see them "signing on" indefinitely.
The cut was passed at committee stage by a margin of 79 votes to 44 after an electronic vote.
A further walk-through vote demanded by TD Stephen Donnelly resulted in 76 TDs backing the cuts while 44 again opposed it.
Earlier, the Dáil passed the abolition of the bereavement grant by 77 votes to 43.
Sinn Féin's Aengus Ó Snodaigh said the Government is now engaged in cradle-to-the-grave austerity.
Ms Burton insisted that her department still provides a significant amount of supports for bereaved families.
Former minister Lucinda Creighton voted for the bill, while Róisín Shortall, another former junior minister in the Government, voted against the bill.
The bill will now be debated in the Seanad the week after next.
Demonstration against maternity cuts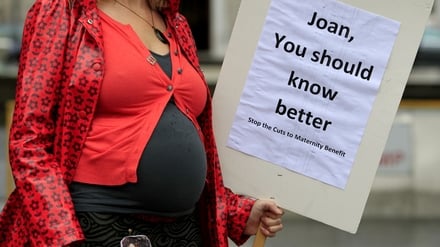 Earlier, there was a small protest outside Leinster House objecting to the cuts to maternity benefit contained in the bill.
Ms Creighton said the cut in maternity payments will mean many mothers will have to return to work early.
She said it discriminates against women who are currently pregnant because they are going to suffer a loss of €800 they had not planned for.
The Dublin South East TD said the date of the cut should be postponed until April for these women.
Richard Boyd Barrett of the United Left Alliance said the cut was an attack not just on mothers, but on children too.
He said that having children is now an option for the rich, but a less viable one for the less well-off.
Fianna Fáil's Willie O'Dea said taxes and cuts to maternity benefit combined with reductions to child benefit payments have resulted in overall drop of €3,500 to mothers in recent years.
Ms Burton said maternity benefit is paid out of the social insurance fund and there is a serious deficit in that fund because of unemployment.