President Michael D Higgins has addressed a key Mexican business summit in the city of Guadalajara. 
President Higgins was the first European head of state to address the annual event, which attracts over 800 senior business figures from the region.
Soccer legend Pele was among those attending this year's conference.
In his speech President Higgins said that Ireland is emerging from its economic crisis steadily and with determination.
But he warned against returning to the failed economic path of reckless speculation and bubble economics.
He said Ireland needed a sustainable model of nurturing talent and creating goods and services in an enduring way.
The president made the one-hour journey to Guadalajara on a Mexican presidential jet.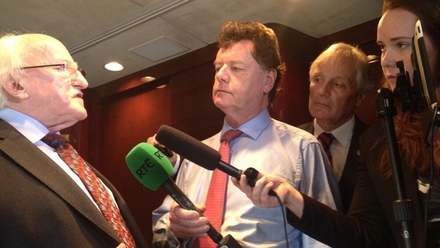 Speaking to RTÉ on the aircraft, Mr Higgins said the business summit was an opportunity to highlight the recovery in the Irish economy, which he said was emerging slowly from recession.
He described what had gone before as having been a fictional economy that was based on a flow of products that were very often virtual and which had flowed from what he called the release of regulation in a very undisciplined way. 
Mexico is Ireland's 19th largest trading partner and a key part of President Higgins's visit is increasing the billion euro trade figure.
Enterprise Ireland is already targeting ICT financial services education and the pharmaceutical sector is offering particular opportunities.
Minister of State Joe Costello is also attending the Mexican Business Summit, which has been described as the Davos of Latin America.
They will present the message that Ireland's economic recovery presents Latin America with a real opportunity to access European markets.