Minister for Public Expenditure and Reform Brendan Howlin has said substantial progress has been made at a special pre-Budget Cabinet meeting.
He said the framework of the Budget was taking shape, but that some individual measures were still under discussion.
The minister added that very substantial progress had been made in relation to the budget at the Department of Health.
Mr Howlin said he had been speaking to Minister for Health James Reilly last night, at Cabinet this morning and would be holding further discussions with him later today.
The Cabinet is scheduled to meet again on Sunday evening in the run-up to the Budget on Tuesday.
It is understood the Department of Finance is at an advanced stage in finalising tax measures.
The White Paper on expenditure and receipts will be published at midnight.
It will set out the estimated spending and tax receipts for this year.
It will also provide estimates for next year, but they will not take the Budget into account.
The Fine Gael party conference has opened in Limerick against the backdrop of Budget discussions.
Speaking as he arrived at this morning's meeting, Taoiseach Enda Kenny said the Government is trying to put together the fairest and most equitable Budget it can.
He said that there was still much work to do and tough decisions to be made.
Minister for Finance Michael Noonan earlier said he had a list of taxation options drawn up and would present them to other ministers.
Donnelly calls for €2.2bn adjustment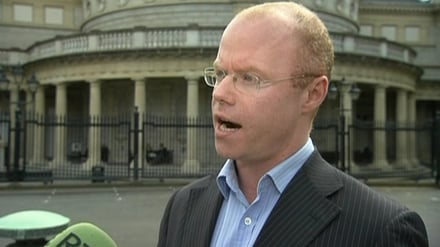 Meanwhile, Independent TD Stephen Donnelly has claimed that the Troika target for next year can be met without any of the Government's planned budgetary measures.
In his pre-Budget submission, Mr Donnelly said the Government should nonetheless aim for a significant reduction in its deficit through targeted tax measures and improved delivery of services.
The Wicklow TD said there should be an adjustment package of €2.2bn, which would be directed at education, helping families and job creation.
Mr Donnelly proposes an online gambling tax, a junk food tax and cutbacks in existing tax breaks.
He said Local Property Tax should be levied on the net value of a home and there should be an extension of the free childcare scheme, as well as changes that would see childcare being made tax deductible.
He is proposing to recoup the €1.1bn pension top up which AIB benefitted from and to spend those funds on innovation and job creation.
Mr Donnelly maintains these changes would yield a budget deficit of 4.5%, exceeding the Troika target of 5.1%.