Microblogging website Twitter is to double the number of employees at its Dublin office to 200 by the end of next year.
The announcement was made as the company marked the second anniversary of the opening of its European headquarters in Dublin.
The company currently employs 100 staff at its new Pearse Street offices.
Managing Director Stephen McIntyre said the company had a positive experience in finding specialised and experienced staff to fill vacancies, as had other social media companies with a presence in Ireland.
The new jobs will be in a variety of business areas, including sales, legal, HR, finance, marketing, engineering and user services.
Recruitment for the first 30 of the new positions has already begun.
Twitter has more than 200 million active users around the world, with more than 500 million tweets sent daily.
The Twitter service is available in more than 30 languages, with 70% of its users based outside the US.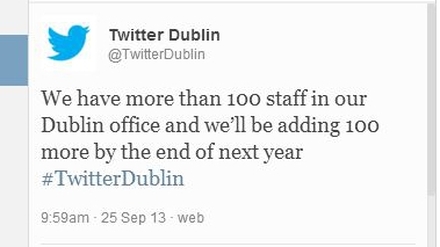 Earlier this month, the company announced it is to sell its shares on the stock market.
The announcement has been welcomed by the IDA.
Minister for Jobs, Enterprise and Innovation Richard Bruton also welcomed the news.
He said: "ICT is a key sector targeted in the Government's Action Plan for Jobs, and in recent years we have seen significant jobs growth in the area as world-leading internet companies decide to establish and expand operations in Ireland.
"Twitter is one of the biggest names on the internet and one of the fastest-growing companies in the world.
"Twitter's decision in 2011 to establish its European HQ in Dublin was a major coup for Ireland and further confirmation of our status as the internet capital of Europe."