A state of emergency has been declared after a fire destroyed businesses and a boardwalk in a New Jersey town still recovering from Superstorm Sandy.
A late-night rainstorm brought relief to around 400 firefighters struggling to contain the wind-driven flames from the blaze, which began in a custard shop in Seaside Park.
Part of the town's boardwalk was torn up and a six metre trench was dug to keep flames from spreading through the close-packed buildings.
Police chief Francis Larkin said the fire would not be "100% contained" until today.
He added that "hot spots" in buildings were slowing containment, at which point flames were not likely to spread.
Seaside Park's Town Administrator Robert Martucci said the fire started in a frozen-custard shop around 2.15pm (7.15pm Irish time) and was fanned by winds of up to 65km/h.
Governor Chris Christie declared a state of emergency and said that about 20 businesses had been affected.
The cause of the fire was unknown, and there were some minor injuries, he said.
The town's mayor said the blaze had destroyed a total of six blocks of businesses in Seaside Park and Seaside Heights, the town's northern neighbour, both of which were badly damaged during Sandy in October 2012.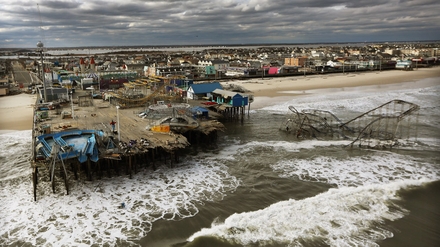 Seaside Park is less than 3.2km from the carnival rides and better-known boardwalk of Seaside Heights, where MTV's reality show Jersey Shore is filmed.
Seaside Heights' partly submerged Jet Star roller coaster became one of the most famous images of the damage from the giant storm.
Sandy, the second-costliest storm in US history after Hurricane Katrina, devastated the New Jersey coast and damaged its tourism industry.
The storm took a heavy toll on Seaside Park, a town of about 2,200 people, destroying about 45 metres of its boardwalk and its Funtown Pier.
A second pier was reduced to twisted wreckage.
Mr Christie said the water infrastructure was still being repaired from Sandy damage and firefighters were forced to run hoses to nearby Barnegat Bay for water.