UN human rights investigators have said Syrian government forces and opposition forces have committed war crimes.
They said government forces had massacred civilians, bombed hospitals and committed other war crimes in widespread attacks to recapture territory from rebels this year.
Opposition forces, including Islamist foreign fighters, are said to have been involved in executions, hostage-taking and shelling of civilian neighbourhoods.
The investigators' latest report covers the period of 15 May to 15 July.
Paulo Pinheiro of Brazil, who leads the UN commission of inquiry, said: "The perpetrators of these violations and crimes, on all sides, act in defiance of international law.
"They do not fear accountability. Referral to justice is imperative."
The independent experts said they had received allegations about the use of chemical weapons "predominantly by government forces".
They added: "On the evidence currently available, it was not possible to reach a finding about the chemical agents used, their delivery systems or the perpetrators. Investigations are ongoing."
The team of about 20 investigators carried out 258 interviews with refugees, defectors and others in the region and in Geneva, including via Skype, for their 11th report in two years.
They have never been allowed into Syria despite repeated requests.
The report called for a political solution to Syria's civil war and urged other states to "stop weapons transfers in view of the clear risk that they will be used to commit serious violations of international law".
Obama calls off Senate vote on Syria action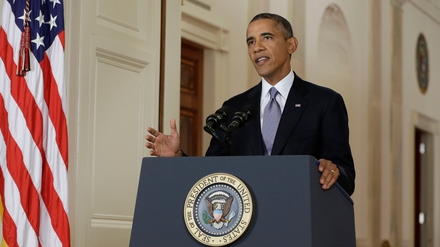 US President Barack Obama has vowed to pursue a diplomatic initiative from Russia over Syria's chemical weapons.
However, in a live address from the White House, he again voiced scepticism and urged Americans to support the use of military force.
Mr Obama said the Russian offer to push Syrian President Bashar al-Assad to place chemical weapons under international control offered the possibility of heading off the type of limited military strike he is considering against Syria.
He said US and Russian officials would keep talking about the initiative and he would discuss it with his Russian counterpart Vladimir Putin.
Mr Obama said he has asked the US Senate to put off a vote on his request for an authorisation of military force to let the diplomacy play out.
He set no timetables for action, but said any deal with President Assad would require verification that he keeps his word.
President Obama added that any agreement must verify that the Assad regime honours its commitments.
But this initiative, he said, has the potential to remove the threat of chemical weapons without the use of force, particularly because Russia is one of President Assad's strongest allies.
Mr Obama has faced stiff resistance in Congress to any military action and politicians on both sides of the issue were quick to seize on the Russian proposal as a possible way out, despite scepticism about its eventual success.
President Obama used much of his speech to lay out the case against Syria, saying there was plenty of evidence showing that the Syrian government was behind the 21 August chemical weapons attack that killed 1,429 people, including more than 400 children.
He argued that Syria should face consequences for using such weapons because much of the world has long since adopted a ban on chemical weapons and that if the civilised world does nothing to respond, it will only embolden US adversaries.
Mr Obama warned that US Navy ships in the eastern Mediterranean and other forces in the region are in place and ready to respond should diplomacy fail.
Meanwhile, an initial French draft UN Security Council resolution demands that Syria make a complete declaration of its chemical weapons programme within 15 days.
It also calls for Syria to immediately open all related sites to UN inspectors or face possible punitive measures.
The French draft comes in response to a Russian plan, announced on Monday, for Syria to hand over its chemical weapons to international control in order to avoid a US military strike.
Syria has said it accepts the Russian plan.