US President Barack Obama, seeking to boost support for military action against Syria, said that Russia's offer to work with Damascus to put its chemical weapons under international control is potentially positive but should treated sceptically.
"I think you have to take it with a grain of salt initially," he told NBC Nightly News in an interview.
"This represents a potentially positive development," he said, adding that Secretary of State John Kerry would explore with Russia how serious the offer is.
Mr Obama was speaking in one of six television interviews he gave to make his case that Congress should grant him authority to take action against Syria in response to an alleged 21 August chemical weapons attack that killed more than 1,400 people.
The White House has said it will closely examine Russia's offer to work with Syria to put its chemical weapons under international control but the US Congress should still back military action to keep pressure on Damascus.
"We want to take a hard look at the proposal," deputy national security advisor Tony Blinken told reporters.
"We'll obviously discuss the idea with the Russians. And, of course, we would welcome a decision and action by Syria to give up its chemical weapons."
US Senate Majority Leader Harry Reid has abruptly backed off plans to schedule a test vote on Wednesday on a White House-backed resolution to authorise military strikes against Syria.
Just hours after saying he wanted the much-anticipated vote on Wednesday, Reid returned to the Senate to nix those plans.
Aides said matters were fluid, particularly with Russia now trying to help find a way to avoid U.S. military force. They said a vote was still likely later in the week.
Meanwhile, Britain's Prime Minister David Cameron says Syria should be encouraged to put its chemical weapons beyond use under international supervision.
US Secretary of State John Kerry said earlier today that Syrian President Bashar al-Assad could avoid an American military strike by surrendering all his chemical weapons within a week, but immediately made clear he was not making a serious offer.
Mr Assad has said any repercussions if the US targets Syria with military strikes "may take different forms," including "direct and indirect" effects.
He was speaking in an interview with CBS News.
Mr Assad said that in addition to direct responses, indirect impacts could include "instability and the spread of terrorism all over the region that will influence the West directly."
"We have to expect the worst," Mr Assad added in the interview.
The president, who said Syria opposes the use of chemical weapons, also said that any strikes would boost the al-Qaeda offshoot in his country. "It's going to be direct support," he said.
The Russian and Syrian foreign ministers have urged the US to focus on convening a peace conference to end more than two years of conflict instead of taking military action against Damascus.
After talks between the countries' ministers in Moscow, Syrian Foreign Minister Walid al-Moualem suggested an alleged chemical attack was a pretext to encourage military intervention.
"We are in Moscow at a time when the war drums are being beaten, the war drums of the government of the United States," he said.
Mr Moualem questioned US motives in Syria and accused President Barack Obama of backing Islamist extremists, apparently drawing comparisons with the attacks on the US on 11 September 2001.
"We are asking ourselves how Obama can ... support those who in their time blew up the World Trade Center in New York."
Russian Foreign Minister Sergei Lavrov, whose country says it believes the attack was carried out by rebels, warned that US strikes on Syria could lead to the spread of terrorism.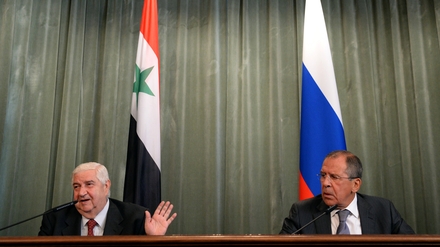 President Obama prepares for TV address
Elsewhere, President Obama is to make a concerted effort this week to win support from Congress and the wider American public for military action against Syria.
He will conduct a round of television interviews today and make a televised address from the White House tomorrow.
White House Chief of Staff Denis McDonough suggested that the speech will repeat points Mr Obama has already made several times.
"What he'll tell the country is what this is, which is a targeted, limited, consequential" use of military force, Mr McDonough said.
"He'll also tell the country what this is not. This is not Iraq. This is not Afghanistan. This is not an extended air campaign like Libya."
The Republican Chairman of the House intelligence committee has said White House efforts to convince Congress to back military action against Syria are failing.
Mike Rogers told CBS's Face the Nation that the White House had made a "confusing mess" of the Syria issue.
Congress will be in session today for the first time since the August recess.
Reid sets US Senate test vote on Wednesday
US Senate Democratic Leader Harry Reid has set a test vote for later this week on the resolution to authorise military strikes against Syria.
Mr Reid said the Senate will vote on Wednesday on whether to begin consideration of a bipartisan use-of-force resolution, which will need 60 votes in the 100-member chamber to clear anticipated procedural roadblocks.
At this point, it is uncertain if the measure will attract such backing.
In urging support, Mr Reid said, "Sitting on the sidelines isn't what made the United States of America the greatest nation in the world in years past and ... sitting on the sidelines won't make us a better nation tomorrow."
The House of Representatives could take up the issue later this week or next.