A US intelligence report has said that 1,429 people were killed in a chemical weapons attack in Damascus, including at least 426 children.
US Secretary of State John Kerry said the US government knows the Syrian government has used chemical weapons multiple times this year.
He said Syrian regime elements were in the area before the 21 August attack and were told to wear protective masks.
Mr Kerry said the US also knows that a senior Syrian government official confirmed the use of chemical weapons.
According to the report, intercepted communications showed that another senior Syrian official was concerned that UN inspectors might obtain evidence of the chemical attack.
The report said a scenario in which Syrian opposition elements executed the attack was "highly unlikely".
Mr Kerry said the UN inspectors cannot tell the US anything it does not already know about the attack and the rockets came only from "government sites".
The Secretary of State, who called Syrian President Bashar al-Assad a "thug and a murderer", said the US will act on its own timeline in relation to action against Syria.
However, he stated that anything the US does will not be open-ended and it will not assume responsibility for the civil war.
Mr Kerry said it was essential not to let Syria get away with the attack, partly as a sign to those who might consider using chemical weapons in the future.
He said the US was joined by allies including France, "our oldest ally," in its determination to act.
"It matters here if nothing is done," Mr Kerry said in a statement delivered at the State Department.
He said that if Mr Assad can gas thousands of his own people with impunity,"it would be an example to others", such as, he said, Iran, Hezbollah and North Korea.
"Will they remember that the Assad regime was stopped from those weapons' current or future use? Or will they remember that the world stood aside and created impunity?" Mr Kerry said.
In response, Syria said the claims that it has used chemical weapons were "lies and baseless".
The Syrian foreign ministry said in a statement that Mr Kerry's charges were a "desperate attempt" to justify a military strike.
US President Barack Obama once again said chemical weapons use in Syria threatens US national security.
Speaking after Mr Kerry's statement, Mr Obama said he had not made a final decision on a response to the attack, but was looking at limited action rather than an open-ended commitment.
He said Syria's use of chemical weapons is a challenge to the world and threatens US allies, such as Israel and Jordan.
The President said no-one is more "war weary" than he is, but the US must be willing to safeguard international norms.
He said the UN Security Council has shown an "incapacity" to act in the face of a clear violation of international norms in Syria, and if there is no action on chemical weapons, it sends a signal that such norms have no meaning.
President Obama discussed the situation in phone calls with British Prime Minister David Cameron and French President Francois Hollande.
UN experts finish inspections in Damascus
United Nations chemical weapons inspectors finished their work in Syria on the outskirts of Damascus today.
Inspectors spoke to doctors at a hospital in a government-held area of the capital and collected more samples for analysis.
A UN spokesman said they are trying to expedite the analysis of the samples collected over the past week, but they must maintain their scientific integrity.
Martin Nesirky said it is unclear how long it will take to complete the analysis of the samples.
The experts will leave the country early tomorrow morning.
They will report to UN Secretary-General Ban Ki-moon with their findings, which will be considered by the Security Council.
It has been reported that Mr Ban told the five permanent Security Council members that it may be two weeks before for final results are ready.
France supports firm action on Syria
The French President earlier said he supports firm action to sanction President Assad's government.
Mr Hollande said last week's chemical attack caused irreparable harm to the Syrian people and must not go unpunished.
He said all options are on the table for an intervention in Syria.
The British parliamentary vote against taking military action would not affect France's will to act, he added.
Speaking to Le Monde newspaper, he said he would not take any decision to act unless the conditions were there to justify that.
His comments come after the US said it would continue to seek out an international coalition to act together on Syria.
Britain votes down Syria action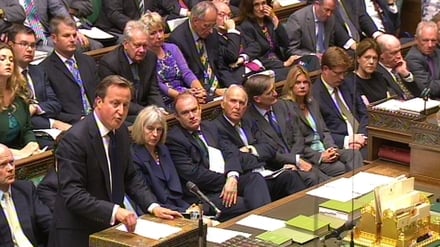 Following British parliament's vote against military action in Syria, Defence Secretary Philip Hammond said Britain would not take part in any strike.
However, he added: "I don't expect that the lack of British participation will stop any action."
The British government motion was defeated by 13 votes in what was a major blow to Mr Cameron.