A court in Egypt has ordered the release of former president Hosni Mubarak.
The court convened at the Cairo prison where Mubarak is being held to review a petition from his lawyer demanding that he be freed.
The lawyer said the former president could be freed tomorrow.
Mubarak, 85, is being retried on charges of complicity in the killing of protesters in 2011.
He was sentenced to life in prison last year for failing to prevent the killing of demonstrators. But a court accepted his appeal earlier this year and ordered a retrial.
Mubarak will be put under house arrest, the prime minister's office said.
Elsewhere, Tánaiste and Minister for Foreign Affairs Eamon Gilmore has said he is "concerned" at media reports that four Irish citizens may be facing serious charges following their detention by Egyptian authorities.
Mr Gilmore was speaking as he arrived at an emergency meeting of European Union foreign ministers on the crisis in Egypt.
However, he said he had no information confirming these reports.
Mr Gilmore said the Government's main interest was the welfare of the Halawa siblings in Cairo.
EU foreign ministers condemn violence
The ministers have agreed to suspend the export of any equipment that might be used by the Egyptian military regime in the repression of opposition activists.
They also agreed to review billions of euro in aid to Egypt, although funding of civil society and non-governmental organisations will continue.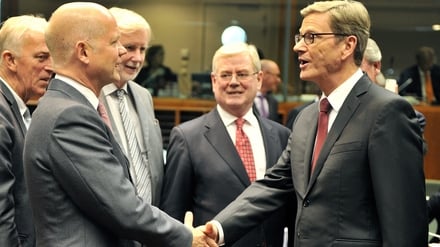 In a statement, ministers accused the military regime of disproportionate force in the killing of hundreds of Muslim Brotherhood supporters.
They also strongly condemned the murder of Egyptian policemen in Sinai and attacks on the country's Christian community.
The ministers called for a national dialogue on the country's future that would include all parties, so long as they made a commitment to non-violence.
There is still a strong hope that the EU's High Representative for Foreign Affairs Catherine Ashton will be in a position to mediate between all sides if and when the situation is stabilised.
Europe is clearly banking on the hope that the regime will not want to turn its back on its largest trading partner and potentially billions of euro in aid.
Europe, along with other international actors, pledged €5 billion in support of the government of the now deposed president Mohammed Mursi last November as part of the general response to the Arab Spring.
Most of that funding was conditional on democratic reforms being implemented. The more progress Egypt made towards democracy, the more funding would flow from the EU.
Very little of the €5bn was released. Any funds that have been paid out have gone directly to civil society, health or educational projects, and not to the regime.
In July, Ms Ashton became the first foreign official to meet Mr Mursi after he was deposed by the army, taken into detention and placed under investigation on charges including murder.
The EU's subsequent mediation efforts, conducted jointly with the US, collapsed earlier in August. Several days later, government forces killed hundreds of Mursi's supporters during a crackdown on protest camps.
She has told Egyptian authorities she is willing to go back to mediate.
The EU may not have much leverage over the Egyptian military, but it can still talk to all sides, while all are suspicious of the US.