The spiritual leader of the Muslim Brotherhood has been arrested in Cairo.
Mohamed Badie, 70, had been in hiding as interim authorities in Egypt try to suppress protests at the ousting of president Mohammed Mursi.
The Interior Ministry's Facebook page showed a picture of Mr Badie sitting in a car between two men in black body armour, with a caption confirming his arrest.
Mr Badie was charged in July with inciting the murder of protesters.
Together with his two deputies, he is due to stand trial on 25 August.
Interior Minister Mohamed Ibrahim told the Al Masry Al Youm newspaper that Mr Badie was arrested in the early hours of this morning.
The Brotherhood condemned the detention of Mr Badie, whose 38-year-old son was killed on Friday in Cairo.
"When the hand of oppression extends to arrest this important symbol, that means the military coup has used up everything in its pocket and is readying to depart," it said.
The state news agency said Mr Badie was taken to Tora prison on the southern outskirts of Cairo, where other Brotherhood leaders are held.
The military removed Mr Mursi from power on 3 July after mass protests against his rule.
Mr Mursi, who was freely elected but alienated many Egyptians during his year in power, is in detention at an undisclosed location.
Egypt's public prosecutor pressed new charges against him of inciting violence in a move coinciding with a court ruling yesterday that former president Hosni Mubarak can no longer be held on a corruption charge.
Mr Mursi was already facing an investigation into accusations stemming from his escape from prison during the anti-Mubarak revolt.
These include murder and conspiring with the Palestinian Islamist group Hamas.
Almost 900 people, including more than 100 soldiers and police, have been killed since the authorities forcibly dispersed Muslim Brotherhood sit-ins in Cairo last Wednesday.
European Union foreign ministers will hold an emergency meeting in Brussels tomorrow to discuss how to force Egypt's army-backed government into seeking a peaceful compromise.
Egypt began three days of official mourning for 25 policemen killed yesterday by suspected Islamist militants in the Sinai near the desert border with Israel.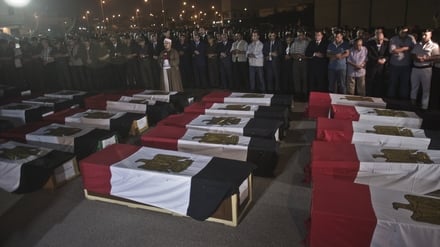 State television carried emotional demands for retribution against the Brotherhood.
The off-duty policemen were returning to their barracks in Rafah when militants attacked them. The government said the men had been forced from their vehicles and shot in cold blood.
The army said it had captured 11 "terrorist elements" in Sinai, including two Palestinians.
Halawa legal situation 'unclear'
The Department of Foreign Affairs has said the legal situation for the four members of the Halawa family in Cairo is still unclear.
A spokesperson could not confirm reports that charges had been brought against the four siblings.
Earlier, a diplomat from the Irish embassy in Cairo secured access to the siblings for the first time since they were detained in the city.
Sisters Omaima Halawa, 20, Fatima, 22, and Somaia, 27, and their 17-year-old brother Ibrahim were detained after being caught up in the storming of the city's al-Fateh mosque by security forces on Saturday.
Minister of State at the Department of Foreign Affairs Joe Costello said an Irish official has met the four face-to-face and that they were well and in good spirits.
"The embassy has managed to visit them in detention, and they are all safe and well," he said.
"Naturally enough we are delighted to have had a chance to meet with them. It was the first time there has been any access since they were detained.
"While this information will come as a relief to their family, obviously they are still in detention, and unfortunately the situation in relation to legal proceedings against them is unclear at present."
Mr Costello said all four are being kept together.
The diplomat was able to give them some basic necessities, including food, clothes and toiletries.
Ibrahim is understood to have suffered a minor injury to his arm, which medical staff have been asked to treat.
It is understood that Irish Embassy officials in Cairo have received an assurance from Egyptian authorities that he will receive treatment for the injury.
Elsewhere, about 35 young people demonstrating in support of the four siblings have marched from the Egyptian Embassy in Dublin to the Department of Foreign Affairs.
Court to review petition for Mubarak release
An Egyptian court will review a petition tomorrow for the release of Mubarak filed by his lawyer, judicial sources said.
The court will convene at the Cairo prison where Mubarak is being held.
If the court upholds the petition, he will be released as there remains no further legal grounds for his detention, though he is being retried on charges of ordering the killing of protesters in the 2011 uprising.