Egypt's interior minister has said that two protest camps of supporters of deposed Islamist president Mohammed Mursi have been cleared.
Scores of people have been shot dead in the bloodiest day in decades in the Arab world's biggest country.
The health ministry said 235 people were killed and 2,000 injured, both in Cairo and in clashes that broke out elsewhere in the country.
Mr Mursi's Muslim Brotherhood said the death toll was far higher in what it described as a "massacre".
Interior Minister Mohamed Ibrahim said 43 members of the police force were killed.
The army-backed rulers declared a one-month state of emergency, restoring to the military the unfettered power it wielded for decades before a pro-democracy uprising in 2011.
Thousands of Mursi supporters had been camped at two major sites in Cairo since before he was toppled on 3 July, and had vowed not to leave the streets until he was returned to power.
After moving to clear the camps today, the authorities have ended the six-week stand-off with a show of state force that defied international pleas for restraint.
Egyptian security forces will not allow any more sit-ins anywhere in the country, Mr Ibrahim said in a televised news conference.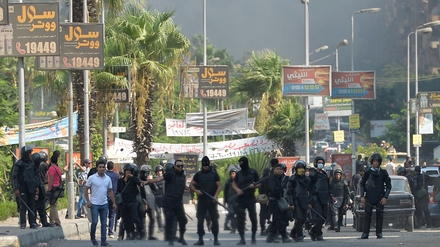 He also said that Muslim Brotherhood politicians Essam el-Erian and Mohamed El-Beltagi had yet to be arrested, contradicting earlier accounts of their detention.
Egypt's Interim Vice President Mohamed ElBaradei, a former UN diplomat, has resigned from his post in the army-backed government.
He said there were peaceful options for ending the political violence.
Violence spread beyond Cairo, with Mursi supporters and security forces clashing in the cities of Alexandria, Minya, Assiut, Fayoum and Suez and in Buhayra and Beni Suef provinces.
The crackdown began just after dawn with helicopters hovering over the camps.
Gunfire rang out as protesters, among them women and children, fled the camp near the Rabaa al-Adawiya mosque in northeast Cairo.
Armoured vehicles moved in beside bulldozers which began clearing tents.
The government insists people in the camp were armed.
Several state controlled television stations ran footage of what appeared to be pro-Mursi protesters firing automatic rifles at soldiers from behind sandbag barricades.
However Reuters journalists and other Western media have not witnessed such incidents.
They said crowds appeared to be armed mainly with sticks, stones and slabs of concrete against rifle-wielding police and troops.
At a hospital morgue nearby, a Reuters reporter said most of the dead had died of gunshot wounds to the head.
Later, 41 people were killed in the Egyptian province of Minya, according to a medical official.
A cameraman working for Sky News was one of two media people killed during the violence.
Mick Deane, 61, had worked for the BSkyB-owned news channel for 15 years, based in Washington and then Jerusalem.
Egyptian woman Habiba Ahmed Abd Elaziz, 26, who reported for the Dubai-based news weekly Xpress, was also killed.
A Reuters photographer was also shot in the foot while covering the violence.
Condemnation of violence
Today's assault prompted widespread condemnation.
European leaders criticised the assault on the camp, calling for restraint and a return to meaningful dialogue to defuse Egypt's political stand-off.
The White House condemned the violent crackdown and strongly opposed the declaration of a state of emergency.
White House spokesman Josh Earnest urged Egypt's military leaders to respect the basic human rights of the Egyptian people.
Mr Earnest said the violence will only make it more difficult for the parties there to return to a path of peace and democracy.
Turkey urged the UN Security Council and Arab League to act quickly to stop a "massacre" in Egypt, and Iran warned of the risk of civil war.
Rights activists said the state of emergency move would give legal cover for the army to make arrests.
UN Secretary General Ban Ki-moon also condemned the violence used by security forces.
Tánaiste Eamon Gilmore also condemned the loss of life. 
Warning of wider conflict
Mohamed El-Beltagi, a leader of Mr Mursi's Muslim Brotherhood movement that has led the protests, said his 17-year-old daughter had been killed in the clashes.
He warned of wider conflict, and singled out the head of the armed forces who deposed Mr Mursi following mass protests calling for his resignation.
"I swear by God that if you stay in your homes, Abdel Fattah al-Sisi will embroil this country so that it becomes Syria. Abdel Fattah al-Sisi will push this nation to a civil war so that he escapes the gallows."
A grouping of Mursi supporters have meanwhile called on Egyptians to stage nationwide protests against what it called an army coup.