President Michael D Higgins has joined family, friends and colleagues of the late RTÉ broadcaster Colm Murray at his funeral in Dublin.
Many mourners from the worlds of broadcasting and sport attended the mass at St Gabriel's Church in Dollymount this afternoon.
Mr Murray, 61, died earlier this week following a long illness.
His wife Anne, daughters Kate and Patricia and his sister Mary were accompanied by his extended family and friends to say a final farewell.
Taoiseach Enda Kenny was represented by his aide-de-camp.
Former Taoisigh Liam Cosgrave and Brian Cowen along with a number of former ministers were also in attendance.
Colleagues from RTÉ down through the years paid their final respects including current Director General Noel Curran.
Delivering the eulogy, Colm Murray's daughter, Kate said his illness had broken their hearts.
She described her dad as kind, generous and loving; telling the congregation he knew the importance of friendship and was "all about fun."
She said he loved meeting and talking to people at any opportunity. Sometimes the journey between the car and the race track could be endless, she said.
Kate Murray told mourners that her dad's bravery in receiving news of his illness and eventually coming to some kind of acceptance was what got the family through.
She said she hoped it would continue to give them strength.
In his homily, Chief Celebrant Fr Jimmy Murray said Colm had loved life.
He was interested in the ordinary and he made the ordinary interesting.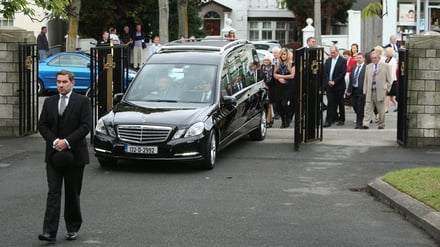 Fr Murray said he never outgrew the area where he grew up and he never let his people down.
He said Colm's voice was unique and that he was a great wordsmith.
Colm, he said, gave a courageous insight into life with one of the cruellest and destructive conditions in a documentary he made about his illness with motor neuron disease.
Colm was laid to rest at St Fintan's Cemetery in Sutton.