The Duke and Duchess of Cambridge have left hospital with their newborn son.
The infant, who has yet to be named, is automatically third in line to the British throne.
Hordes of TV crews and photographers, and royal fans wrapped in Union flags, camped outside the hospital overnight waiting for the first photo of the baby, who will be called the Prince of Cambridge.
William and Kate carried him down the steps of the hospital to cheers from onlookers and spent several minutes talking to the assembled media.
Shortly afterwards, the duke carried his son in a car seat to a waiting vehicle before carefully strapping him and driving away.
The baby's name will be announced later, but George and James, both traditional British royal names, were favoured choices with bookmakers for the child, who could one day be king.
Taoiseach Enda Kenny congratulated the new parents following the birth of their baby boy yesterday afternoon.
They were visited by proud grandparents, the Duchess's parents Michael and Carole Middleton, and Prince Charles and his wife Camilla today.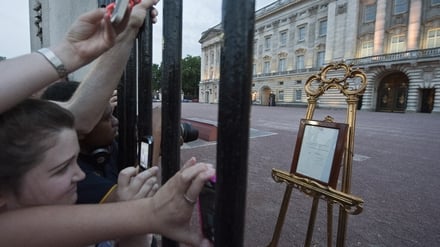 Congratulations have flooded in from all over the world after the announcement of the birth.
Tánaiste and Minister for Foreign Affairs and Trade, Eamon Gilmore said it was a very happy occasion for the parents, and suggested William and Kate could name the baby Eamon.
However, the Labour leader added that in a republic, it was hard to understand all the excitement over the hereditary principle.
British tabloid newspaper The Sun temporarily renamed itself The Son in honour of the baby, while the Guardian newspaper provided readers of its website with a "Republican" button so that they could filter out the barrage of royal news if they wanted.
Gun salutes sounded across London to mark the birth of the child.