Kensington Palace has announced that the Duchess of Cambridge has given birth to a son.
The baby weighed 8lbs 6oz and was born at 4.24pm.
The Duke of Cambridge, Prince William, was present at the birth.
Mother and child are said to be well and will remain in the Lindo Wing of St Mary's Hospital overnight.
A Buckingham Palace spokesman said: "The Queen and Duke of Edinburgh are delighted at the news."
The new baby is the first Prince of Cambridge to be born for over 190 years.
The last was Prince George of Cambridge, a grandson of George III and only son of Prince Adolphus Frederick, the 1st Duke of Cambridge.
A royal historian said the birth was a return to a "long unbroken line of male rule" in Britain.
With three generations of kings waiting in line after Queen Elizabeth, it could be many years before Britain sees another female monarch.
The duke issued a brief statement saying: "We could not be happier."
He and his younger brother Harry were also born in the Lindo Wing.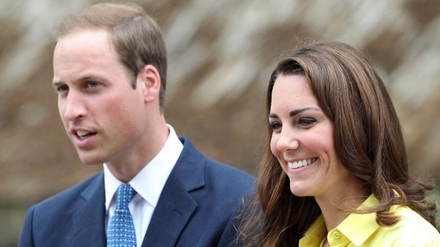 The new royal baby is Queen Elizabeth's third great-grandchild.
He will be the 43rd British sovereign since William the Conqueror if, as expected, he follow reigns by Charles and William.
Prince Charles said he was "enormously proud and happy to be a grandfather for the first time", adding that it was "an incredibly special moment for William and Catherine".
Moments before Charles's comment were released the Queen's press secretary Ailsa Anderson strode out onto Buckingham Palace's forecourt to place the official notice on its ornate stand.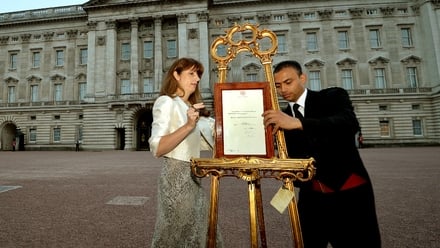 The document had four signatures, first was that of Marcus Setchell, Surgeon Gynaecologist to Queen, who led the medical team that delivered Kate's baby.
Other members of his team included Guy Thorpe-Beeston, obstetrician and Dr Sunit Godambe, consultant neonatologist at St Mary's Hospital.
Kensington Palace said "The names of the baby will be announced in due course."
British Prime Minister David Cameron said on twitter: "I'm delighted for the Duke and Duchess now their son has been born. The whole country will celebrate. They'll make wonderful parents".
Taoiseach Enda Kenny has sent his warmest congratulations to Mr Cameron, and through him to the Duke and Duchess of Cambridge on the birth of their son.
In a statement, US President Barack Obama said: "Michelle and I are so pleased to congratulate the Duke and Duchess of Cambridge on the joyous occasion of the birth of their first child.
"We wish them all the happiness and blessings parenthood brings. The child enters the world at a time of promise and opportunity for our two nations.
"Given the special relationship between us, the American people are pleased to join with the people of the United Kingdom as they celebrate the birth of the young prince."