At least 17 people have been killed in clashes across Egypt involving opponents and backers of ousted President Mohammed Mursi, as well as security forces.
In Cairo, a crowd of Islamists surged across a bridge over the Nile River after nightfall yesterday and clashed with Mr Mursi's opponents near Tahrir Square and outside the state TV building.
Clashes, some involving police, erupted in cities of southern Egypt, along the Suez Canal and in the Nile Delta as Mr Mursi's supporters marched on local government buildings during the day.
Khaled el-Khatib, a Health Ministry official, said 210 people have been injured across the country.
Turmoil began when army troops opened fire as hundreds of Mr Mursi's supporters marched on the Republican Guard building in Cairo, where he was staying before being taken into military custody.
The crowd approached a barbed wire barrier where troops were standing guard around the building. When one person hung a sign of Mr Mursi on the barrier, the troops tore it down and told the crowd to stay back.
A protester put up a second sign, and the soldiers opened fire, according to an Associated Press photographer.
One protester was killed, with a gaping, bleeding wound in the back of his head, while others fell bloodied and wounded.
Protesters pelted the line of troops with stones, and the soldiers responded with volleys of tear gas.
Many of those injured had the pockmark wounds typical of birdshot. The BBC's Middle East editor, Jeremy Bowen, was hit by birdshot in the head as he covered the clashes. "Am fine," he reported in a tweet.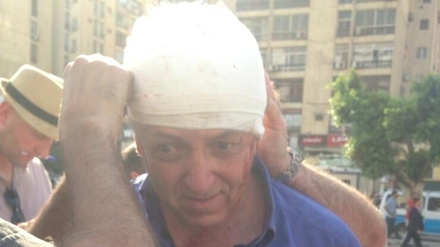 In a dramatic appearance - his first since the military took power - the supreme leader of the Muslim Brotherhood defiantly vowed the president would return.
"God make Mursi victorious and bring him back to the palace," Mohammed Badie proclaimed from a stage before a crowd of cheering supporters at a Cairo mosque.
"We are his soldiers we defend him with our lives."
Fears have been high over a major Islamist backlash to the military's move. The Brotherhood has said it will not work with the new military-backed leadership.
Mr Mursi's supporters say the military has wrecked Egypt's democracy by carrying out a coup against an elected president.
They accuse loyalists to Mr Mubarak and liberal and secular opposition parties of turning to the army for help because they lost at the polls to Islamists.
Many supporters have equally seen it as a conspiracy against Islam.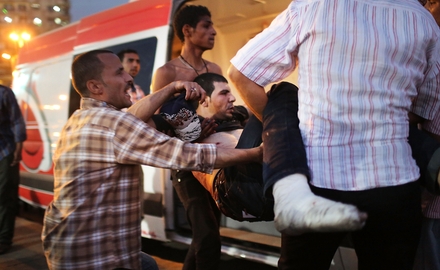 Egyptian diplomat defends military action
Egypt's charge d'affaires at the Egyptian Embassy in Dublin, Ahmed Mostafa has said that the military did not take power for itself following the ousting of Mr Mursi.
Speaking on RTÉ's Morning Ireland, he said that military intervention came following repeated calls from the Egyptian people and the events of the past week did not resemble a coup.
However, Mr Mostafa refused to say whether Tánaiste Eamon Gilmore was "wrong" in describing events in Egypt as a "coup".
Mr Mostafa reassured tourists that they would still be safe should they decide to travel to Egypt.
He said most tourist areas in Egypt were "quite safe and away from the turmoil".
Mr Mostafa advised tourists to exercise caution and not participate in the demonstrations in places such as Tahrir Square.
However, he said visitors to Egypt are often given "special treatment" and the situation in Egypt was not as volatile as some other countries.