Egyptian Foreign Minister Mohamed Kamel Amr has said he assured US Secretary of State John Kerry in a telephone call on Thursday that the overthrow of President Mohamed Mursi had not been a military coup.
"The American side is a strategic partner for Egypt and the welfare of Egypt is important to them," said Mr Amr.
"I hope that they read the situation in the right way, that this is not a military coup in any way. This was actually the overwhelming will of the people."
The army also said they would not take arbitrary measures against any political group and would guarantee the right to protest, as long as demonstrations did not threaten national security.
In a statement on Facebook ahead of protests tomorrow called by the Muslim Brotherhood of deposed Mr Mursi, the army command said: "Wisdom, true nationalism and constructive human values that all religions have called for, require us now to avoid taking any exceptional or arbitrary measures against any faction or political current.
Earlier today Egyptian security forces arrested the supreme guide of the Muslim Brotherhood in the northern city of Marsa Matrouh.
Police tracked Mohamed Badie to the city, which is near the Libyan border but did not believe he was trying to flee the country.
The prosecutor's office ordered his arrest earlier, along with his influential deputy Khairat el-Shater.
Brotherhood spokesman Gehad El-Haddad said he could not confirm whether Mr Badie had been arrested.
An Egyptian judge has been sworn in as the nation's interim president, after the military ousted Mr Mursi.
Adli Mansour has become head of state, under an army transition plan.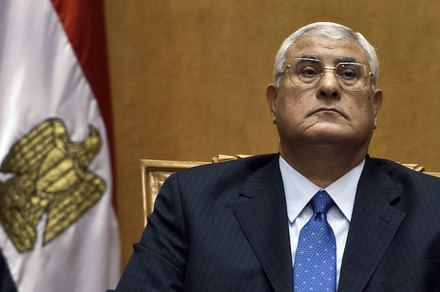 Mr Mursi, Egypt's first freely-elected president, is under house arrest after what he says was a military coup.
Egypt's main alliance of liberal and leftist parties said it opposes excluding any Islamist parties from political life.
The announcement came after the military-backed authorities arrested Muslim Brotherhood leaders and shut down Islamist-run media.
"We confirm our strong belief in the right of all political groups to express their opinions freely, and to form their own political parties," the National Salvation Front said.
"We totally reject excluding any party, particularly political Islamic groups," it added.
"What Egypt is witnessing now is not a military coup by any standards.
"It was a necessary decision that the Armed Forces' leadership took to protect democracy, maintain the country's unity and integrity, restore stability," it added.
Mr Mansour, who had held the title of Supreme Justice of Egypt's Supreme Constitutional Court, was sworn in as head of state at the Constitutional Court in a ceremony broadcast live on state television.
According to the military decree, Mr Mansour will serve as Egypt's interim leader until a new president is elected. A date for that vote has yet to be set.
View a picture gallery of developments in Egypt here
The military moved to oust Mr Mursi after millions of Egyptians took to the streets this week to demand his resignation.
He is under house arrest at an undisclosed location.
The United Nations, the United States and other world powers did not condemn Mr Mursi's removal as a military coup. To do so might trigger sanctions.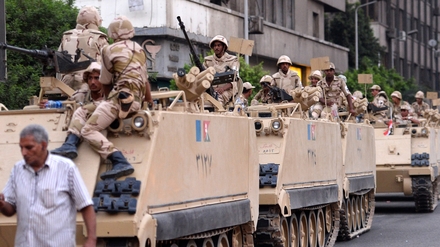 Tánaiste deeply concerned by 'takeover'
Tánaiste Eamon Gilmore said the events over the past 24 hours were a matter of deep concern.
"No one who truly holds to democratic values can view with equanimity what was, to all intents and purposes, a military takeover.
"The Irish Ambassador and our Embassy in Cairo are keeping me closely informed of developing events.
"They are also keeping in close contact with all Irish citizens in Egypt who have registered with the Embassy.
UN Secretary-General Ban Ki-moon urged a swift return to civilian rule, restraint and respect for civil rights.
He did not, however, condemn the military action.
He said: "Many Egyptians in their protests have voiced deep frustrations and legitimate concerns ... At the same time, military interference in the affairs of any state is of concern."
Speaking on RTÉ's Six One News, Abdellatif Ellayeh, Consul at the Embassy of Egypt in Ireland, said democracy should reflect the will of the majority of the people.
"I want to say that the army did not step on and overthrow the former president. The people went down into the streets and the squares of Egypt calling for change and the army found it difficult to turn a deaf ear into these crowds"
Mr Ellayeh said democracy was not only the ballot box and should reflect the will of the majority of the people.
US President Barack Obama, whose administration provides €1bn a year to the Egyptian military, expressed concern about Mr Mursi's removal and called for a swift return to a democratically elected civilian government.
But he also stopped short of condemning a military move that could block US aid.
"During this uncertain period, we expect the military to ensure that the rights of all Egyptian men and women are protected, including the right to peaceful assembly, due process, and free and fair trials in civilian courts," he said.
Mr Obama urged the new authorities to avoid arbitrary arrests and said US agencies would review whether the military action would trigger sanctions on aid.
A senator involved in aid decisions said the United State would cut off its financial support if the intervention was deemed a military coup.
Much may depend on a strict definition of "coup".
Concerns over human rights have clouded US relations with Egypt, but did not stop aid flowing to Mubarak, or to Mr Mursi.The European Union, the biggest civilian aid donor to its near neighbour, also called for a rapid return to the democratic process.
Foreign policy chief Catherine Ashton said in a statement that should mean "free and fair presidential and parliamentary elections and the approval of a constitution".
She stressed the need for inclusive politics but did not mention the constitution and elections already held in the past two years, the results of which the armed forces have now cast aside.
Mr Mursi's overthrow may have repercussions in Tunisia, whose uprising prompted Egyptians to take on Mubarak, the last in a 60-year line of military-backed rulers.
Tunisia now has its own "Tamarud" movement, seeking to end Islamist government.