The father of murdered toddler James Bulger said that the decision to release one of his son's killers from prison "filled him with terror."
Jon Venables has been granted parole after he was sent back to jail for accessing child pornography.
He had his parole revoked in 2010 and was jailed for two years after admitting downloading and distributing indecent images of children.
Earlier this year, James's mother, Denise Fergus, and father, Ralph Bulger, both addressed Venables' parole hearing and pushed for him to remain in prison.
However, the Parole Board confirmed that the decision has been made to release Venables back into the community.
A spokesman said: "We've had confirmation that all parties have been told and we can confirm that it was a release decision. He will be released."
Mr Bulger's solicitor, Robin Makin, said: "The decision to release Jon Venables is misguided and fills Ralph with terror.
"Ralph fears that an innocent person may be mistaken for Jon Venables and be injured or even killed. If such occurs then Ralph will feel guilty of not having done enough to have prevented such an obvious tragedy."
Speaking on her official Twitter page, Mrs Fergus said today: "Just don't believe what I've got 2 go through. AGAIN."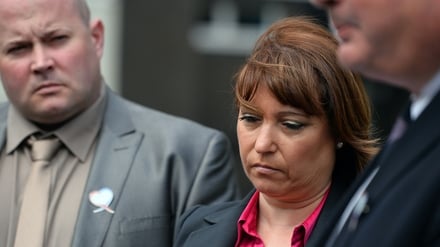 This year marked the 20th anniversary of James's murder. The two-year-old was abducted, tortured and killed by Venables and Robert Thompson in Liverpool in February 1993.
Venables and classmate Thompson, who were just 10 years old at the time, abducted James from the Bootle Strand shopping centre before carrying out the murder which shocked the nation.
The two boys were jailed for life but released on licence with new identities in 2001.
Venables had his parole revoked in 2010 and was jailed for two years after admitting downloading and distributing indecent images of children.
Robin Makin said it was not known if the authorities were seeking to give Venables a further new identity "at considerable public expense" but he said that doing so would be an "unprecedented and unjustifiable risk."
"Jon Venables ought to be subject to strident surveillance and supervision. Nothing has been indicated as to what is proposed and, as is well known, the supervision previously attempted was inadequate and led to Jon Venables breaching his licence conditions and entering Merseyside," Mr Makin said.
The solicitor said James's family had a legal right to be consulted about Venables' licence and release conditions and that they had "no confidence that the authorities will be able to control what may now happen."
A Ministry of Justice spokesman said: "The re-release of life-licensed offenders is directed by the independent Parole Board once they are satisfied they can be safely managed in the community.
"Their life licence lasts for the rest of their lives, and they may be recalled to prison at any time for breaching their licence conditions.
"Additionally, they will be subject to strict controls and restrictions for as long as their risk requires them."