Ecuador's foreign minister has said the former US National Security Agency contractor, Edward Snowden, has requested asylum in his country.
It is believed that Mr Snowden, who has been accused of espionage by the United States after leaking details about American surveillance activities to news media, fled to Hong Kong and is now in Moscow.
Ecuadorian minister Ricardo Patino said his government has received a request for asylum from the whistleblower.
WikiLeaks, which is giving Mr Snowden legal assistance, said his asylum request would be formally processed once he arrived in Ecuador, the same country that has already been sheltering the anti-secrecy group's founder Julian Assange in its London embassy.
Mr Snowden arrived in Moscow on an Aeroflot flight after being allowed to leave Hong Kong, where he had been in hiding for several weeks after he revealed information on the highly classified spy programmes.
He is reportedly booked on an Aeroflot flight to Cuba.
Aeroflot has no direct flights from Moscow to Quito, Ecuador; travellers would have to make connections in Paris, Rome or Washington, which could be problematic for Mr Snowden.
The United States has warned countries in the western hemisphere not to let Mr Snowden go anywhere but home.
"The US is advising these governments that Snowden is wanted on felony charges, and as such should not be allowed to proceed in any further international travel, other than is necessary to return him to the United States," a state department official said.
The spokesperson did not identify any of the countries.
WikiLeaks spokesman Kristinn Hrafnsson said Mr Snowden would be meeting with diplomats from Ecuador in Moscow.
The car of Ecuador's ambassador to Russia was parked outside the airport.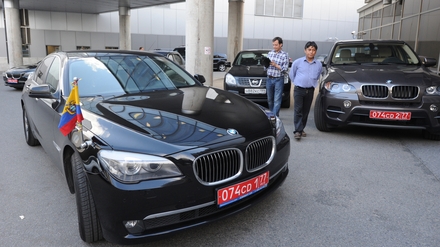 Julian Assange, who has spent a year inside the Ecuadorean Embassy in London to avoid extradition to Sweden to face questioning about sex crime allegations, said WikiLeaks is in a position to help because it has expertise in international asylum and extradition law.
A US official in Washington said Mr Snowden's passport was annulled before he left Hong Kong, which could complicate but not thwart his travel plans.
The official said that if a senior official in a country or airline ordered it, a country could overlook the withdrawn passport.
While Mr Patino did not say if the asylum request would be accepted, Ecuador's President Rafael Correa has shown repeated willingness to irk the US government and he has emerged as one of the leaders of Latin America's leftist bloc, along with Fidel and Raul Castro of Cuba and Venezuela's late president Hugo Chavez.
Mr Snowden's departure came a day after the United States made a formal request for his extradition and gave a pointed warning to Hong Kong against delaying the process of returning him to face trial in America.
The Hong Kong government said in a statement that Mr Snowden left "on his own accord for a third country through a lawful and normal channel."
Hong Kong's decision to let Mr Snowden go on a technicality appears to be a pragmatic move aimed at avoiding a drawn out extradition battle.
The action swiftly eliminates a geopolitical headache that could have left Hong Kong facing pressure from both Washington and Beijing.
Russian officials have given no indication that they have any interest in detaining Mr Snowden or any grounds to do so.
Foreign Minister Sergey Lavrov has said that Russia would be willing to consider granting asylum if Mr Snowden were to make such a request.
Russia and the United States have no extradition treaty that would oblige Russia to hand over a US citizen at Washington's request.
The Cuban government had no comment on Mr Snowden's movements or reports he might use Havana as a transit point.