The clean-up operation has begun at the shrine in Lourdes after the river Gave de Pau burst its banks last Tuesday.
The flooding caused extensive damage in the town, with French media saying that repair work could see the site closed for large parts of the busy summer season.
Three people are said to have died in the floods in the region.
About six million pilgrims visit Lourdes annually, many to bathe in the grotto's normally tranquil spring waters and pray for healing at its altar.
The altar at the grotto had recently been restored after it was damaged by flash floods in October last year.
Water flooded through the entrance of the town's largest church, St Pius X basilica, leaving pews and other debris floating in the nave.
The St Pius X basilica can accommodate 20-25,000 worshippers.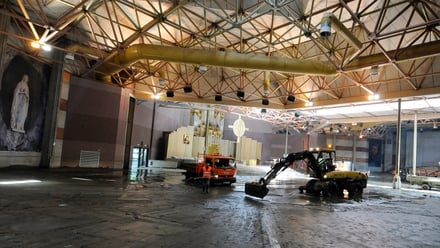 Locals said they were shocked to discover the extent of the damage in the church, most of which is underground.
The famous shrine is where the Virgin Mary is said to have appeared to a local woman St Bernadette in 1858.