The G8 summit in Enniskillen, Co Fermanagh has finished, with leaders agreeing on a series of measures on tax, trade and transparency which they hope will boost economies in the developed and developing world.
In a document known as the Lough Erne Declaration, they committed themselves to a range of measures that could end the secrecy in tax havens.
It is hoped the commitments will also help developing countries keep more of their own tax revenues.
It said tax authorities across the world should automatically share information to fight the scourge of tax evasion.
Countries should also change rules that let companies shift their profits across borders to avoid taxes.
The declaration also states that multinationals should report to tax authorities what tax they pay where.
There was less agreement on Syria. While all eight leaders signed up to a call for new peace talks and a UN investigation into claims the Syrian army has used chemical weapons, there was no agreement that a political transition in Syria should mean the end of President Bashar Al-Assad's rule.
The leaders said only that a transitional government must be formed by "mutual consent" between the different sides of Syrian society.
They also made clear that Syria's military and security forces will be allowed to remain intact following a transition of power.
Russian President Vladimir Putin said that sending weapons to Syrian rebels could backfire, saying the arms could one day end up being used in Europe.
He defended Russia's own military contacts with Syria, saying he could not rule out new arms contracts with the government.
Taoiseach Enda Kenny was back in Enniskillen today and walked briefly in the grounds of the hotel with Mr Cameron and US President Barack Obama.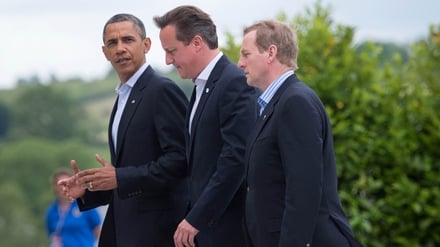 Earlier, the Executive Director of Trócaire said today's talks at the summit could represent a real opportunity for the developing world.
Speaking to RTÉ's Morning Ireland, Justin Kilcullen claimed the resources of many African countries were been "stolen from under their noses" by multi-national corporations and "sweetheart tax deals".
Mr Kilcullen said this could be stopped if the G8 leaders were to make progress on the areas of transparency and taxation.
"This is a real opportunity today for the developing world," he said.
"We have seen in the western countries now how multi-national companies have been able to rob our revenues from us by moving money around the country and not paying taxes.
"The people in the developing world have been saying this for the last 20 years. "
Elsewhere, a small crowd of anti-G8 activists marched to the headquarters of the American Chamber of Commerce in Dublin this afternoon to protest at the organisation's influence on Government policy.