US First Lady Michelle Obama and her daughters are on a private visit to Dublin and Wicklow as her husband attends the G8 summit in Co Fermanagh.
Earlier, Mrs Obama welcomed her husband to the stage at Belfast's Waterfront Hall, where he spoke to thousands of school children from around Northern Ireland.
During her introduction, Mrs Obama said young people with fresh attitudes could help solve Northern Ireland's problems. "I have never felt more optimistic," she said.
"Time and again I have seen young people choosing to live together, choosing to lift each other up, choosing to leave behind the conflicts and prejudices of the past and create a bright future for us all.
"We believe that you all have the ability to make a mark on this world that will last for generations to come. We are so proud of you. We expect great things."
The First Family later left for Dublin and visited Trinity College, where they were given a tour of the Long Hall Library and viewed the Book of Kells.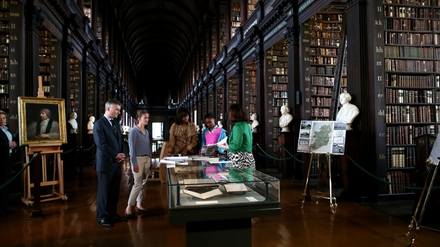 They saw the birth registry of their Co Offaly ancestors and old maps detailing the family's library.
The records also showed that John Kearney, who was provost of Trinity College in the 18th century, and later Church of Ireland Bishop in Ossory, was an ancestor of President Obama.
Provost of Trinity College Dr Patrick Prendergast showed the Obamas through the Old Library.
He told the First Lady their visit was particularly poignant because of the Kearney connections.
"As a country, America has welcomed many of our graduates over the years where a large number of our alumni are living. Our graduates who play a critical role in shaping the knowledge economy are our diaspora," he added.
Malia and Sasha Obama also met with Henry Healy, their father's distant cousin, who presented them with certificates of Irish heritage.
The certificates of the Obama family genealogy show President Obama's ancestry from Falmouth Kearney, his second great-grandfather to his seventh great-grandfather, Joseph Kearney.
The family were also shown an original 19th century map held by the National Library of Ireland, which shows lands of Gorthgreen from where some of the family originated.
The Obamas later attended a performance of Riverdance at Dublin's Gaiety Theatre, where most of the audience was made up of school children.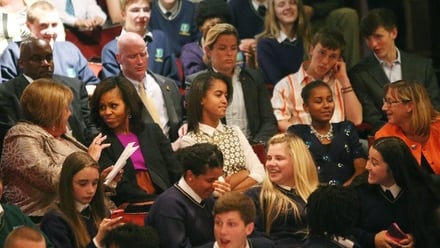 "It's good to be home," Mrs Obama told them. "You are surrounded by such a beautiful country."
She was joined on stage by Moya Doherty of Riverdance, Taoiseach Enda Kenny's wife Fionnuala, and President Michael D Higgins's wife Sabina, ahead of the special performance.
Mrs Obama will also meet the staff of the US Embassy and their families.