Archbishop Desmond Tutu has called on South Africans to pray for former president Nelson Mandela who remains in hospital in Pretoria.
Mr Mandela, 94, was taken to hospital after his condition deteriorated.
He is said to be breathing unaided and is in a serious but stable condition.
His wife Graca Machel cancelled an appearance at a high-profile hunger summit in London to be with her husband.
Other members of his family are also with him.
Mr Mandela first developed his lung condition many years ago when he was in prison, and that it is a problem that "comes and goes".
Mr Mandela stepped down as president in 1999 after one term in office and has been removed from politics for a decade.
His last appearance in public was at the final of the soccer World Cup in Johannesburg in 2010.
He appeared in a brief television clip aired by state television in April during a visit to his home by President Jacob Zuma.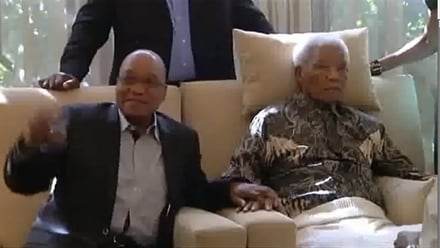 At the time, the ruling African National Congress assured the public that Mr Mandela was "in good shape", although the footage showed a thin and frail old man sitting expressionless in an armchair with his head propped against a pillow.
The South African Sunday Times newspaper quoted a long-time friend of Mr Mandela's in its headline: "It's time to let him go".
Andrew Mlangeni was also quoted as saying the family "must release him so that God may have his own way. They must release him spiritually and put their faith in the hands of God.
""Once the family releases him, the people of South Africa will follow."
Mr Mandela spent nearly three weeks in hospital in December with a lung infection and after surgery to remove gallstones.
For many South Africans, he remains a potent symbol of the struggle against decades of white-minority rule.