Former South African president Nelson Mandela was taken to hospital in the early hours of this morning with a recurrence of a lung infection.
He is said to be in a serious but stable condition.
Mr Mandela's wife cancelled a planned appearance at a hunger summit in London following her husband's admission to hospital in Pretoria.
Mr Mandela, 94, is said to be breathing on his own.
Earlier, a South African government spokesman described Mr Mandela's condition as "serious this time."
It is understood he has been battling the infection for several days.
In a statement on the South African government's website, President Jacob Zuma said Mr Mandela's condition deteriorated in the early hours of the morning and he was brought to hospital.
It said the former president is receiving expert medical care and doctors "are doing everything possible to make him better and comfortable".
The Nobel Peace Prize laureate stepped down as president in 1999 and has not been politically active for about a decade.
His last appearance in public was at the final of the soccer World Cup in Johannesburg in 2010.
He appeared in a brief television clip aired by state television in April during a visit to his home by President Zuma.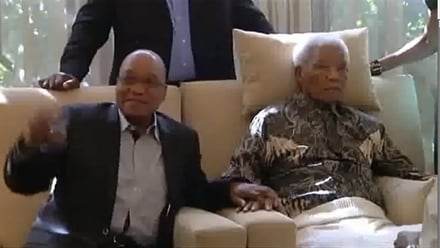 Spokesperson for the president, Mac Maharaj said Mr Mandela first developed his lung condition many years ago when he was incarcerated in prison - where he contracted tuberculosis - and that he needs treatment from time to time.
Doctors treat the matter with great caution, he said, and Mr Mandela is admitted to hospital "as necessary" to give him the best opportunity to recover.
Mr Maharaj added: "He has been in good spirits. He is a fighter and he will be with us as long as he is there fighting."
Mr Mandela spent nearly three weeks in hospital in December with a lung infection and after surgery to remove gallstones.
That was his longest stay in hospital since his release from prison in 1990 after serving almost three decades behind bars or on the Robben Island prison camp for conspiring to overthrow the apartheid government.