Protesters clashed with police across Turkey overnight despite an apology for police violence from the Deputy Prime Minister.
The apology was designed to halt an unprecedented wave of protest against Prime Minister Recep Tayyip Erdogan.
Deputy leader Bulent Arinc met organisers of the original demonstration against plans to build a replica Ottoman-era barracks on Istanbul's Gezi Park in Taksim Square.
Member of the Taksim Solidarity Group demanded the government abandon plans to redevelop the park.
The group also wants the government to sack governors and police chiefs it holds responsible for the violent crackdown against protesters.
It said it had delivered its demands, including the release of arrested protesters and a halt to police use of teargas, to Mr Arinc.
Mr Arinc has refused to talk to unnamed groups he accuses of exploiting the situation to promote violence.
On Taksim itself, now the focus of broader protests against what many see as Mr Erdogan's increasingly authoritarian style of government, thousands remained at a makeshift camp despite rain.
On a street off the square some skirmished with police who used tear gas.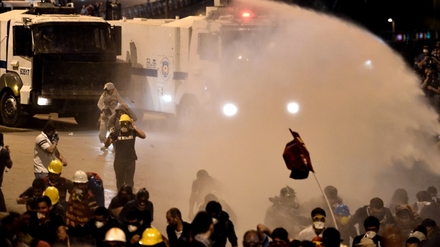 Yesterday, Mr Arinc apologised for "excessive violence" by police against the original demonstration in an effort to defuse the unrest.
His comments contrasted sharply with Mr Erdogan's defiant dismissal of the protesters that, if anything, had appeared to inflame protest over the weekend.
Mr Erdogan, who has won three successive general elections and enjoys a large parliamentary majority, left on Monday on a visit to north Africa.
US Vice-President Joe Biden, reflecting concern about stability in a key US Middle Eastern ally, urged the Turkish government to respect the rights of political opponents.
"Today's Turkey has a chance to demonstrate that there's no need to choose between economic advancement and democracy, the system that empowers the winners of elections and yet protects whose who are in opposition," Mr Biden said.
The US has held up Mr Erdogan's Turkey as an example of an Islamic democracy that could be imitated throughout the Middle East.
But domestic opponents argue that, for all the economic advances under him and early democratic reform, events have recently taken a more authoritarian turn.
They also accuse him of pursuing an 'Islamist' agenda by easing restrictions on the wearing of headscarves in state institutions, limiting alcohol sales and promoting broader religious projects.
Mr Erdogan denies any ambition to undermine the country's secular constitution.
Clashes spread overnight to the eastern province of Tunceli, where police fired tear gas and water cannon at hundreds of protesters who set up barricades and threw stones at them, witnesses said.
Police intervened in a similar way against demonstrators in the capital Ankara, as well as Hatay province on the Syrian border, where a 22-year-old man died after being hit in the head at a rally late on Monday.