British Prime Minister David Cameron has said there are "strong indications" that a violent killing in southeast London is terror related.
A man was killed and two others were taken to hospital with gunshot wounds in Woolwich following the incident understood to involve a serving British soldier.
Speaking in Paris, Mr Cameron said Britain has faced terror attacks before and added: "We will never buckle in the face of it".
"It is the most appalling crime. We are obviously seeking, and the police are urgently seeking the full facts about this case, but there are strong indications that it is a terrorist incident" he said.
Scotland Yard's top officer confirmed two men had been arrested following the incident.
Metropolitan Police Commissioner Sir Bernard Hogan-Howe said officers from the counter-terrorist unit were leading the investigation into the "shocking and horrific" Woolwich murder.
He said: "It is hard to comprehend the shocking and horrific scenes we have seen this afternoon on a busy street as Londoners went about their day as normal.
"We have launched a murder investigation, being led by the Counter Terrorism Command. Two men have been arrested in connection with that murder."
The incident occurred around 200m from the Royal Artillery Barracks.
The barracks houses a number of the King's Troop Royal Horse Artillery and independent companies of the Grenadier and Coldstream Guards.
One of the men suspected of involvement in the attack was filmed wielding a bloodied meat cleaver and saying: "We swear by almighty Allah we will never stop fighting you."
The black man, dressed in a grey hooded jacket and black woolly hat, apologised to members of the public who witnessed the horrific scenes before making a number of political statements.
In the footage he is heard to say: "We must fight them as they fight us. An eye for an eye, a tooth for a tooth.
"I apologise that women have had to witness this today, but in our land our women have to see the same. You people will never be safe. Remove your government, they don't care about you."
The attacker, who spoke English without a foreign accent, is then seen walking towards the victim, lying in the street.
Another man is also seen standing stood over the body.
There were unconfirmed reports that the two men filmed the attack.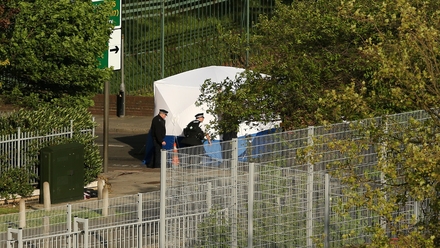 Eyewitness describes confronting alleged killer
A mother approached the Woolwich attackers, asking them to hand over their weapons.
Ingrid Loyau-Kennett, 48, said that one of the attackers said to her that they "want to start a war in London tonight".
The mother-of-two, a cub scout leader from Cornwall added: " I have my first aid so when I saw this guy on the floor I thought it was an accident."
"And then when I went up there was this black guy with a revolver and a kitchen knife," she said.
"I asked him if he did it and he said yes, and I said: 'Why?' And he said because he has killed Muslim people in Muslim countries.
"He said he was a British soldier and I said, really? And he said: 'I killed him because he killed Muslims and I am fed up with people killing Muslims in Afghanistan, they have nothing to do there".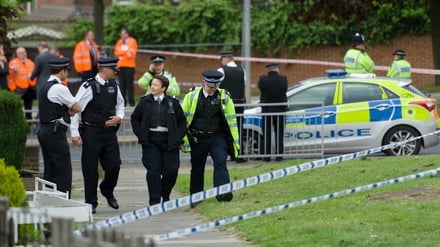 UK emergency committee convened
David Cameron described the killing as "truly shocking" and said he had asked the Home Secretary to chair a meeting of COBRA, the UK government's emergency committee.
COBRA meetings are convened to deal with incidents that have implications for national security.
Mr Cameron is to return to Britain after cutting short a visit to France.
During a press conference with French President Francois Hollande, Mr Cameron said: "We will look at every aspect of security, we will look at every aspect of what you can learn from these incidents."
Mr Hollande said he wanted to "express all of my solidarity to David Cameron and the United Kingdom after the murder of the British solider in London earlier today.
"We must fight terrorism everywhere. It requires that we share our intelligence, that our intelligence services work together and that we act everywhere we can."
Asked about Mr Hollande's comments, Mr Cameron declined to confirm that the victim was a serving soldier.
The Muslim Council of Britain said the killers' use of "Islamic slogans" indicated they were motivated by their faith.
A statement from the council said: "This is a truly barbaric act that has no basis in Islam and we condemn this unreservedly. Our thoughts are with the victim and his family.
Mosque attacks in aftermath of killing
Two men were arrested after separate attacks on mosques following the incident in Woolwich.
A 43-year-old man is in custody on suspicion of attempted arson after reportedly walking into a mosque with a knife in Braintree, Essex.
Essex Police confirmed a man had been arrested on suspicion of possession of an offensive weapon and attempted arson after the incident in Silks Way at 7.15pm.
The spokesman added that police were investigating the "full circumstances" and said "it would not be appropriate to speculate at this time".
Police in Kent were also called to reports of criminal damage at a mosque in Canterbury Street, Gillingham, at 8.40pm.
A spokesman said a man is in custody on suspicion of racially-aggravated criminal damage.
Meanwhile supporters of the English Defence League (EDL) gathered at Woolwich Arsenal train station near the scene and threw bottles at police.
EDL leader Tommy Robinson, who was among a group of around 250 men, said: "They're chopping our soldiers' heads off. This is Islam. That's what we've seen today."
The men then engaged in brief skirmishes with police across the large public square opposite the station.