Boston Marathon bombing suspect Dzhokhar Tsarnaev has been moved to a prison at Fort Devens, Massachusetts, from the hospital where he had been held since his arrest a week ago.
The 19-year-old ethnic Chechen had previously been held at Beth Israel Deaconess Medical Center.
Some of the victims of the bombings were also being treated at the hospital.
Dzhokhar was badly wounded in an overnight shootout last week with police hours after authorities released pictures of him and his brother, Tamerlan.
Tamerlan, also a suspect, died in that shootout.
Dzhokhar Tsarnaev on Monday was charged with the 15 April bombing, which killed three and wounded 264 at the finish line of the Boston Marathon.
Dzhokhar is also said to have told investigators of an alleged plan to attack New York Times Square.
New York City officials said that the brothers decided to drive to Manhattan and detonate more explosives in Times Square, after the FBI released photos of them.
The brothers' plan unravelled when they realised a vehicle they had hijacked on 18 April did not have enough fuel for the journey, New York Police Commissioner Ray Kelly said.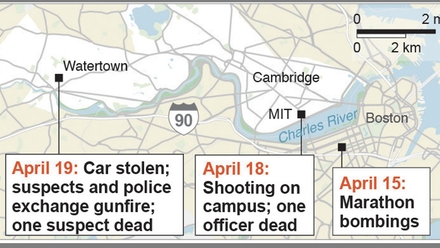 At the time, the men still had six explosive devices, including a pressure-cooker bomb of the type used at the marathon and six pipe bombs, Commissioner Kelly said.
When they stopped to refuel, the driver of the vehicle escaped, he said.
The driver alerted authorities and set off a late-night chase and shootout in suburban Watertown, where police say the suspects threw improvised explosives at officers.
Hours earlier, the brothers had shot and killed a Massachusetts Institute of Technology campus police officer in Cambridge, authorities said.