Rescuers pulled 62 people alive from the rubble of a collapsed building on the outskirts of Bangladesh's capital Dhaka, as the death toll rises to 304.
There were fears between 300 and 400 people are still trapped inside the rubble.
A local government minister confirmed that the death toll had reached 304.
Anger over the working conditions of Bangladesh's 3.6 million garment workers has grown steadily since the disaster, with thousands taking to the streets to protest.
Around 2,300 people have been rescued so far, at least half of them injured, from the remains of the building in the commercial suburb of Savar, about 30km (20 miles) from Dhaka.
An industry official has said 3,122 people, mainly women garment workers, had been inside the building despite warnings that it was structurally unsafe.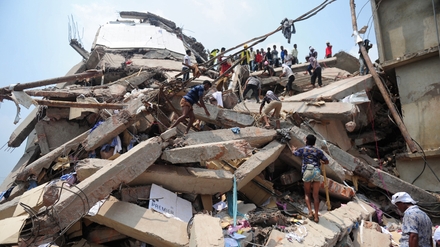 Bangladesh is the second-largest exporter of garments in the world but many factories remained closed for a second day, with angry garment workers protesting against poor conditions and demanding the owners of the building and the factories it housed face harsh punishment.
Police and witnesses said protesters set fire to a number of vehicles and damaged other garment factories.
Wednesday's building collapse was the third major industrial incident in five months in Bangladesh.
In November, a fire at the Tazreen Fashion factory on the outskirts of Dhaka killed 112 people.
Such incidents have raised serious questions about worker safety and low wages in Bangladesh and could taint the poor South Asian country's reputation as a producer of low-cost products and services.
North American and European chains, including Irish retail chain Pennys, said they were supplied by factories in the Rana Plaza building.
Special prayers were offered for the dead, injured and missing at mosques, temples and pagodas across Bangladesh today.
Ten labour groups called for a strike on Sunday by workers at garment factories across the country.
Around 60% of Bangladesh's garment exports go to Europe. The United States takes 23% and Canada takes 5%.