The death toll from a building collapse in Bangladesh yesterday has risen to 260 and could climb higher, police said.
People remain trapped under the rubble of a complex that had housed garment factories supplying retailers in Europe and North America.
Yesterday, Irish clothing chain Penneys confirmed that one of its suppliers occupied part of the building.
Rescue workers have been digging through the rubble of the eight-storey Rana Plaza building in Savar, 30km outside the Bangladeshi capital Dhaka.
More than 1,000 people were injured.
"The death toll could go up as many are still trapped under the rubble," Dhaka's district police chief said.
Bangladesh Garment Manufacturers and Exporters Association (BGMEA) president Mohammad Atiqul Islam said there were 3,122 workers in the factories yesterday.
He said there had been indications from Savar officials that cracks had been found in the building the day before.
"We asked the garment owners to keep it closed," Mr Islam said.
Rana Plaza's owner had told proprietors of the building's five garment factories that the cracks were not dangerous, Mr Islam added.
"After getting the green signal from the plaza owner all the garment factories opened," he said.
However, a police spokesman said factory owners appeared to have ignored a warning not to allow their workers into the building after a crack was detected on Tuesday.
News reports showed young women workers, some apparently semi-conscious, being pulled out of the rubble by firefighters and troops.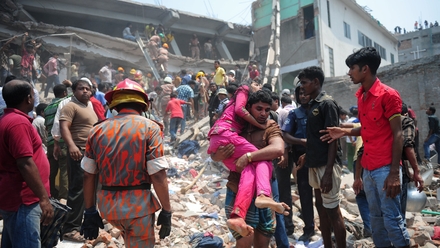 Doctors at Dhaka hospitals said they could not cope with the number of victims.
The collapse follows a November fire at the Tazreen Fashion factory on the outskirts of Dhaka that killed 112 people, and it has compounded concerns about worker safety and low wages in Bangladesh.
Bangladesh employs about 3.6 million people in the garment industry and is the world's second-largest apparel exporter.
Following the Tazreen fire, giant US retailer Wal-Mart Stores Inc said it would take steps to alleviate safety concerns, while Gap Inc announced a four-step fire-safety programme.
Edward Hertzman, a sourcing agent based in New York who also publishes trade magazine Sourcing Journal, said pressure from US retailers to keep a lid on costs continues to foster unsafe conditions.
Mr Hertzman, whose trade publication has offices in Bangladesh, said New Wave Bottoms Ltd occupied the second floor, Phantom Apparels Ltd the third, Phantom Tack Ltd the fourth and Ethar Textile Ltd the fifth.
The New Wave website listed 27 main buyers, including firms from Ireland, Britain, Denmark, France, Germany, Spain, Canada and the United States.