Gardaí have said Detective Garda Adrian Donohoe was killed without warning and did not produce his weapon before he was shot.
Detective Garda Donohoe, who was married with two children, was fired on by raiders outside a credit union in Bellurgan, Jenkinstown, Co Louth at around 9.30pm.
The 41-year-old was originally from Kilnaleck in Co Cavan, but was stationed at Dundalk Garda Station.
Specialists from the Garda Forensic and Technical Bureau have examined the scene at the Lordship Credit Union.
The credit union stays open late on Friday nights and Detective Garda Donohoe and Detective Garda Joe Ryan were on escort duty.
It is believed four armed men were waiting in the car park outside to rob the credit union.
They moved to hold up staff at gunpoint as they were leaving to deposit money in Dundalk.
The two gardaí got out of their car, but as Det Garda Donohoe approached he was shot in the head without warning. He had not drawn his garda-issue weapon.
Det Garda Ryan has been traumatised, but is otherwise unhurt.
The raiders then fled the scene in what is believed to have been a dark-coloured car.
Gardaí are appealing for anyone with information to contact them at the incident room at Dundalk Garda Station on 042-9388470 or through the Garda Confidential Line on 1800-666111.
Det Garda Donohoe is survived by his wife Caroline, who is also a garda stationed in Dundalk, and their two young children, a boy and a girl.
Two of his brothers are also gardaí stationed in Swords and Navan.
Det Garda Donohoe joined the force in 1994 and was stationed in Dundalk for all his service.
He comes from a family of six, two girls and four boys, three of whom joined the gardaí.
Det Garda Donohoe is the first member of the force to be shot dead while on cash escort duty since the murder of Det Garda Jerry McCabe in Adare, Co Limerick in 1996.
Mr McCabe's widow Anne said she offered her "full support" to Det Garda Donohoe's family.
"I have to sympathise with the family and the shock they are going through."
She also called on the Government to introduce legislation that would see those who kill members of the force receive minimum mandatory jail sentences of 40 years without remission.
President 'shocked' by murder
President Michael D Higgins said he was deeply shocked to learn that Det Garda Donohoe had been shot dead.
Mr Higgins described the killing as "a dreadful crime" and said all Irish people "will be truly appalled by it".
Taoiseach Enda Kenny has said he learnt of the fatal shooting with deep shock and great sadness.
Mr Kenny said it was an outrageous act of cold-blooded violence that has left a family without a husband and father, and gardaí without a brave and valued member.
Minister for Justice Alan Shatter has condemned last night's killing.
Speaking on RTÉ Radio, Mr Shatter said it was a "brutal, callous murder" that was carried out in cold blood and there was no excuse for what happened.
He said gardaí had the full support of the Government and all right-thinking people in bringing those responsible to justice.
Tánaiste Eamon Gilmore said he was appalled by the killing and said it was "unacceptable crime".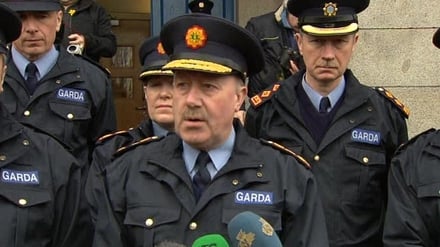 Garda Commissioner Martin Callinan said that he had been deeply saddened to hear of his colleague's death.
Commissioner Callinan said: "He was a very popular member of An Garda Síochána, a very efficient member, someone who was revered both by his peers and members of the community where he served."
Commissioner Callinan said gardaí would find "out precisely who was behind this robbery" and assured the slain detective's family that everything would be done to "bring the perpetrators of this terrible murder to justice".
Gardaí are still investigating whether subversive elements, such as dissident republicans, were involved or whether a criminal gang was responsible.
Commissioner Callinan said it was too early to "speculate whether there is a subversive element in relation to" the killing, or whether those behind it are "ordinary criminals".
"We will put all our energy towards finding out precisely who was behind this robbery," he said.
The Garda Representative Association said the killing highlighted the dangers gardaí face in the course of their duties and it must be condemned.
GRA President John Parker said: "This dreadful news is what every police family fears.
"At this time the wider garda family will be doing everything possible to support the late garda's relatives and loved ones, friends and colleagues. There is a deep shock across An Garda Síochána - and Irish society."
There has been cross-party condemnation of the shooting.
Fianna Fáil leader Micheál Martin said the killing was a "direct assault on our society".
He said: "No stone should be left unturned and no resource denied to the gardaí in their pursuit and prosecution of those responsible and all associated with them."
Sinn Féin's Pádraig Mac Lochlainn said: "This is a yet another tragic reminder of the immense risks our gardaí take every day to protect our communities.
"We can only hope that those responsible are speedily brought to justice."
The Cavan County Board has also expressed its sympathy to Det Garda Donohoe's family, as he was a former minor and U-21 player with the county.
Fine Gael TD for Louth Peter Fitzpatrick said the "senseless murder" had shocked the community and people who knew Det Garda Donohoe.
Mr Fitzpatrick said: "I have known Detective Donohoe for many years. I played football with him and managed his local GAA team.
"He was a gentle giant whose wife and children meant the world to him. As a volunteer in his local community, he was loved and respected by all who knew him."