Hurricane Sandy has grown into a major potential threat to the east coast of the United States after hammering Cuba's second-largest city and taking aim at the Bahamas, forecasters said.
Strengthening rapidly after tearing into Jamaica and crossing the warm Caribbean Sea, Sandy hit southeastern Cuba early today with 169 kmph winds that cut power and blew over trees across the city of Santiago de Cuba.
Reports from the city of 500,000 people, about 750 km southeast of Havana spoke of significant damage, with many homes damaged or destroyed.
According to one Cuban radio report, at least one person was killed, bringing the death toll to at least three after fatalities in Jamaica and Haiti.
US government forecasters warned that much of the country's east coast could get swiped by Sandy, with flooding, heavy rains and high winds from later today.
By early next week, it could hit an area of New England where Hurricane Irene caused severe damage last year.
Forecasters said the hardest-hit areas could span anywhere from the coastal Carolinas up to Maine, but New York City and the Boston area were also both potentially in harm's way.
"It is likely that significant impacts will be felt over portions of the US east coast through the weekend and into early next week," the National Hurricane Centre said.
"It's going to be a high-impact event," said Bob Oravec, a lead forecaster with the National Oceanic and Atmospheric Administration's Hydro-Meteorological Prediction Centre in College Park, Maryland.
"It has the potential to be a very significant storm with respect to coastal flooding, depending on exactly where it comes in. Power outages are definitely a big threat," he said.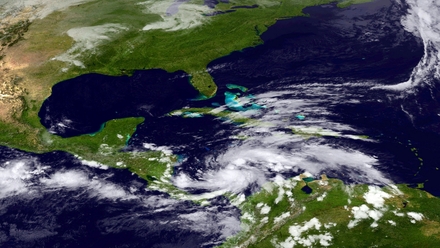 In Cuba, communications were difficult hours after the eye of the dangerous Category 2 hurricane came ashore just west of Santiago de Cuba with waves up to 9 meters and a 2-meter storm surge that caused power outages and extensive coastal flooding, the Cuban weather service said.
The storm and driving rains triggered widespread flooding across the south-western half of Haiti, with reports of life-threatening landslides in some areas.
In the United States, the National Hurricane Centre in Miami said at 11am EDT (4pm Irish time) that Sandy had moved well off Cuba's coast and was approaching the central Bahamas with maximum sustained winds of 169 kmph.
It was still a Category 2 storm on the Saffir-Simpson scale of hurricane intensity, but some weakening is expected over the next 48 hours as Sandy moves through the Bahamas island chain.
High winds, rains and pounding surf are expected across parts of Florida's Atlantic coast, with the biggest impact starting tonight and lasting through tomorrow.
Unlike Irene, which caused billions of dollars in damage as it swept across the US Northeast in August last year, Sandy is forecast to drop below hurricane strength before making US landfall.
However it will be moving slower than Irene did, increasing its potential for damage, weather forecasters said.
Jeff Masters, a hurricane specialist and blogger with private forecaster Weather Underground said a landfall on Monday along the US mid-Atlantic coast could trigger "a billion-dollar disaster."
"In this scenario, Sandy would be able to bring sustained winds near hurricane force over a wide stretch of heavily populated coast," he said.
Alternately, Mr Masters said, some computer forecast models indicated Sandy had the potential to unleash "the heaviest October rains ever reported in the northeast US, Nova Scotia and New Brunswick."
Mr Oravec said there could be tropical-storm to hurricane-force winds on the coast and added: "Coastal flooding will be a big concern."
A Category 2 storm has winds between 154 and 177 kmph, meaning that Sandy was still within a whisker of becoming a Category 3 hurricane as it bore down on the Bahamas.
A tropical storm warning along the Florida east coast has been extended northward to the state's Flagler Beach and a tropical storm watch has been issued for the north-eastern Florida coast from Fernandina beach southward to north of Flagler Beach.
Sandy is expected to hit the US during a full moon, increasing the flood potential, since tides will be at or near their highest.
"There's a big potential for huge effects from the storm," said Mr Oravec.
"We can't rule out the potential for snow eventually as we go into the week and the storm moves inland," he said. "There's a lot of indications that there will be potential for heavy snow across part of the Appalachians."