Tánaiste Eamon Gilmore has said that a context referred to in an internal Labour email about the resignation of Roisin Shortall as junior minister for health was the need for Government stability.
The email to Labour Party figures by party Chairman Colm Keaveney was first disclosed on RTÉ's Morning Ireland today.
It has prompted calls from Fianna Fáil for a full statement to the Dáil on the issue by Mr Gilmore.
Mr Gilmore said he believed that when there were difficulties between the two parties in Government, the place to sort them out was around the table or, if necessary, in direct talks between himself and the Taoiseach.
The Tánaiste was speaking to reporters at the Department of Foreign Affairs.
In the email, Mr Keaveney called for party unity in coming months, while acknowledging that there had been "disquiet" over Ms Shortall's resignation, as well as other issues.
But he wrote that there was "another context" to the resignation.
Ms Shortall resigned last week after months of conflict with James Reilly, which culminated in a row over the selection of locations for primary care centres.
Fianna Fáil Health Spokesman Billy Kelleher earlier described the contents of the email as "extraordinary".
Mr Kelleher said that Mr Gilmore gave an explanation to the Dáil yesterday surrounding the decision by Mr Reilly to add locations to the list of proposed centres.
He said the Dáil was led to believe that this was a full explanation of the events.
Mr Kelleher said that the contents of the internal email showed that Mr Gilmore held back key information from the Dáil and from the Irish people.
Eggs thrown at Tánaiste's car at Ballyfermot event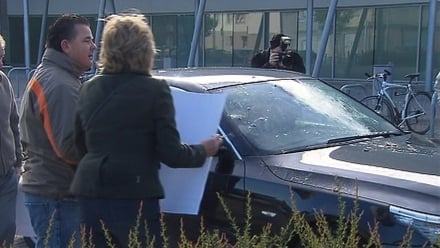 A group of around 30 protesters blocked a car carrying the Tánaiste who was attending a public event in Ballyfermot this morning.
Eggs were thrown at the car in which Minister for Children Frances Fitzgerald was also travelling.
Mr Gilmore described the protest as "very aggressive".
He said he had no problem with a peaceful protest, but the event was for children and the protest organisers should not have created a situation where the event had to be postponed.