Team Ireland has returned home from London 2012 after its most successful Olympic games since 1956.
Events took place in Bray, Mullingar and Belfast to welcome home boxing medal winners Katie Taylor, John Joe Nevin, Paddy Barnes and Michael Conlan.
Gold medal-winning boxer Taylor waved the tricolour from the cockpit of the plane after it landed.
The 66 Irish athletes and the officials were welcomed by their relatives at the airport, before departing for their home towns and cities.
President of the Olympic Council of Ireland Pat Hickey said the team is "truly happy" to be back after one of the most successful Olympics of all time.
Chef de Mission Sonia O'Sullivan said the success of the five medal winners was helped by the "team spirit".
She also acknowledged the support from the Irish people.
Minister of State for Tourism & Sport Michael Ring welcomed home Team Ireland and praised them as the "greatest since 1956".
He thanked the team on behalf of the Government and the Irish people, saying they "lifted the souls, minds and hearts of the people in Ireland", especially in the current economic climate.
He said, when it comes to renegotiating for sports funding in the future, "any minister cannot but give me more money".
Around 20,000 people gathered on the seafront in Bray for a concert to welcome home Taylor and Wexford boxer Adam Nolan, who trains in the town.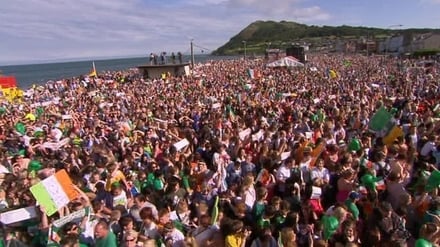 The two arrived on board an open-top bus.
The boxers were introduced to the crowd, along with local paralympian Padraic Moran, who will travel to London for the Paralympics on Wednesday.
Presentations were also made on behalf of the people of Bray.
The Olympic gold medallist thanked everyone for their prayers and said she felt so proud and would not be in this position without all the support she has received over the last few years.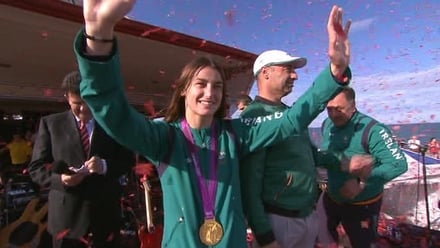 There was music and a fireworks display on the seafront afterwards.
Boxing silver medallist John Joe Nevin was welcomed home to Mullingar this evening.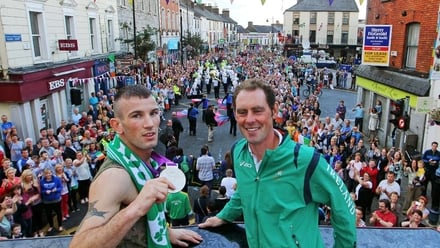 His fellow Mullingar Olympian Joseph Murphy, who finished fifth in the team eventing competition, was also honoured.
Around 6,000 people were in Cusack Park for a homecoming ceremony.
Bronze medal winners Paddy Barnes and Michael Conlan attended a reception at the Titanic Centre in Belfast followed by an open-top bus tour of the city tomorrow.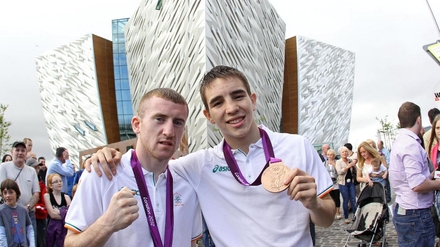 Both boxers said they were happy to be home and thanked everyone for their support.
Barnes said he plans to take a break but was looking ahead to competing in Kazakhstan later this year.
Conlan said it had not sunk in that he won bronze, but said his preparation for the next Olympics in Rio de Janeiro in 2016 would start soon and he was aiming for gold.
Official homecoming for Olympians set for Wednesday
An official homecoming reception for the Irish Olympic squad is to be held at the Mansion House in Dublin at 1pm on Wednesday.
The announcement was made by the Olympic Council of Ireland (OCI) last night amid a storm of controversy over the issue.
After a day of confusion, the OCI confirmed that agreement had been reached with Dublin City Council and Minister Ring to hold the celebration on Wednesday.
The athletes had indicated they were tired and did not want a major public event when they returned to Dublin.
Mr Hickey this morning rejected suggestions that the arrangements for the homecoming have been a "shambles".
Speaking on RTÉ's Morning Ireland, Mr Hickey said there had been a breakdown in communications, but said the reception would be very successful.
He said: "Shambles is too big of a word. It's a very happy homecoming with a very good, successful team.
"There was some problems with communication, whether it was going to be in the Mansion House or the airport, or a Government reception at Farmleigh.
"With so many things in the mix and with the closing ceremony, it was very busy."
Mr Hickey also denied there was any row between the OCI and Katie Taylor's father.
Peter Taylor was said to be angry about reports he had objected to a homecoming reception in Dublin.
Mr Hickey said: "There is no rift whatsoever between Pete Taylor and the Olympic Council of Ireland or their athletes. I personally have a great relationship with Peter.
"He was misquoted in several papers yesterday about many things and, of course, the man was very angry."
Meanwhile, Lord Mayor of Dublin Naoise Ó Muirí said there was no breakdown in communication between those involved in the organisation of the homecoming event.
Mr Ó Muirí said the athletes' decision had to be respected and Dublin City Council had to put its initial plans on hold.
Fianna Fáil Spokesman on Sport Timmy Dooley had called on the Lord Mayor to clarify what he called the "botched" city centre homecoming.
Mr Dooley said there appeared to have been a very unprofessional approach from the mayor's office on the issue.
Former world super bantamweight boxing champion Bernard Dunne described it as a "shambles".