US company SpaceX has become the first private enterprise to send its own spacecraft toward the International Space Station.
The unmanned rocket blasted off from Cape Canaveral Air Force Station in Florida at 3.44am (8.44am Irish time)
The 54-metre tall Falcon 9 rocket lifted off from a refurbished launch pad near where NASA launched its now-retired space shuttles.
Less than ten minutes later, the rocket delivered its cargo - a Dragon capsule with 544kg of supplies for the station crew - into orbit.
"Feels like a giant weight just came off my back," company founder and chief executive Elon Musk posted on Twitter.
Dragon will take about a day to reach the space station's orbit.
It will then spend another day practicing manoeuvres and testing its communications systems and navigation aids.
If all goes as planned, NASA is expected to clear Dragon for berthing at the space station on Friday.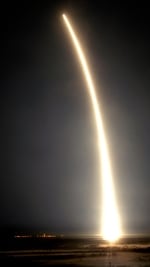 NASA is counting on companies such as SpaceX to take over the task of flying cargo - and eventually astronauts - to the $100bn space station, which orbits about 390km above Earth.
Currently, NASA is dependent on Russia to fly crew to the station, at a cost of more than $60m per person. Russia, Europe and Japan also fly cargo to the station.
If its test flight is successful, SpaceX would become the first private company to reach the space station, a microgravity research complex for biological, materials, fluid physics and other science experiments and technology demonstrations.
SpaceX and a second company, Orbital Sciences Corp, already hold contracts worth a combined $3.5bn to fly cargo to the station.
SpaceX also is among four firms vying to build space taxis to fly astronauts, tourists and non-NASA researchers.
Separately, NASA contributed nearly $400m to SpaceX's $1.2bn commercial space programme, which includes development and up to three test flights of Falcon 9 rockets and Dragon capsules.