The participants:
Eamon Gilmore, Labour Party leader
Mary Lou McDonald, Sinn Féin vice-president
Declan Ganley, Libertas
Norah Casey, Entrepreneur
2230 Pat Kenny brings what was a loud and at times quite a bad-tempered debate to a close.
2229 In their final addresses the Yes and No sides give a final outline to their arguments.
If tonight's participants aren't being clear enough - Tony Connelly breaks down the Fiscal Treaty in detail here
2227 To shouts of "Frankfurt's way", EG says you do not solve a problem by shouting slogans at it.
2226 NC says she is of no political persuasion, and that to vote No would be the worse of two options.
2224 It's getting quite shouty again. EG says we can grow our way back to balancing the books.
2223 EG: "This treaty is not about the bank debt - it's about stability for the euro. It's about confidence for investors to come in here and to create jobs"
2221 DG says Ireland should drop the bank debt. That, he says, would help us "balance the books".
2219 MLM says to meet the new structural deficit rule Ireland is looking at an additional €6bn in cuts, on top of the €8bn of cuts that would be needed to get back to 3% of GDP. EG disputes this.
2218 EG says the 'structural deficit' rule is worked out country-by-country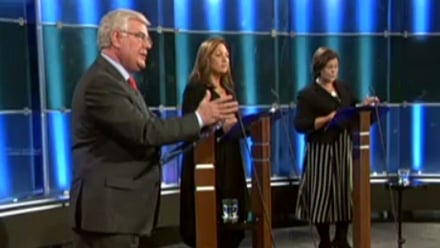 2216 And we're back. Pat Kenny appeals to the panellists to not speak over each other, which would be nice. Debate moved on to the 'structural deficit' rule.
2211 An audience member says the upcoming referendum is about the Household Charge and water charges. He asks where Minister for the Environment Phil Hogan has been lately.
2209 A representative from 'Farmers for No' says that Ireland will lose its CAP if the treaty is introduced. An animated Pat Kenny tells him to "get a life". The debate is not about the CAP, he adds.
2205 DG accuses NC of xenophobia after she said that she lives in Ireland and does not just live here when there's a referendum.
An angry Declan Ganley declares that he loves his country.
"I speak with this accent because my parents had to emigrate, like many young people are being forced to do today"
2200 DG says we do have a veto for the ESM, which EG denies.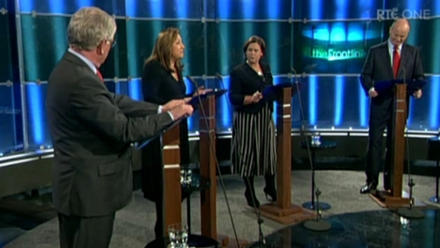 2158 An audience member says the electorate has been deprived of a voice since 2008, and she will vote no to protest us being the "lapdogs of Europe"
2157 NC says the books still have to be balanced. MLM says the alternative to balancing the books by cuts is to do so with growth.
2155 MLM says the Government has been "found out". It is ironic she says that we are depending on France to further a growth agenda.
2153 EG says Ireland was not ignored, and it was agreed in January that there would be a growth agenda.
2151 DG says he wants the Irish bank debts federalised, and a No vote would send a message to Europe.
2148 Austerity will be with us either way, says Norah Casey. And it will be worse if we vote no, she adds.
2147 MLM says the policy of austerity does not work, and it hasn't worked since 2008.
2146 DG accuses EG of "playing with words".
2144 EG says delaying the treaty vote would lead to uncertainty. What Europe needs now he says, is certainty.
2143 Pat Kenny puts it to EG that it is still uncertain what the final treaty may look like. "Why not delay the damn thing," he asks.
2142 Audience member Deborah Curran says she is concerned we are rushing into a bad deal. She says "the euro is on the edge of a cliff"
2141 EG "There are no fairytale solutions. We have to work our way through our problems."
2140 MLM - "Families are down to the bone and there is no more to cut. This treaty will mean more austerity."
2139 NC - "A Yes vote will build on confidence to stimulate foreign investment"
2138 DG - "Ireland should not be rushed into a bad deal"
2137 And we're off.... Pat Kenny gets the ball rolling by introducing the four contestants, each speaker will get 60 seconds to outline their case for a Yes/No vote
2123 In the interests of brevity (and time-saving!) each participant will be identified by their initials ie Mary Lou McDonald will be MLM, Eamon Gilmore will be EG etc
2115 All four participants are ready to debate: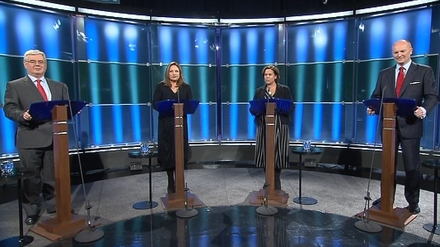 2056 Earlier, European Parliament President Pat Cox accused Sinn Féin of using selective quotation to argue Ireland could still access the ESM fund if it rejects the fiscal treaty.
2050 Good evening and welcome to our live text updates of The Frontline referendum debate.
Tánaiste Eamon Gilmore pictured as he arrived for the debate:
And Libertas founder Declan Ganley: