Businessman Hugh Morgan has said he handed over a cheque for €5,000 for Fianna Fáil to Seán Gallagher in June 2008.
In a statement, Mr Morgan said Mr Gallagher had called to his business premises in Co Armagh to personally collect the cheque. He said Mr Gallagher had phoned him earlier in the month, inviting him to a Fianna Fáil fundraising event and requested a donation.
The businessman said he was promised a private audience with the Taoiseach and a photograph in return for the donation.
Seán Gallagher quickly denied the claim, saying the statement was "completely at odds with what he allegedly told Martin McGuinness two hours before the Frontline debate."

The issue of the cheque has dominated the election campaign since last night's debate on The Frontline, where Mr McGuinness claimed that Mr Gallagher collected a €5,000 donation "from a Co Louth businessman".
Mr Gallagher initially said he had no recollection, but then claimed the man in question was a fuel smuggler with links to Gerry Adams, but seemed to concede there may have been an envelope handed over.
Fianna Fáil later confirmed that it had received a donation from Mr Morgan.
This afternoon, Mr Gallagher said that Mr McGuinness told a "blatant lie" when he stated that Mr Gallagher had personally collected the €5,000 cheque after the Fianna Fáil fundraiser.
He described Mr McGuinness' comments as "wild claims".
Speaking on RTÉ's Six One News this evening, Mr Gallagher said he was absolutely sure that he did not receive a cheque from Mr Morgan.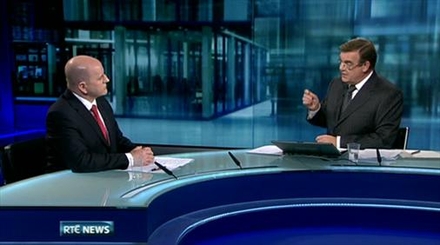 He said he was asked to tell attendees there was a fundraising event on and that they could make a donation up to €5,000.
Mr Gallagher insisted that he had always told the truth and rejected suggestions that he acted as a "bag-man" for Fianna Fáil.
"The night before Mr Morgan turned up at the event - and I didn't know Mr Morgan before the event - I was contacted by Fianna Fáil headquarters to invite some local business people. I invited possibly three or four - Mr Morgan was one of them."
Mr Gallagher insisted he had never visited Mr Morgan's home after the event nor was he given a cheque.
"I did not receive a cheque from Mr Morgan."
Asked why he had not been clear about the sequence of events during the debate last night, given that the accusation was first levelled at him last week, Mr Gallagher claimed he was shocked that the issue had been raised in the debate.
"I was shell-shocked, that this was thrown in, and that he was saying that I delivered a photograph and collected a cheque."
Given his role ahead of the fundraiser, Mr Gallagher acknowledged that his actions could be seen as soliciting donations, even though his spokesman had previously said that at no time Mr Gallagher had actively solicited donations.
He said he was not sure what his spokesman had said, but added that he always told the truth.
Final full day of campaign
David Norris has said he did not find Mr Gallagher's explanation on last night's Frontline debate of his involvement in a Fianna Fáil fundraiser as credible.
Speaking in Blanchardstown where he was canvassing, Mr Norris said he felt Mr Gallagher's explanations were incoherent.
He said that following last night's debate, he does think there are votes that are free to be gathered, and much more of a floating vote.
He said it is his belief that people are still making up their minds and the election will be decided in the next 48 hours.
Dana Rosemary Scallon has said she does feel sympathy for Mr Gallagher after last night's debate.
Speaking in Longford during a canvas and walkabout, Dana said she is hoping the people of Ireland will vote for her on her records of honesty and achievement.
Ms Scallon said she had brought investment to the country while she was a member of the European Parliament and she feels there is a role for the President in promoting employment all over Ireland.
Michael D Higgins has said any candidate must satisfy every concern about trust and transparency.
At the final press conference of his campaign, Mr Higgins said there was a policy difference between himself and Mr Gallagher on their approach to job creation.
He said he understood that while he had created jobs as a minister, he could not do that as President.
His role would now be in being a source of inspiration at home and attracting foreign direct investment abroad.
Mr Higgins said that was very different from electing an entrepreneur.
Gay Mitchell spent the afternoon canvassing in Dublin.
He visited parts of the city where he grew up in Inchicore, as well as Kimmage and Crumlin.
Mr Mitchell said he remains confident he will perform much better on election day than opinion polls have suggested.
He repeated that there should be more focus in the media on the role of the President.
In a statement this evening, Mary Davis said that any person who seeks the highest office in the country ''must demonstrate the highest standards of integrity in everything they have done.''
She said Mr Gallagher's response to the issues raised have not clarified anything, and that even more questions now arise.
''To be perfectly frank, Sean Gallagher has 16 hours to completely and utterly address this matter and to answer every question clearly and unequivocally.
''If he cannot do this within this time, then - in my opinion - the people can draw but only one conclusion.''