Presidential candidate Martin McGuinness was confronted during his canvas in Athlone this afternoon by the son of a member of the Irish Army who was killed in an incident after the kidnap of Don Tidey in Ballinamore in 1983.
David Kelly, whose 35-year-old father Paddy was shot dead, called on Mr McGuinness to name those responsible.
Mr McGuinness denied he knew the names of the IRA members involved in the kidnapping of Mr Tidey.
He told Mr Kelly that while he sympathised with him, he was not a member of the IRA army council when it happened and repeatedly denied suggestions by Mr Kelly that he was a liar.
Afterwards, Mr Kelly said the Presidential election should be about truth and that was what he was looking for.
He also said that he and his family had considered the coroner's report on his father's shooting and were now 100% certain that the bullet that hit their father came from the gun of an IRA man involved in the incident.
He rejected suggestions that there was any doubt about this and that his father had been hit in crossfire after gardaí and the army confronted the gang who were holding Mr Tidey.

Earlier, Mr McGuinness condemned those behind a death threat phoned into a Sunday newspaper.
He said he was unaware of the details of the alleged death threat made but would condemn it without hesitation.
He is canvassing in Longford, Westmeath and Offaly this afternoon.
Mr McGuinness said the economy is central issue in the campaign and he would be discussing ways in which the President could make a difference throughout the campaign instead of focusing on negative issues.
Dana hits out at 'anti-Catholic bias'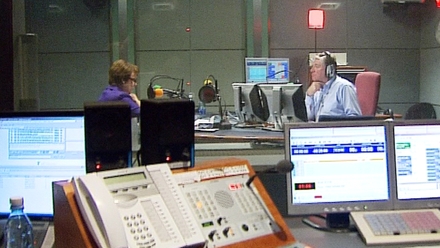 During an interview on Today with Pat Kenny on RTÉ Radio this morning, Presidential candidate Dana Rosemary Scallon criticised what she claimed was an anti-Catholic biase in the media.
She also said that she would withdraw from the Presidential campaign if questions continued to be asked about details of a family dispute, which were revealed in a court case.
Davis denies conflict of interest over O'Brien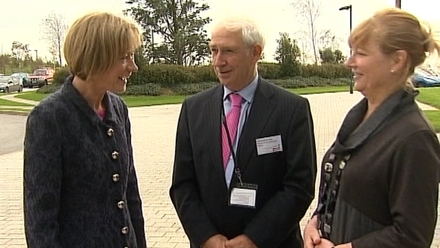 Independent Mary Davis has insisted that she had acted with full integrity while serving as a board member of the Broadcasting Commission of Ireland.

Ms Davis was responding to claims that there may have been a conflict of interest involving the businessman Denis O'Brien.

Ms Davis was Chief Executive of Special Olympics Ireland and Mr O'Brien was chairman of the games organising committee when the Special Olympics were held in Ireland in 2003.

Speaking in Cork this morning, Ms Davis said until she left her position at Special Olympics Ireland, she absented herself from Broadcasting Commission of Ireland board meetings during discussions and decisions that related to Mr O'Brien's business interests.

Ms Davis took up a role as Managing Director of Special Olympics Europe and Eurasia in 2008.

She said after leaving Special Olympics Ireland there was "no necessity" for her to absent herself from any discussions at board meetings of the BCI that involved Mr O'Brien's business interests and she had legal advice to that effect.

She said she always acted "with an independent mind" in relation to the decisions she has made or the items that were discussed at the BCI.
Seán Gallagher says he is concentrating on spreading a message of confidence and positivity in a way that is not party political.
Mr Gallagher was responding to suggestions that he was trying to win votes from both Fianna Fáil and non-Fianna Fáil supporters by being deliberately ambigious about his background in Fianna Fáil.
He said he had never been a politician, had never been elected and was an independent candidate.
Speaking while canvassing this afternoon in Co Kerry, Mr Gallagher said he was winning support from people who supported Fianna Fáil, Fine Gael, Labour, Sinn Féin and those who have no party affiliation.
Asked why he pledged continuing support to Fianna Fáil in his letter of resignation from the party's National Executive last January, Mr Gallagher said it was part of his philosophy to offer support to everybody who was trying to improve and he had similarly pledged support to Enda Kenny when he met the Taoiseach recently.

Of the remaining candidates Michael D Higgins is attending a number of events in Dublin.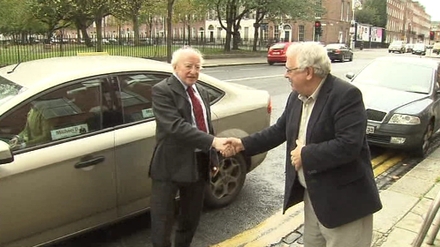 Gay Mitchell will be attending events around Galway, while David Norris is bringing his campaign to Dublin, Portlaoise, Tullamore and Cashel.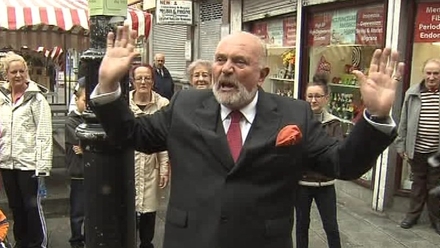 Deadline for Supplementary Register of Electors today
Today is the deadline for voters to get their names on to the Supplementary Register of Electors for the forthcoming Presidential election, the Dublin West by-election and referendums.
You can check the register at checktheregister.ie/
Voting takes place on 27 October.