A second poll in 24 hours has confirmed some dramatic shifts in the standing of the various candidates, with Independent Sean Gallagher emerging as a serious challenger.
The opinion poll, conducted by Red C for Paddy Power, shows Michael D Higgins at 25%, up 7%. Sean Gallagher stands at 21%, up 10%.
Martin McGuinness is holding his own at 16%, while there has been a drop in support for David Norris - who is down seven at 14%.
Gay Mitchell is at 10%, down 3%, and Mary Davis is also at 10%, down three. Dana Rosemary Scallon is at 5%, a drop of one.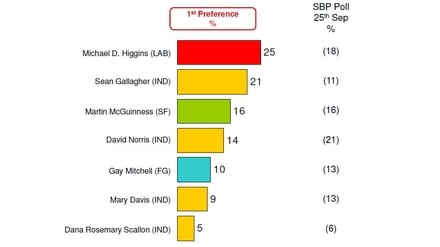 1,000 interviews were conducted between the 3 and 5 October.
The poll suggests that Michael D Higgins needs to do better among younger voters and Sean Gallagher needs to persuade older voters to back him.
Red C also asked voters which candidate they would most like to invite for dinner.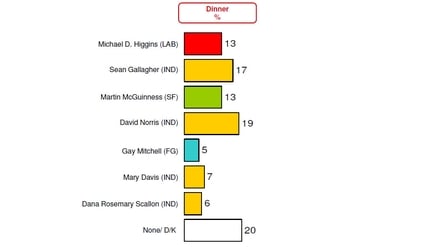 The largest group - 20% - said there was no candidate they would invite.
Of the seven candidates, 19% chose David Norris, 17% chose Sean Gallagher. Martin McGuinness or Michael D Higgins were chosen by 13% of respondents.
Gay Mitchell, at 5%, was the candidate people would least like to invite for dinner.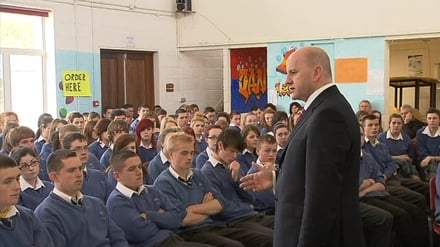 Another poll this morning - this time for Ipsos MRBI - put Michael D Higgins on 23%, Seán Gallagher on 20% and Martin McGuinness on 19%.
Mary Davis was at 12%, David Norris on 11%, Gay Mitchell on 9% and Dana Rosemary Scallon on 6%.
That poll was carried out after the initial debates between the candidates on radio and television.
David Norris has blamed the publicity he has received for the drop off in his support in the two most recent opinion polls.
Canvassing in Tallaght this evening, Senator Norris pointed to the large number of articles about him in the media and said: "Most of it is untrue, lots of it is misinformation and some of it is right".
He said he had held a meeting with his team after hearing of the poll results and would be redoubling his efforts on the campaign trail.