Six of the seven presidential candidates were out campaigning this afternoon following last night's television debate on RTÉ's The Late Late Show.
Speaking at his campaign launch at the Rotunda in Dublin, Sinn Féin candidate Martin McGuinness promised he would begin "ten years of reconciliation on the island" if he is elected President.
Mr McGuinness said this would help celebrate the significant anniversaries during this time.
He was joined onstage at his campaign launch by Robert Ballagh, Peter Sheridan and Frances Black along with Sinn Féin president Gerry Adams and Vice President Mary Lou McDonald.
Mr Ballagh said he got involved because of fanatical reaction in some quarters to McGuinness' candidature.

Speaking earlier in The Liberties in Dublin , Mr McGuinness claimed the constant reference to his IRA past was a media invention by people ill-disposed to his campaign and "ordinary people are not interested."
Elsewhere, Labour's Michael D Higgins was opening an architectural festival and attending an art exhibition and sale in Galway - with the money raised going to his campaign.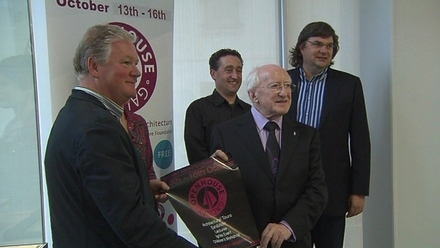 Fine Gael's Gay Mitchell was in Kilkenny, and Independent David Norris was in Limerick, Clare and Galway.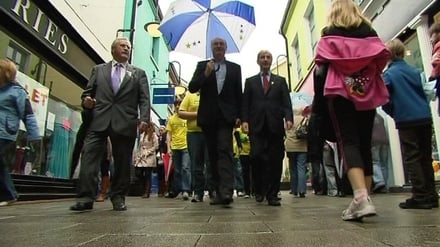 Meeting shoppers in Dublin, Sean Gallagher said the campaign was about voters getting to know the candidates.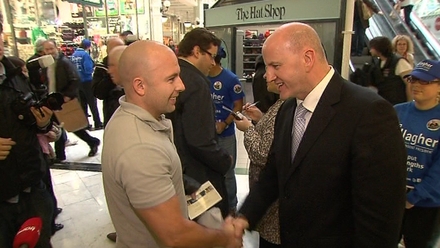 A planned canvas of Grafton Street by Mr Gallagher was postponed because of heavy rain.
Fellow Independent Mary Davis, who was in Co Kerry today, defended the payments she received for appointments to State boards during the last decade.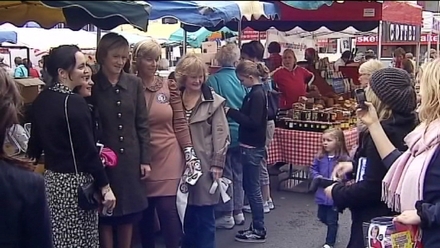 Today's Irish Independent newspaper reported that Mary Davis earned €188,400 as a result of being appointed to three State bodies since 2000, on top of her the salary she was receiving for her work with Special Olympics.
Responding to the article, Ms Davis said the figures were already in the public domain and she had nothing to hide in relation to any boards she had served on in the past.
She insisted that she was politically independent.
Dana Rosemary Scallon did not campaign today.
Candidates in Late Late debate
The seven Presidential candidates took part in the first televised debate of the Presidential campaign on The Late Late show last night.
The debate was preceded by individual interviews with six of the candidates.
Click here for a tracker from the debate
Independent Senator David Norris had already appeared on the show two weeks, so the other six candidates got a chance in turn to set out their stalls and say why they should be President.
Gay Mitchell said he wanted to put his fighting spirit to work to use the President's office to innovate.
Asked if he thought people werent warming to him, Mr Mitchell said he was paying little heed to opinion polls.
Martin McGuinness said he wanted to confront the selfishness and greed of bankers and others which had characterised Ireland recently.
Mr McGuinness said he would be pleased to meet the British Queen, if she visisted here.
Mary Davis said she would bring the passion and energy she had brought to disability issues to a wider stage.
She insisted she was "completely independent" politically, despite serving on 23 boards.
Independent Dana Rosemary Scallon said she wanted to protect Ireland's sovereignty as she had tried to do in the past during the Lisbon and Nice treaty debates.
Ms Scallon said it was better to burn the bondholders rather than burn the Constitution.
Independent Seán Gallagher said it is about entrepreneurship and trying to bring hope and jobs to the unemployed.
Mr Gallagher said he embraced his Fianna Fáil past but insisted that he was not a member of the party now.
Michael D Higgins it is about creating a new inclusive and creative citizenship.
Me was not an "establishment" candidate, and said he had the support of many others outside his party.
Then they were joined by Mr Norris for an hour-long debate covering topics such as the President's salary and the cost and funding of the campaigns.
Mr Norris said it was time to move on from the controversy surrounding letters he wrote seeking clemency for his former partner.
There will be two more TV debates before polling day - one on TV3 and the other on RTÉ's The Frontline.