The search continues for Libyan leader Muammar Gaddafi as thoughts now turn to how the country will be run when, as seems inevitable, his regime is toppled.
Main developments:
- Rebel fighters meeting some resistance in Tripoli
- Whereabouts of Muammar Gaddafi unknown
- Gaddafi's eldest son Mohammed Al-Gaddafi escapes
- Government spokesman says regime ready to talk with rebels
- Safe passage offered to Gaddafi and his sons
- Gaddafi's son Saif al-Islam captured
- Rebels celebrating in Tripoli's Green Square
- Libyan Prime Minister said to be in Tunisia
- Libya: Timeline of events
Updates:
2353 Mohammed al-Gaddafi has escaped after having been arrested by rebels in Tripoli, Libya's US ambassador has confirmed.
The eldest of Muammar Gaddafi's son, and brother Saif al-Islam, who was regarded as the veteran leader's intended successor, were arrested yesterday.
But Mohammed was apparently taken by 'maybe Gaddafi's forces,' Libyan Ambassador Ali Suleiman Aujali with the Libyan rebel National Transitional Council told CNN in announcing the escape.
2335 NATO warplanes are bombing Gaddafi's compound in Tripoli, Al-Arabiya television is reporting. They cited rebel sources who said they could hear the attacks from nearby.
2153 French President Nicolas Sarkozy has condemned Muammar Gaddafi's 'criminal and cynical' attempt to cling to power despite the apparent collapse of his regime.
2121 Watch Barack Obama's press conference on the situation in Libya.
2119 Iraq's prime minister has predicted that Libya will not follow the example of his country's post-invasion chaos with the overthrow of Muammar Gaddafi.
'It will not end in a tribal conflict because it is an oppressed people's struggle,' Nouri al-Maliki told journalists. 'We stand ... with all people who are looking for their freedom.'
Iraq suffered a brutal sectarian war between Sunni and Shiite Muslims from 2006 to 2008 that cost tens of thousands of lives in the aftermath of the 2003 US-led invasion which ousted Saddam Hussein.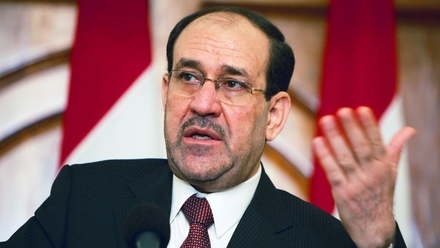 2111 Forces loyal to Muammar Gaddafi fired a suspected scud missile, which originated near the city of Sirte, a US defence official has confirmed.
2057 A NATO warplane has shot down a scud missile fired from Sirte, Gaddafi's home city and final strong-hold, according to Al-Jazeera.

2028 Relatives of victims of the 1988 Lockerbie bombing have expressed their happiness over the apparently imminent fall of Gaddafi, who is widely blamed for ordering the attack.
2003 France has said it hopes to host a meeting of international partners in Paris next week to lay out a roadmap for Libya's future.
The country's Foreign Minister Alain Juppe also described the rebels' entry into Tripoli as a 'great satisfaction'.
1959 Watch the report on Libya from today's Six One News
1944 Barack Obama has said that the United States would be a friend and partner to Libya, but urged rebels poised to depose Muammar Gaddafi to not seek justice through violent reprisals.
'The Gaddafi regime is coming to an end and the future of Libya is in the hands of its people,' Mr Obama said in a statement to reporters.

1903 German Chancellor Angela Merkel has said more bloodshed must be prevented in Libya as its leader's power is slipping.
'Today is the day when we see the beginning of the breakdown of former Libyan leader Gaddafi's regime, his power begins to crumble,' Merkel said during a visit to Croatia.
'It is very important that we make sure to prevent further bloodshed.'
1840 Barack Obama has not changed his opposition to putting US troops on the ground in Libya.
'That has not changed,' White House spokesman Josh Earnest told reporters in Martha's Vineyard, Massachusetts, where Mr Obama is on vacation.
1826 US President Barack Obama will make a statement on 'the latest developments in Libya' at 7pm Irish time.

1720 UN Secretary-General Ban Ki-moon has called on forces loyal to Muammar Gaddafi to stop fighting and allow a peaceful transition of power in the North African state.

1715 The Palestinian Authority has said it recognises the rebel National Transitional Council as the legitimate representative of the Libyan people.
'The Palestinian state, the Palestinian Authority and the Palestine Liberation Organisation recognise the NTC and hope that the Libyan people will quickly go back to a normal life,' a spokesman for president Mahmud Abbas said.
'We respect the Libya people's struggle for freedom,' added the spokesman Nabil Abu Rudeina.
Meanwhile, Hamas issued a statement welcoming the 'toppling' of Gaddafi's regime, after rebels seized control of large swathes of Tripoli.
1709 Muammar Gaddafi had reportedly sought to blow up the embassy of an Arab country in Tunisia.
A Libyan soldier who claimed he had been given the task, revealed the plot after handing himself over to Tunisian authorities.
'This bomb plot was designed by Gaddafi. He was seeking to derail the Tunisian revolution,' the soldier, Colonel Abd Erazzak Al-Rajhi, said at a press conference organised by Tunisia's army.
1659 The Pentagon believes Gaddafi has not fled Libya.
It's 'probably fair to stay that we believe he's still in the country,' spokesman Colonel Dave Lapan told reporters.
'We do not have information that he's left the country.'
1644 UN Secretary-General Ban Ki-moon has called on forces loyal to Gaddafi to stop fighting and allow for a transition of power.
He added that all UN member states are obligated to comply with decisions of the International Criminal Court, which has issued arrest warrants for Gaddafi, his son Saif al-Islam and his intelligence chief.

1639 Gaddafi's forces have quit the frontlines of the eastern oil town of Brega and are fleeing west towards his bastion of Sirte, according to a rebel spokesperson.
1630 The World Bank has said it has been monitoring the situation in Libya and would resume involvement with the country at the guidance of its member countries.
1610 The Pentagon has said it does not believe Gaddafi has left Libya.
A spokesperson said any post-Gaddafi mission in the country is not expected to involve US troops on the ground.
1601 Turkey's Foreign Minister Ahmet Davutoglu has hailed the developments in Libya as a 'significant achievement', and said the change in the north African country was a lesson for everyone.
1555 Tánaiste Eamon Gilmore has said he welcomes "what now appears to be the end of the Gaddafi dictatorship".
He said the Libyan National Transitional Council was now the only authority in Libya and hoped they would be able to quickly establish an effective government for the whole country.
1502 Irish-based Libyans and supporters of the rebels celebrate on O'Connell St, Dublin.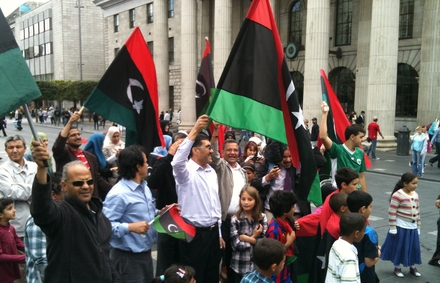 1454 The Arab League has thrown its weight behind Libya's rebels.
'Arab League chief Nabil Elaraby offers his full solidarity with the ongoing efforts under the leadership of the National Transitional Council,' the Cairo-based League said a statement that was its first formal acknowledgement of the council.
'This is a historic moment that marks a milestone in the history of the Libyan people.'
1451 Libyan state TV has gone off air, according to a rebel spokesman.
1450 A foreign minister has said that Egypt recognises the Libyan rebel government.
1356 An appeal from calm has been made in a news conference by the Libyan National Transitional Council.
'I call on all Libyans to exercise self restraint and to respect the property and lives of others and not to resort to taking the law into their own hands,' Mustafa Abdel Jalil told a news conference in Benghazi a short time ago.
'We assure the international community that we are seeking to build solid ties based on mutual respect.'
Mustafa Abdel Jalil added that countries would benefit from 'special privileges' in relations with the oil-rich north African country.

1345 Energy giant BP has said that it would seek to return to Libya to continue its exploration programme 'when conditions allow'.
The London-listed oil giant evacuated its expatriate staff in February when the popular revolt broke out against Gaddafi.
BP's Libyan operations are still in the early stages of development so the company did not have much infrastructure there.

1324 Italy's Silvio Berlusconi has called on Gaddafi to give himself up.
1317 Russia says it expects an imminent switch of power to Libya rebels.
1313 One of Gaddafi's sons, al-Mutassim, is in the leader's Bab al-Azizya compound in Tripoli, Al Arabiya television is reporting.
Earlier, the Dubai-based channel said that tanks supporting the leader were positioned at the compound's entrance.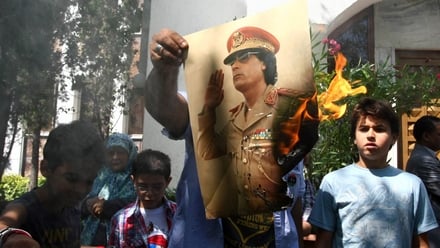 1259 The head of the Libyan rebels council said that his ad hoc government was preparing to move to Tripoli where some 'pockets' of loyalists to Colonel Muammar Gaddafi were still fighting.
'The heroic rebels have controlled almost all of Tripoli. Preparatory measures are being taken for the national council to move to Tripoli. Trips are already being prepared,' Mustafa Abdel Jalil, the head of the National Transitional Council, told Al-Arabiya news channel from Benghazi.
'There remains some pockets (of resistance) that are delaying this move. But God willing, we will eliminate them within 48 hours,' he said.
The rebel chief said it was difficult to tell whether Gaddafi has fled the country or remained within, pointing out that he could still be at his Bab al-Azizya compound in Tripoli.

1253 The International Organisation for Migration has dispatched a ship to Libyan capital to evacuate migrants.
The boat, with a capacity to carry 300 people, left the eastern city of Benghazi this morning and is due in Tripoli tomorrow.

1250 The Libyan embassy in Damascus has declared that it is siding with the rebel body the National Transitional Council.
'We, the ambassadors and members of the Libyan embassy in Damascus, announce our total support for the revolution of February 17 and declare our formal adherence to the National Transitional Council,' it said in a statement.

1247 NTC chairman says no one can locate whereabouts of Gaddafi.
1246 French President Nicolas Sarkozy has called for forces loyal to Gaddafi to lay down their arms.
Mr Sarkozy has invited the head of the Libyan Transitional Council to Paris next week.
1243 Libyan Prime Minister Al Baghdadi Ali al-Mahmoudi and the head of the country's television union, Abdallah Mansour, are on the Tunisian island of Djerba, Al Jazeera television has reported.
1212 Asked about calls from the Libyan Community in Ireland for the Irish government to recognise the authority of the National Transitional Council in Libya, a spokesman for the Department of Foreign Affairs said the Irish government recognises states, not governments.
'The situation regarding Libya hasn't changed. Ireland continues to recognise the country as a state.'
1151 The Department of Foreign Affairs says around eight registered Irish citizens were evacuated from Libya last week.
The Department is continuing to maintain contact with another eight citizens still in the country.
1149 The European Union will keep sanctions in place against the Libyan government for the time being, but is ready to lift them quickly when the time is right.
Nearly 50 Libyan entities are subject to EU sanctions and more than 30 Libyan officials face measures such as asset freezes and travel bans.
Britain said earlier it would soon be able to release frozen Libyan assets, money that could be used to finance new Libyan authorities if the rebels do succeed in overthrowing Gaddafi's government.
1132 There has been widespread praise for Sky News Correspondent Alex Crawford, who broadcast live from the rebel convoy as it entered Tripoli last night.
The Telegraph is reporting that Crawford and her cameraman got the live footage out using an Apple Mac Book Pro and a Began satellite dish charged from a car cigarette lighter socket.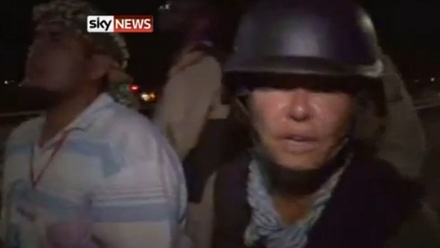 1108 Before the war, Libya pumped 1.6 million barrels per day, accounting for almost 2% of global supply.
Most of Libya's high-quality crude oil went to European refiners.
When these exports ceased, tighter global supply drove the price of oil to a two-year high in April of US$127 a barrel.
However, it is estimated that when Libya resumes oil exports, it could take six months before output reaches 1 million barrels per day.

1105 The price of oil has fallen this morning as rebels stormed Tripoli and raised expectations that Libyan oil exports could begin again.
The price of brent crude oil fell by over US$2 in early trading to $106 a barrel.
1049 Libyan rebels are negotiating with the International Criminal Court to arrange the handover of Muammar Gaddafi's son Saif al-Islam , al Arabiya TV has reported.
The ICC in June issued arrest warrants for Gaddafi, his son Saif and Libyan intelligence chief Abdullah al-Senussi on charges of crimes against humanity after the UN Security Council referred the Libyan situation to the court in February.

1020 A column of hundreds of rebel militants and pickup trucks carrying rocket launchers moved through the Libyan capital towards the central Green Square today, a Reuters reporter in the city said.
The rebels in the column were shouting 'Allahu Akbar!' or 'God is greatest!'
1009 Malta said that if the Libyan leader or other senior Libyan government officials tried to escape to the Mediterranean island, it would immediately send them to the International Criminal Court.
Several international media reports had spoken of Malta as a possible destination for Gaddafi, whose whereabouts this morning are unknown.
1007 The International Criminal Court is seeking the transfer of Muammar Gaddafi's son Seif al-Islam to The Hague to face charges of crimes against humanity, the court's spokesman said.
'The court as a whole is involved,' Fadi El-Abdallah told AFP, answering 'yes' when asked if that meant discussions were under way with the Libyan rebel National Transitional Council (NTC) over Seif al-Islam's transfer.
0952 'We seem to be witnessing the end of the Gaddafi regime,' a spokesman for EU foreign affairs chief Catherine Ashton said.
'Gaddafi has to relinquish power now and avoid further bloodshed.'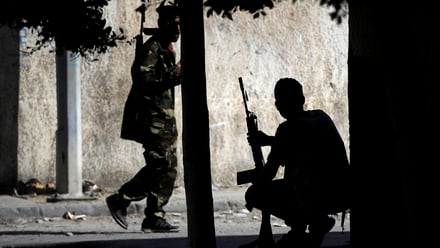 0949 China says it 'respects the Libyan people's choice'.
Its foreign ministry also said it hoped stability would return to the country rapidly, as heavy fighting raged near Gaddafi's compound and the United States said his regime was at a 'tipping point'.

0947 Embattled leader Muammar Gaddafi's regime controls no more than 10-15% of Tripoli, Italian Foreign Minister Franco Frattini said today.
'We have seen opposition to the regime advance further over the last hours and we can say that at the present time no more than 10 to 15 percent of the town is still in the hands of the regime,' he told SKY TG 24 television.
Mr Frattini told Sky Italia television that 'time has run out' for negotiations over a possible exile for Gaddafi and he must face trial at the International Criminal Court in The Hague.

0901 South Africa's foreign minister said they are not facilitating Muammar Gaddafi's exit from Libya.
Maite Nkoana-Mashabane also denied at a media briefing in Johannesburg that South Africa had sent aircraft to Libya for Gaddafi's exit and said Gaddafi's current whereabouts are not known.

0829 The European Union has urged Libyan rebels to act with responsibility and protect civilians.
The Union called on Col Gaddafi to step down 'without further delay' and said planning was under way for a post-Gaddafi administration of Libya.
0827 A rebel spokesman says pro-Gaddafi forces are shelling the area around Gaddafi's compound.
Nouri Echtiwi told Reuters: 'Four hours of calm followed the street celebrations. Then tanks and pick-up trucks with heavy machineguns mounted on the back came out of Bab al-Aziziya, the last of Gaddafi's bastions, and started firing and shelling Assarin Street and al-Khalifa area.
'They fired randomly in all directions whenever they heard gunfire.'

0820 Britain urged the rebel Libyan National Transitional Council to maintain order and not pursue reprisals.
Prime Minister David Cameron has cut short a summer break in southwest England and returned to London to chair a meeting of the government's security council.

0750 Oil prices fell on speculation that Muammar Gaddafi's 40-year rule in Libya is on the edge of collapse.
Brent crude in London plunged more than 3% to $105.5 a barrel, while US sweet crude fell nearly 1% to $81.48.
The cost of oil fell on hopes that an end to the conflict in Libya would see the North African country's oil supplies restored and increase global supplies.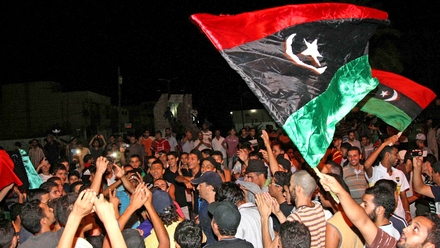 0727 AFP is reporting that a diplomatic source says Col Gaddafi could still be in his Tripoli compound.
0714 Heavy clashes are reported near Muammar Gaddafi's compound in Tripoli.
Journalists at the nearby Rixos Hotel could hear gunfire and loud explosions in the area.
0705 Tanks were seen leaving the compound of Libyan leader Muammar Gaddafi and shelling an area in the capital, a rebel source said.
0642 Forces loyal to Libyan leader Muammar Gaddafi continue to fight rebels in the capital Tripoli and control 15 to 20% of the city, a rebel spokesman told Al Jazeera television.
0638 Many Tripoli residents received a text message from the rebel leadership saying: 'God is Great. We congratulate the Libyan people on the fall of Muammar Gaddafi.'

0528 Australian Prime Minister Julia Gillard has urged Gaddafi to 'get out of the way' of the rebellion sweeping his country and said the forces fighting his regime appeared to be on the cusp of a victory.
'Events are moving very, very quickly but it obviously appears that the rebels are in Tripoli, that the rebels are about to secure Libya overall,' Ms Gillard told reporters.
'Obviously the task is not yet done but from what we've seen on our TV screens that appears to be what will happen.'
'We continue to call on Colonel Gaddafi to get out of the way, and of course we believe that he should face the international charges that are against him,' she added, referring to UN accusations of war crimes and crimes against humanity committed by government forces.

0513 What do you make of events in Libya? Post your view by clicking on the comments tab at the top of the page.
0453 Tens of thousands of Libyans celebrate the partial fall of Tripoli in Benghazi.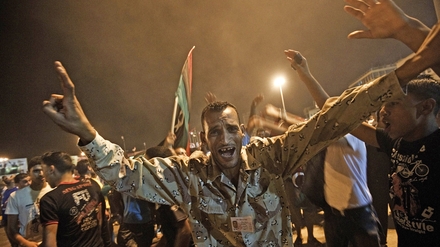 0335 President Obama also noted that the United States has recognised the opposition Transitional National Council as Libya's legitimate governing authority.
'At this pivotal and historic time, the TNC should continue to demonstrate the leadership that is necessary to steer the country through a transition by respecting the rights of the people of Libya.'

He called on the rebels to avoid civilian casualties, protect the institutions of the Libyan state, and pursue a transition to democracy that is 'just and inclusive for all of the people of Libya.'
0320 Barack Obama: Gaddafi needs to acknowledge the reality that he no longer controls Libya. He needs to relinquish power once and for all.
0314 US President Barack Obama has said the Gaddafi regime is now at a 'tipping point'.
In a statement he also said Gaddafi rule was at its end and the 'tyrant' must go.
'The future of Libya is now in the hands of the Libyan people.'
0310 Oil prices are reported to be mixed as Libyan rebels celebrate in Tripoli.
0247 More information on the arrest warrants which have been issued by the International Criminal Court for Muammar Gaddafi and his son Saif here.
0237 It has been suggested on Twitter this photo should be called 'No more smiles'. As it is, this photo was taken only ten months ago.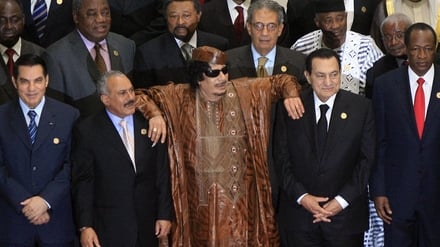 From left to right: Former Tunisian President Zine El-Abidine Ben Ali, Yemen President Ali Abdullah Saleh, Muammar Gaddafi and and former Egyptian President Hosni Mubarak.
0203 Venezuelan President Hugo Chavez, a staunch of ally of Gaddafi, slammed Western powers for 'destroying Tripoli with their bombs,' as rebels surged to seize control of the Libyan capital.
'Today we are seeing images of the democratic governments of Europe, along with the supposedly democratic government of the United States destroying Tripoli with their bombs,' Mr Chavez said.
The bombs, Chavez said, were 'falling on schools, hospitals, workplaces, farmland.
'Let's pray to God for the Libyan people,' he said.
Last week, Mr Chavez along with his Iranian counterpart Mahmoud Ahmadinejad, both arch US foes, jointly denounced the West's 'imperialist aggression' in Libya.
Chavez - Gaddafi's main supporter in Latin America - has consistently denounced the months-long military operation in Libya claiming it is an oil grab by Western powers.

0158 The eldest son of Libyan leader Muammar Gaddafi, Mohammad, has told al-Jazeera television he had been detained by rebels and was being kept under house arrest in Tripoli.
'Gunmen surrounded my house and I am still at home and they are outside,' he said by telephone from Tripoli.
'They said they will guarantee my safety. They are besieging my house,' he added.
The sound of gunfire could be heard in the background.
'Yes, the gunfire is inside my house,' he said before the line was suddenly cut off.

0145 The conflict in Libya began in February. Click here for a timeline of events.
0134 Gaddafi's eldest son Mohammed has confirmed to Al-Jazeera TV that he has been detained and is under house arrest.
0127 The Libyan rebel chief says there are still pockets of resistance in Tripoli, according to AFP.
0105 Al Jazeera is reporting that rebels have taken control of the Libyan state radio building in Tripoli
0102 President Obama is in Martha's Vineyard, an island off the coast of Massachusetts, for his annual vacation.
The White House said earlier that the president had been briefed on Libya and would receive regular updates.
0054 US President Barack Obama says he will makes a statement on the situation in Libya when he has 'full confirmation' of what is happening there.
0050 Libyan state television is broadcasting recorded programmes. It says its transmission is jammed.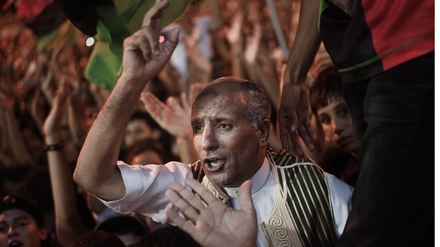 0049 Guma El-Gamaty, the UK spokesman for the National Transitional Council, told the BBC: 'We are seeing the end now.
'Gaddafi has always maintained that as long as he holds on to Tripoli he still has some sort of power.
'Now that he looks like he's losing Tripoli, that's it.'
Mr El-Gamaty stressed that the council wanted Libya to stay united as a country, with Tripoli as its capital.

0042 Al Jazeera is reporting the African Union may be offering Gaddafi exile in Zimbabwe or Angola.
0040 Oil prices around the world should start falling if Libyan rebels succeed in toppling Gaddafi's regime.
The full effect will not be felt for months, however.
Independent analyst Andrew Lipow said oil markets will likely respond today by sending prices lower in 'a sign of relief that conflict has come to the end.'

0030 The International Criminal Court has confirmed that Saif al-Islam, for whom it had issued arrest warrants for crimes against humanity, is in detention.
'I have received confidential information stating he has been arrested,' ICC prosecutor Luis Moreno-Ocampo told AFP.

0023 What do you make of events in Libya? Post your view by clicking on the comments tab at the top of the page.
0021 Sky News correspondent Alex Crawford reports that rebels are ripping down all posters of Gaddafi and national flags in Green Square.
She also reports that there are a number of destroyed cars in the vicinity, which suggets there may have been a battle.
0019 Rebels waved opposition flags and shot into the air in jubilation after reaching Tripoli's central Green Square.
The vast square, reserved until now for carefully orchestrated rallies praising Gaddafi, erupted in celebration after rebel troops pushed into the centre of the Libyan capital.

0008 Sky News is broadcasting footage of rebels celebrating in the Green Square in the centre of Tripoli.
0005 Watch the press conference by the spokesman for the Gaddafi regime, Moussa Ibrahim, in which he says they are holding the international community responsible for the violence on the streets of Tripoli.
Sunday updates:
2347 Al-Jazeera TV is reporting that rebels say all of Tripoli is under control, except Gaddafi's stronghold on Bab Al-Aziziyah.
2341 NATO Secretary General Anders Fogh has said Gaddafi's 42-year rule in Libya is 'clearly crumbling'.
'The Gaddafi regime is clearly crumbling. The sooner Gaddafi realises that he cannot win the battle against his own people, the better - so that the Libyan people can be spared further bloodshed and suffering,' he said in a statement.
Saying the Libyan people had 'suffered tremendously' under Gaddafi's rule, Mr Rasmussen said it was 'time to create a new Libya - a state based on freedom, not fear; democracy, not dictatorship; the will of the many, not the whims of a few.'
He said NATO was ready to work with the NTC and underscored the need for a 'smooth and inclusive' transition.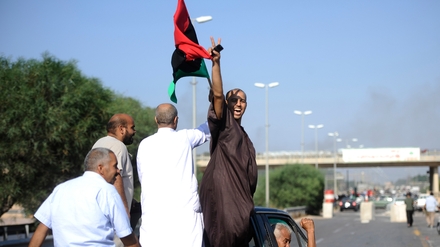 2231 Muammar Gaddafi's eldest son, Mohammed Al-Gaddafi, has surrendered to Libyan rebel forces, NTC Co-ordinator Adel Dabbechi has told Reuters.
He also confirmed that Gaddafi's better-known younger son, Saif Al-Islam, had been captured.
2322 Libyan rebel council spokesman Abdel Hafiz Ghoga says his group will seek to put in place a swift transition to democracy once the battle for Tripoli ends in the rebels' favour.
2312 Saif al-Islam, a son of Gaddafi, has been captured, according to rebel leader Mustafa Abdel Jalil.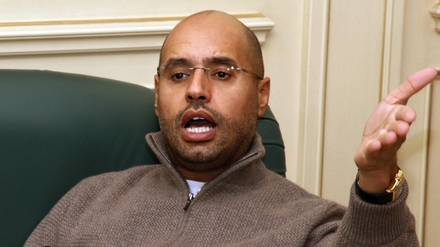 The chairman of the rebel National Transitional Council told Al-Jazeera television from Benghazi in eastern Libya he had information that Saif al-Islam has been captured.
'He is being kept in a secure place under close guard until he is handed over to the judiciary,' Mr Abdel Jalil said, without giving a date or place for the reported capture of Kadhafi's son.
Before the revolt which erupted in February, al-Islam was increasingly seen as the successor to his father, despite publicly ruling out any dynastic ambitions.
He long served as the face of the regime in the West as he appeared in suits and ties and spoke fluent English.

2305 NATO has said it will continue to enforce its United Nations mandate to protect civilians in Libya.
'What we continue to do is we continue to enforce the UN mandate that we have, which is to protect civilians,' NATO spokeswoman Oana Lungescu said.
'All sides in this conflict have a clear responsibility to protect civilians ... If we see that there are further (attempts) to attack civilians, we'll continue to enforce the mandate.'
NATO has conducted air strikes in Libya since the end of March to fulfil a United Nations mandate calling for military action to protect civilians in the Libyan conflict.

2303 Gaddafi has called on the people of Tripoli to 'purge the capital'.
The people should 'go out now to purge the capital,' Gaddafi said in an audio message broadcast on Libyan state television, adding that there was 'no place for the agents of colonialism in Tripoli and Libya.'

2301 Gaddafi has made a second appeal for his people to 'save Tripoli' from a rebel offensive, in an audio message played on state television.
'It is the obligation of all Libyans. It is a question of life or death,' he said.
Gaddafi made a similar appeal earlier in the evening on state television, as rebels streamed into the capital.
Al Arabiya television aired images of Libyans celebrating in central Tripoli and tearing down Gaddafi posters, the first images from the city since rebels entered from the west earlier in the day.

2259 Britain has said 'the end was near' for Gaddafi.
'It is clear from the scenes we are witnessing in Tripoli that the end is near for Kadhafi,' said a statement from Prime Minister David Cameron's Downing Street office.
'He has committed appalling crimes against the people of Libya and he must go now to avoid any further suffering for his own people,' added the statement.

2250 Libya's rebel fighters will halt their offensive if Muammar Gaddafi announces his departure.
The offer was made by the head of Libya's rebel National Transitional Council, Mustapha Abd El Jalil.
He added that the rebel forces would give Gaddafi and his sons safe passage out of the country.
2235 Gaddafi's government is ready for immediate negotiations with rebels seeking to oust him, a spokesman has said on state television.
Spokesman Moussa Ibrahim said Gaddafi was prepared to negotiate directly with the head of the rebel National Transitional Council.