Main developments:
NATO to enforce no-fly zone
UN-backed air strikes enter sixth day
French foreign minister vows strikes to continue
Libya claims 'large number' of civilians killed
800,000 foreign workers still in Libya
2222 NATO Secretary General Anders Fogh Rasmussen has said the alliance had agreed to enforce a no-fly zone over Libya as part of efforts 'to protect civilians'.
2027 'It's fair to say the coalition is growing in both size and capability every day,' said Vice Admiral Gortney. 'More than 350 aircraft are involved in some capacity. Only slightly more than half belong to the United States.'
2016 Vice Admiral Gortney said that the coalition was not communicating with opposition forces on the ground in Libya.
2012 He said that there are no reports of civilian casualties due to coalition operations in Libya.
He said that no-one in the US military was under-estimating the challenge in Libya.
2012 Vice Admiral Gortney said that the US was working very hard to hand over leadership of the Libyan mission, as early as this weekend.
2010 Vice Admiral Bill Gortney, Director, US Joint Chiefs of Staff, is speaking to the press.
The coalition continues to patrol the Libyan no-fly zone, he said.
1940 Several blasts and anti-aircraft fire have been heard in Tripoli tonight.
Libyan state television said the air strikes targeted residential and military areas in Tripoli and the city of Tajoura.
1914 UN Secretary General Ban Ki-Moon has said there is no evidence Libyan authorities have taken steps to comply with Security Council resolutions.
Mr Ban said that his envoy had warned the Libyan government that the UN Security Council may take 'additional measures' if there is no compliance.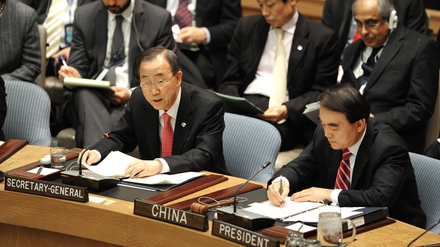 1746 Government warships and boats are gone from Misrata Port, a rebel spokesman has said.
1743 Rebels have killed 30 government snipers in Misrata, and reached the centre of the town, according to a rebel spokesman.
1725 A rebel carries a rocket-propelled grenade launcher as he prepares for battle against Gaddafi's forces today, a few kilometers from Ajdabiya.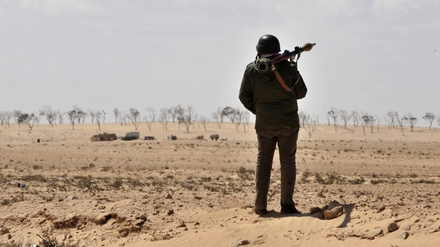 1700 A spokesman for US President Barack Obama has expressed confidence that the US will be able to hand over control of the Libyan military operation in days.
'We are still operating under that timeline, that it will be days, not weeks,' said spokesman Jay Carney.
1606 The Turkish parliament has approved a government decision to participate in the NATO naval operation off Libya.
1603 A French warplane fired an air-to-ground missile at a Libyan military plane and destroyed it just after it landed at Misrata air force base.
A French armed forces spokesman said the plane had breached the UN-imposed no-fly zone.
1522 AFP is reporting that Rebels are moving towards Ajdabiya in a bid to retake the strategic eastern oil city from troops loyal to Gaddafi.
Shelling and gunfire could be heard at a rebel outpost 9km from the city where hundreds of fighters amassed this morning before marching on the city.
'They are shooting at us with tanks, artillery and Grad missiles,' AFP quotes Mohamed, a rebel returning from the frontline, as saying. 'We have nothing but light weapons whereas they have heavy ones.'
The rebels are trying to enter the city from several fronts and managed to get within one kilometre to Ajdabiya's eastern entrance, Mohamed is reported to have said.
1359 The military coalition led by the United States launched 14 Tomahawk missiles overnight, the US military said.
A spokesman for US Africa Command in Germany said coalition countries also dropped bombs on targets in Libya.
1257 Britain's Foreign Secretary William Hague called for NATO to take over control of Libyan operations as soon as possible, and condemned the continued 'appalling violence' by its rulers against civilians.
'The case for this action remains utterly compelling, appalling violence against Libyan citizens continues to take place exposing the regime's claims to have ordered a ceasefire to be an utter sham,' he told parliament.

1241 Speaking in the Dáil, Independent TD Mick Wallace said Western powers dropping bombs on Libya was not the best way to introduce the country to the notion of democracy.
He pointed to the situations in Tunisia and Egypt where he said democracy was making good progress without resourcing to bombing by the West.
He said it would be very disappointing for Ireland to fall for what he called a cynical act and warned that we were taking sides in what is effectively a civil war.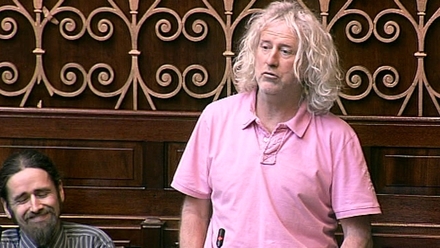 1235 Minister of State Lucinda Creighton has said UN Resolution 1973 had already saved countless number of lives as it had prevented Gaddafi from marching on several cities and slaughtering defenceless citizens.
She warned of the dangers of standing by and not intervening, referring to Bosnia as an example of what inaction can lead to.
Ms Creighton also reminded the UN and EU of the responsibility they have to protect refugees and migrants from Libya.
1227 800,000 foreign workers are still in Libya, accoring to an International Labour Organization estimate.
1225 Libya is suffering from a shortage of fuel and needs to import fresh supplies, but a ship with fuel now bound for Tripoli may be stopped by Western forces, a Libyan energy official said.

'A ship is coming to Libya carrying fuel and I am worried the United States and France and the coalition forces will stop it or bomb it ... The problem (of fuel shortages) will be sorted out if this ship reaches Tripoli port.' who spoke on condition of anonymity told Reuters.
1158 Fianna Fáil's Michael Kitt has condemened what he called the 'deplorable tactics' employed by Colonel Gaddafi to maintain his dictatorship in Libya.
He said his party welcomed the UN resolution and the government's support for it but emphasised that it must be strictly adhered to, especially its emphasis on civillian protection.
Deputy Kitt also said this was a good opportunity to examine the Libyan role in arms trading with paramilitaries in Northern Ireland.
Sinn Féin's Jonathan O'Brien wondered why there was an urgency by the international community to deal with the conflict in Libya, while the situation in Bahrain and Yemen went unchecked.
He said this 'hypocritical response of the UN' must be raised with our European partners.
Deputy O'Brien also said Ireland must use its influence to encourage Libya's neighbouring countries to open their borders to prevent a humanitarian crisis developing.
His party colleague, Aengus Ó Snodaigh, asked why the UN had swiftly responded to the situation in Libya with a no-fly zone when Israel was allowed to bomb the Palestinian Territories.
1140 Tánaiste Eamon Gilmore has said the response of the international community to the situation in Libya has been swift, vigorous and clear.
During Dáil statements on the situation in the North African country, Mr Gilmore, who is also Minister for Foreign Affairs, reiterated Ireland's support for the UN resolutions which seek a halt to violence and ensure protection of civilians.
Minister Gilmore said Colonel Gaddafi should order a genuine cessation of violence and surrender power.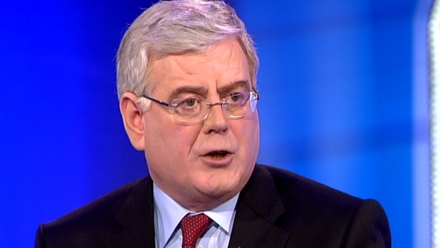 1114 International coalition forces operating in Libya should not stray beyond the remit allowed under the United Nations resolution, according to British Prime Minister David Cameron.
'It is very important we don't go beyond that in any way,' Mr Cameron said in a visit to an industrial site in central England when asked if Libyan leader Muammar Gaddafi was a legitimate target.
Mr Cameron also said military action by the coalition had 'helped to avoid a slaughter' in Benghazi
1017 Western air strikes have hit government tanks on the outskirts of Libya's rebel-held Misrata but tanks inside the city remain there and have not been hit, a resident told Reuters.
Forces loyal to Gaddafi seized control of Misrata's port yesterday, stranding thousands of Egyptian and sub-Saharan African migrant workers, who were seeking evacuation by sea, the resident said.
0922 Some 2,750 Sudanese migrants fleeing the unrest in Libya have been flown home so far under a humanitarian evacuation scheme, at least three times more than expected, the UN has said.
'As of Thursday, there have been 16 flights from Tunisia, carrying around 2,750 Sudanese, under the joint evacuation scheme,' said UN spokeswoman Teresa Ongaro.
'But the government estimates that there are 500,000 Sudanese migrants in Libya, so this is just a trickle,' she told AFP.

0906 Libya's neighbour Tunisia has frozen assets belonging to the family of Libyan leader Muammar Gaddafi, a Tunisian government source said.
'Tunisia has frozen the assets of Gaddafi and five members of his family following a decision by the United Nations,' said the source, who did not want to be identified.
0841 It may take a coalition of Western powers days or weeks to destroy Muammar Gaddafi's military, but it will not require months, according to Alain Juppé.
Mr Juppe also told reporters that the aspirations of Arab people should be met across the region, including in Saudi Arabia, and that the change sweeping the region was 'irreversible'.
0800 French Foreign Minister Alain Juppe has said that coalition airstrikes against Libya had been a 'success' and would continue, while denying civilians had been targeted.
'We will continue with the airstrikes,' Juppe told RTL radio, adding that the strikes were 'only targeting military sites and nothing else.'
He said the strikes were a 'success' and would 'continue as long as necessary.'
Juppe insisted the operation was aimed at protecting the civilian population from attacks and denied reports that the airstrikes had killed civilians, saying 'it is the exact opposite.'
The foreign minister added that France was in favour of handing over responsibility for implementing a UN-approved 'no-fly' zone to NATO.
0756 Blasts and anti-aircraft fire rattled Tripoli Thursday as allied air raids against Muammar Gaddafi's forces entered a sixth day and a British officer said Libya's air force was mostly obliterated.
As an armada of NATO warships patrolled Libya's coast to enforce an arms embargo against Gaddafi, fresh efforts to hand the alliance command of the military operations collapsed after days of sometimes acrimonious debate.
A NATO diplomat said the 28-nation alliance would try again to reach a decision on whether NATO should take charge of the operation launched on Saturday by Britain, France and the United States.
But nations were already hailing the success of the air strikes, with British Air Vice Marshal Greg Bagwell saying Libya's air force has been almost totally obliterated and 'no longer exists as a fighting force'.

US officials are also openly speculating whether the continued pressure will force Gaddafi out of power after four decades in control.