A Red C poll has found that broadcaster Gay Byrne is currently the most popular choice to become the next President of Ireland.
Respondents were asked to rank a panel of seven prospective candidates for the presidency - Gay Byrne, Brian Crowley, Mary Davis, Sean Gallagher, Michael D Higgins, Gay Mitchell and Dana Rosemary Scallon.
With 28% of first preferences, and showing strong support with young people and women, Mr Byrne comfortably tops the poll.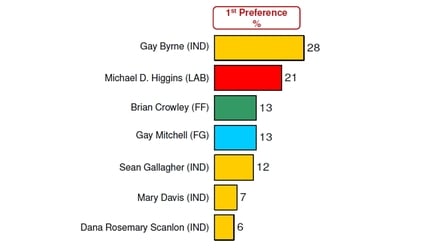 Next at 21% is Labour's Michael D Higgins.
He is followed at 13% by Fine Gael candidate Gay Mitchell, who polled strongly in Dublin.
Also at 13% is Fianna Fáil's Brian Crowley who scores high in Munster, and who has expressed his interest in mounting a bid for the Áras.
Independent candidate Sean Gallagher is at 12%, while independent Mary Davis is at 7% - a point ahead of Dana Rosemary Scallon, who is rumoured to be considering entering the race.
Mr Higgins comfortably leads the field of declared candidates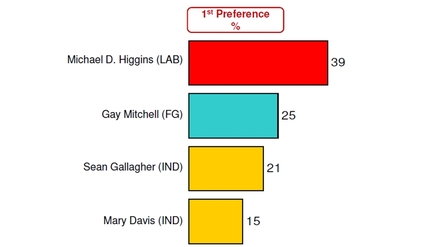 The poll found that support for Mr Byrne was much stronger among women and those in the youngest age group.
Backing for Mr Higgins was found to be strongest in 'mid to older age groups' and he also performed strongly among his own party's supporters.
However, Mr Mitchell did not poll strongly among his party's supporters - just 24% of those who voted Fine Gael in the last election said they would vote for Mr Mitchell.
Both Mr Higgins and Mr Byrne would secure 'decent Fine Gael support,' according to the poll.
Reacting to poll, Mr Byrne said he is heartened and overwhelmed to have come out on top.
However, Mr Byrne said while his performance in the poll was not bad, it was not conclusive.
He said he would now be lying low for the next few days and take some quiet time in coming to a decision about his candidacy.
The Labour Party also said it was encouraged by the results from the poll.
The party say the findings are consistent with the positive feedback its candidate Michael D Higgins is receiving from communities across Ireland.
Paddy Power commissioned Red C to interview 1,000 people between Monday and Wednesday of this week.
The poll also found that almost 40% of people would have given Senator David Norris their first preference, and half of all respondents would have given him a vote.
Senator Norris withdrew from the race last week.