The preliminary results of the 2011 Census have revealed that the population in the Republic of Ireland was 4,581,269 on 10 April.
Census Results | Population of each province, county, city
That is about 100,000 people more than the Central Statistics Office had expected and it could have significant implications for economic planning in the years ahead.
The total number of people living in Ireland has increased by more than 341,000 people since the previous Census in 2006. This represents a change of 8.1% over the past five years.
Co Laois recorded the strongest population growth, with the number up by 20% in just five years.
Other counties showing strong population growth were Cavan 13.9%, Fingal 13.8%, Longford 13.3%, Meath 13.0% and Kildare 12.7%.
Cork City and Limerick City were the only two administrative counties with a fall in population.
The figures also show that net inward migration into Ireland remained positive at almost 119,000, which is far higher than previously expected.
In a reversal of the situation in 2006, the figures show there are now more females than males in the country with 981 men for every 1,000 women.
The figures show that almost 15%, or 294,000, of the country's housing stock is currently vacant, with the concentration of vacancies mainly in the west of the country.
The extent of the population growth could have a significant bearing on Government efforts to rationalise social services and public spending.
It could also have implications for housing demand in the years ahead.
Population change by county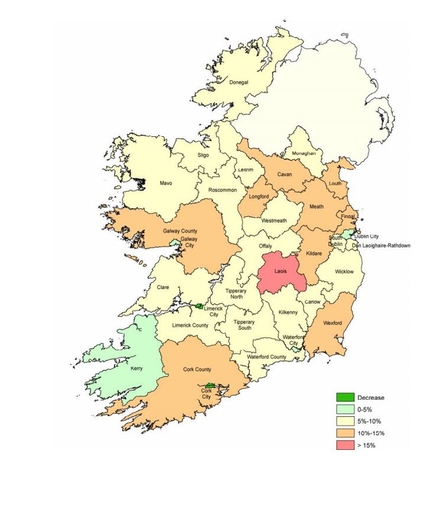 Percentage change in Co Dublin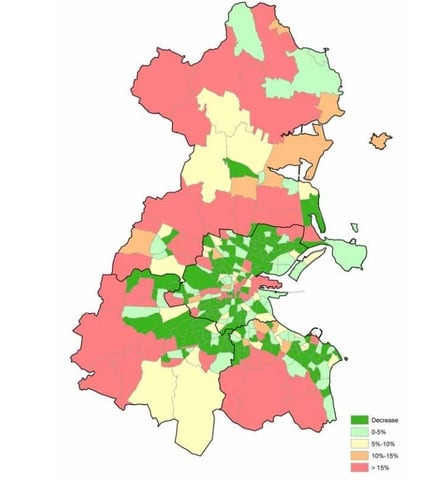 Percentage change in the population of electoral divisions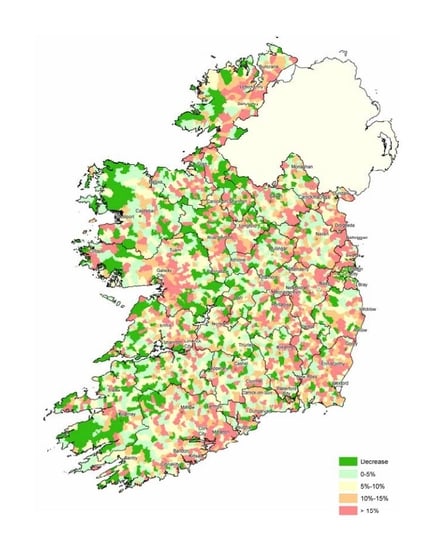 Population change by area
Dublin's population increased from 1.18m to 1.27m an increase of more than 83,000 (7%)
The Mid-East's population increased from 475,360 to 530,437 an increase of 55,077 (7%)
The Midland's population increased from 251,664 to 282,195 an increase of 30,531 (12.1%)
The Mid-West's population increased from 361,028 to 378,410 an increase of 17,382 (4.8%)
The South-East's population increased from 460,838 to 497,305 an increase of 36,467 (7.9%)
The South-West's population increased from 621,130 to 663,176 an increase of 42,046 (6.8%)
The West's population increased from 414,277 to 444,991 an increase of 30,714 (7.4%)
Over 4,800 Census Enumerators were hired for a number of weeks during April delivering, explaining, and collecting Census forms to about 2m private residences.
The last Census, which was five years ago, revealed record population growth and almost 4.25m people living in Ireland in 2006.
Since then, economic growth in 2007 gave way to an economic collapse as well as a reversal of migration trends.
Today's figures will have a major influence on the Government's plans for redrawing electoral boundaries and reducing the number of TDs before the next election.