US President Barack Obama has addressed tens of thousands of people at College Green in Dublin - the last public event of his brief visit to Ireland.

Updates:
2259 The Prince of Wales and Duchess of Cornwall were originally due to meet the Obamas tomorrow, but instead the couple were greeted by the Lord in Waiting Viscount Brookeborough, who met them on behalf of Britain's Queen.

And instead of a traditional red carpet they left the plane on special red-carpeted stairs because of windy conditions at the airport.
Mr Obama shouted 'thank you' to waiting media, before he and his wife got into their waiting car, her waving as they were whisked from the airport.

2245 President Obama has now landed at London's Stansted Airport.
2208 Traffic restrictions for the visit of the US President have now been lifted.
There may be some restrictions in the College Green area of Dublin to facilitate the removal of a stage from that area.
2131 President Obama has left Ireland for London, with Air Force One departing early due to the volcanice ash cloud.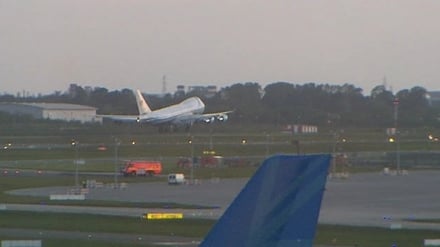 2040 A statement has been released by the US Secret Service, regarding the 'Beast' coming a cropper at the US Embassy:
'Departing the US Embassy - Dublin, the Secret Service Spare Limousine, carrying staff and support personnel only, bottomed out at the top of the driveway rendering the vehicle inoperable.
'Occupants were relocated into other vehicles and the motorcade departed out another exit without further incident.
'The size of our vehicles is always an issue and taken into consideration during the advance process.
'However, it only takes a slight miscalculation for problem like this to occur.
'Appropriate follow-up will be conducted.'

2034 RTÉ's Paul Reynolds has confirmed President Obama is due to leave tonight after dinner with US Ambassador Dan Rooney.
2031 The White House has published a full transcript of President Obama's speech, complete with audience reaction.
1957 And if you missed the chance to see President Obama's rousing speech earlier on, watch it in full here.
1956 Some images from President Obama's visit to Ireland.
1941 Taking no chances in transporting the 'Beast' from the US Embassy.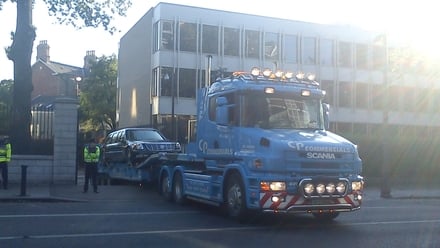 1937 President Obama has left the Merrion Hotel in his motorcade.
1934 Planned Connolly to Pearse closure from 1945 to 2005 will now not take place, line will remain open.
1818 'Is féidir linn,' Barack Obama concludes his Dublin address with the gaelic version of his 2008 campaign slogan.
1816 'For all the intractability of our problems, the irrepressible impulse to love has always sustained us. America will stand by you always in the pursuit of peace.'
1813 'It is in times of great challenge, of great change, when we remember who we truly are. We, the Irish and Americans, are people who never stop believing in a brighter future.
1802 'Never has a nation so small inspired so much in another.
'There's always been a little green behind the red white and blue.'
1757 'An American does not require Irish blood. But we are bound by history, affection and bonds of friendship'.
'I've come here to reaffirm those bonds'.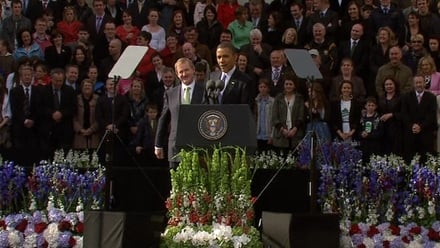 1753 After a particularly rousing introduction from Enda Kenny the man himself takes to the microphone.
'I'm Barack Obama, of the Moneygall Obamas,' US President Barack Obama opens.
'I've come home to find the apostrophe we lost somewhere along the way'.
1750 It is now likely that the US President Barack Obama will leave Ireland tonight instead of tomorrow morning.
Plans are being put in place to enable the President to fly out of Dublin Airport tonight.
He had planned to leave tomorrow morning but these plans are being reviewed because of the threat to all flights from the Icelandic Ash cloud.
1747 An Taoiseach Enda Kenny introduces Barack and Michelle Obama to a rapturous Dublin welcome
1736 Crowds at College Green have begun chanting 'Obama', in anticipation of the Presidential address.
1734 Westlife have now finished their set and the Obamas are due up next
1730 At the back of stage President Obama will meet with all the former Taoisigh except Brian Cowen who was in Moneygall, as well as former President Mary Robinson.
Also there will be all members of the Cabinet, opposition leaders Micheál Martin and Gerry Adams; the First Minister of Northern Ireland Peter Robinson, the Lord Mayor of Dublin and a garda, army, fire service, teaching and nursing representatives.
1720 The chorus of shrieks suggest that a fair portion of the crowd are mainly here for Jedward, who perform their Eurovision hit Lipstick.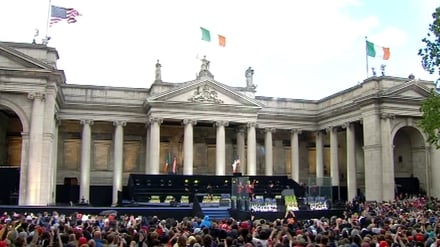 1711 As Daniel Day-Lewis and The Coronas continue to warm up the crowd, the helicopter carrying the first couple has touched down in Phoenix Park.
1701 A parade of Irish sporting heroes, including Colm Cooper, Henry Sheflin, Brian O'Driscoll, Padraig Harrington, Robbie Keane and Katie Taylor are introduced to the estimated 40,000 strong crowd by Mícheál Ó Muircheartaigh.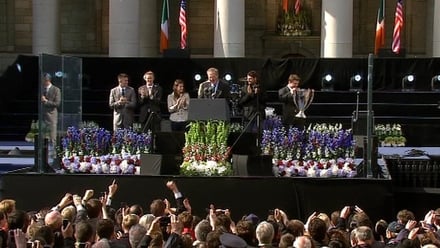 1651 Stephen Rea has just recited a poem by WB Yeats before introducing Imelda May.
1645 'Yes, we bloody can,' says actor Brendan Gleeson on the main stage of College Green. He spoke to the crowd for a few minutes between musicians Sharon Shannon and Ryan Sheridan.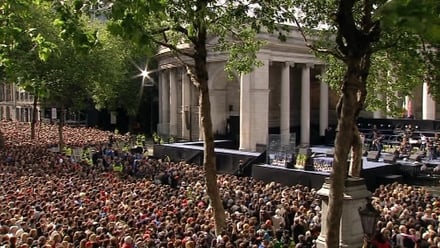 1641 Gardaí now say that only those currently queuing to get into College Green will gain access. No-one else will be allowed in.
1628 Moneygall has been comprehensively visited. Lots of pats on the back for Henry Healy who was one of the main movers that helped to make this visit happen.
1627 The Obamas are back in their waiting car an on the way back to Dublin.
1623 In fact, Gardaí are advising that College Green is now at capacity.
1619 Back to Dublin, where the North and South Quays are closing shortly. College Green looks packed already.
1614 Pint dispensed with, Barack and Michelle Obama are back out on the street and again to the waiting crowds. Another baby.... I think that's the third of the day!
1605 And yes, we can confirm that the President paid for his drink.
1603 President Obama seems to be enjoying that pint. Still no sign of him emerging from Hayes.
The Moneygall shot!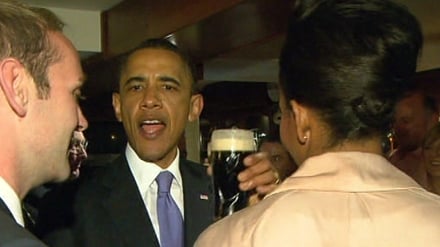 1557 'Sláinte' says President Obama, and he takes a hearty sup to roars of approval.
1554 Time for a family photo, posing with the relatives, and finally to the bar.
1550 A few short words from the man of the moment and he expresses his thanks to the people of Moneygall.
'Now it's time for a pint,' President Obama announces.
1547 Mr Obama has now entered Hayes' Bar, where he signs the visitors' book.
1543 And the rain comes down, and the handshakes and hugs go on. That pint that awaits him in Hayes' Pub will be well earned.
1536 Not clear if he actually bought anything in the shop, but President Obama is back out again shaking hands with members of the crowd.
1532 Back out he comes again and into An Siopa Bheag, a shop set up especially to sell Obama paraphernalia.
1529 As the rain buckets down again, the Obamas duck into the house which stands on the site of the old ancestral homestead.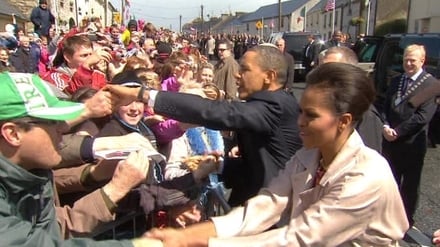 1523 More babies and handshakes, more broad smiles from the Obamas in Moneygall. They seem to be genuinely enjoying this, and are taking more time on their walkabout than anyone could have expected.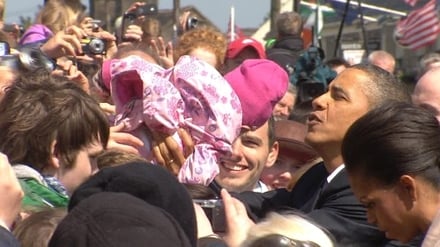 1515 A baby has been passed out to President Obama, who raises it aloft.... and hands it back!
1514 'My two daughters are so mad they couldn't make it here,' Michelle Obama is overheard saying to someone in the crowd.
1512 Handshakes and hollers all around as the Obamas meet some of the crowds waiting on the Main Street in Moneygall.
1510 President Barack Obama and his wife Michelle have arrived in Moneygall and distant relative Henry Healy gets a big hug from both of them.
1509 The travails of President Obama's car 'The Beast' can be seen here.
1506 The pelting rain has stopped and the sun has broken through the clouds in Moneygall as the Obama's cortege approaches.
1456 President Obama and his wife have just landed in Offaly. Michelle Obama is sensibly donning a raincoat.
1455 The scene in Moneygall a short time ago.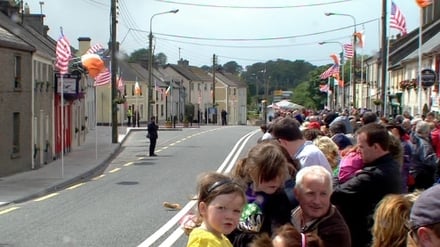 1437 The Obamas have now boarded a helicopter to travel to Moneygall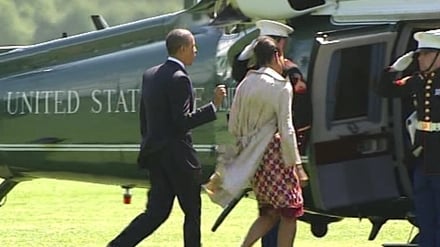 1432 According to RTE's Caitríona Perry Obama's vehicle – nicknamed 'The Beast' - was stuck on the security ramp at the embassy for about five minutes before they left in a second vehicle.
1426 After the drama at Ballsbridge, in which his car got stuck on a ramp, President Obama is expected to arrive in Moneygall around 1515.
1414 RTÉ News reporter Samantha Libreri took this photo of the crowds gathering at Dame Street a short time ago.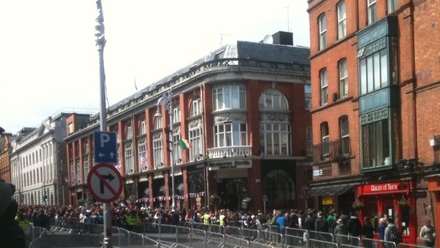 1359 The queue for this evening's College Green event is stretching from Parliament Street to Christchurch.
1356 Taken on Dame Street a short time ago.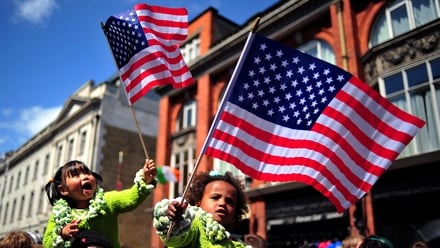 1348 One of the vehicles in President Obama's motorcade has got stuck on the ramp outside the US Embassy in Ballsbridge while attempting to leave.

1301 Head Gardener at Áras an Uachtaráin Robert Norris said President Obama asked him to take good care of the tree he had planted.
Mr Norris said for him it was a terrific week, having planted a tree with the Queen and the US President.
He said he assured President Obama that the tree was in safe hands.
1258 Gardaí have warned that moving in Dublin will be even more difficult this afternoon with some areas closed from 2.30pm until 7pm and the quays closed from 4.30pm-9pm.
Up to 25,000 are expected to attend the outdoor event.

1252 The inscription on the hurley is: Presented to Barack Obama President of the United States of America on the occasion of his first visit to Ireland, May 2011 by An Taoiseach Enda Kenny T.D.
It was made by Philip Archibold of Heritage Hurleys.
1247 There are a large number of onlookers gathered near the US Embassy in Ballsbridge. However, they are about 150 metres from the gate where President Barack Obama and his entourage will enter the embassy.
1206 Mr and Mrs Obama have left Farmleigh a few minutes behind schedule and embarked on the next leg of the visit, which will take in Moneygall, Co Offaly.
1205 President Obama is now waving a hurley purposefully outside Farmleigh.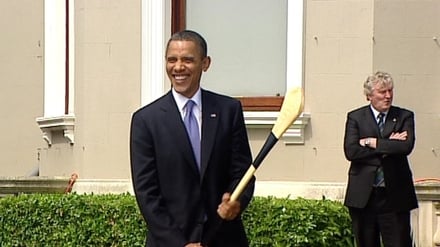 1159 Mr Kenny said a collection of Hawaiian children's stories by Padraic Colum had been given to the Obamas as gifts for their children Malia and Sasha.
1157 Mr Obama said it was 'inspiring to see the progress that is being made in Northern Ireland'.
1155 Taoiseach Enda Kenny has said he discussed a number of issues with Mr Obama including the EU/IMF bailout, last week's visit of Queen Elizabeth II, the use of Shannon Airport by the US military.
Mr Obama said it is 'heartwarming' to be in Ireland.
'We are glad to see progress is being made in stabilising the economic situation here.'
'The friendship and the bond between Ireland and the US could not be stronger.
'Obviously it is not just a matter of strategic interests. It's not just a matter of foreign policy, for the United States and Ireland carries a blood lineage.
'For millions of Irish-Americans this continues to symbolise the homeland and the extraordinary traditions of an extraordinary people.'

1146 Large queues of people now gathering on Dame Street to see the US president speak this evening. Photo courtesy of @barratree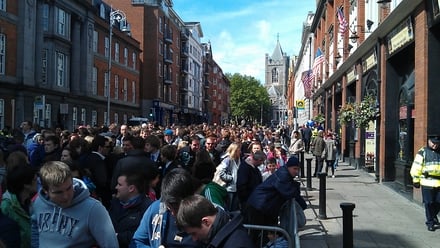 1122 Dublin's north and south quays now closed to traffic.
1110 Taoiseach Enda Kenny and his wife Fionnuala have greeted the President and First Lady at Farmleigh.
Mrs Kenny and Mrs Obama will tour the garden, while the political leaders have a private discussion for about 30 minutes.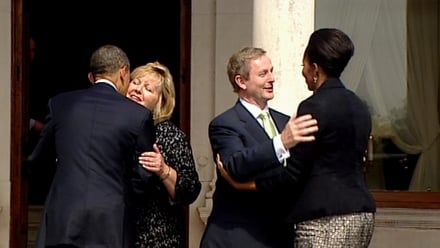 1107 Over 200 people are now queuing on Lord Edward Street in Dublin in order to gain access to Mr Obama's address on Dame Street later on this afternoon.
1100 Barack and Michelle Obama have left Áras an Uachtaráin to travel the short distance to Farmleigh.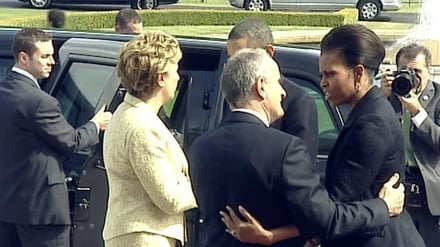 1044 The Obamas and the McAleeses pose with the three children who rang the Peace Bell.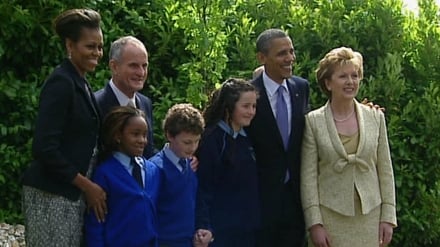 1044 Not surprisingly Mr Obama's visit has attracted lots of media attention.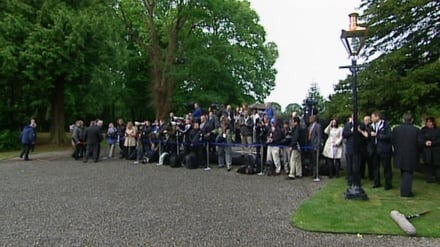 1038 President Obama meets head gardener at Áras an Uachtaráin Robert Norris before planting an upright Irish Oak.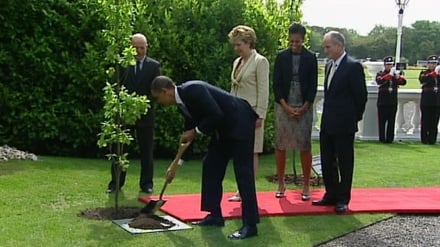 1036 About 100 people are now queuing for this evening's address by President Obama at College Green. He is due on stage at around 6pm.
1028 RTÉ's Political Correspondent David Davin-Power says that Taoiseach Enda Kenny has arrived at Farmleigh. (Note the hurley).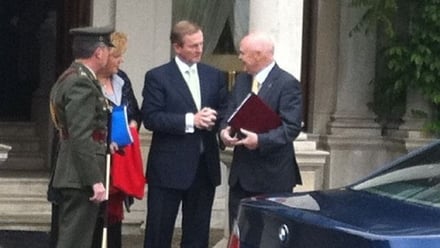 1024 A man with a shiny shovel waits patiently on the US President, who is due to add to the tree count at the Áras.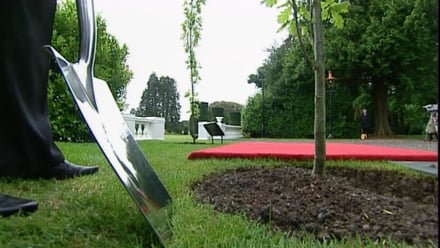 1008 The Obamas have signed the visitor's book and have gone into President McAleese's office for a private meeting.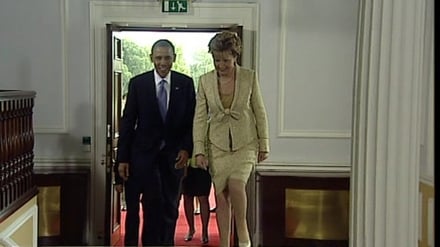 1006 President Mary McAleese and Dr Martin McAleese are welcoming President Obama and Michelle Obama at Áras an Uachtaráin.
Mr Obama said he was 'thrilled to be here' and commented on the sun coming out.
1002 The Presidential motorcade is en route to the Áras.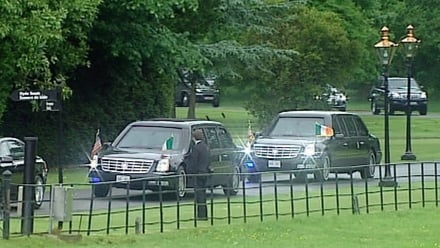 0957 The helicopter carrying the President and Michelle Obama has touched down.
0952 After a short flight from the Airport, Marine Two has landed in the Phoenix Park.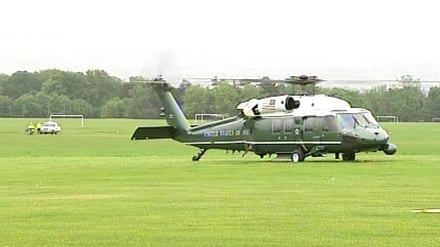 0945 The Marine One helicopter has taken off from Dublin Airport to take President Obama to meet Mary McAleese at Áras an Uachtaráin.
0938 Barack and Michelle Obama are greeted at the steps of their plane by Tánaiste Eamon Gilmore and US Ambassador to Ireland Dan Rooney.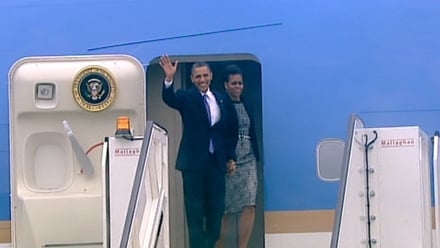 0928 Air Force One has landed at Dublin Airport.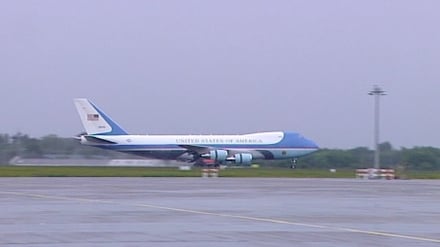 0927 RTÉ's live coverage of President Obama's visit begins.
0901 More than 30 people have already begun queuing for this evening's address by President Barack Obama.
The group are queuing on Lord Edward Street. Entry to the event will open at 2pm.
0900 RTÉ's Ray Kennedy says it is a wet, miserable, grey morning at Dublin Airport but Air Force One is expected to land on time.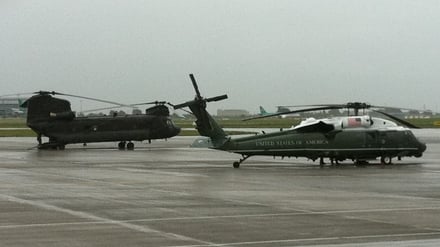 0858 The visit will cause severe traffic disruption, with many roads closed in the capital.
0855 US President Barack Obama will be greeted on arrival at Dublin Airport by Tánaiste Eamon Gilmore.