Security remains very tight across Dublin as Britain's Queen Elizabeth II and the Duke of Edinburgh continue their four-day State visit to Ireland.
Day two of the visit included a trip to Croke Park and a State dinner in honour of the British Queen in Dublin Castle.
British Queen's itinerary
AA Roadwatch travel updates
Garda travel updates
Day One - As It Happened
Gallery: Second day of the Queen's visit
Gallery: First day of the Queen's visit
Gallery: George V's 1911 visit
RTÉ's coverage

Follow us on Twitter: @rtenews
2302 As the Queen opened her speech addressing the President as 'Úachtaráin', Mary McAleese reacted by saying 'wow'.
Mrs McAleese said 'wow' a further two times as the crowd applauded the Queen's opening.
2207 Read the full speech by President Mary McAleese here.
2138 The video of the Queen's speech is available here.
2107 Read the full speech by Queen Elizabeth II here.
2040 Concluding her speech, Queen Elizabeth raised a glass to President Mary McAleese and the Irish people, receiving a standing ovation.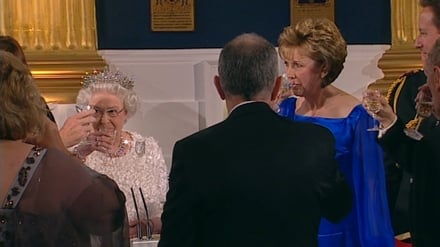 2035 Addressing the State Dinner, she made reference to current economic difficulties.
'The challenges of the past have been replaced by new economic challenges which will demand the same imagination and courage. The lessons from the peace process are clear; whatever life throws at us, our individual responses will be all the stronger for working together and sharing the load,' she said.

2033 'Indeed, so much of this visit reminds us of the complexity of our history, its many layers and traditions, but also the importance of forbearance and conciliation. Of being able to bow to the past, but not be bound by it,' said Queen Elizabeth.
'Of course, the relationship has not always been straightforward; nor has the record over the centuries been entirely benign. It is a sad and regrettable reality that through history our islands have experienced more than their fair share of heartache, turbulence and loss.'
2029 The Queen said the record between the two countries had not been benign.
2028 Queen Elizabeth has opened her speech in Irish, greeting An Uachtaráin agus a chairde.
2026 Concluding the speech, she said: 'Though the seas between us have often been stormy, we have chosen to build a solid and enduring bridge of friendship between us and to cross it to a new, a happier future.
'Your Majesty, your Royal Highness it is in that spirit of mutual respect
and warm friendship, it is in faith in that future, that I offer you the
traditional warm Irish welcome - céad míle fáilte - one hundred thousand welcomes.'
2025 President McAleese paid tribute to the Good Friday Agreement.
'The Good Friday Agreement represented a fresh start and committed us all to partnership, equality and mutual respect as the basis of future relationships.'
2023 'It is only right that on this historic visit we should reflect on the
difficult centuries which have brought us to this point,' President McAleese said.
'Inevitably where there are the colonisers and the colonised, the past is a repository of sources of bitter division.
'The harsh facts cannot be altered nor loss nor grief erased but with time and generosity, interpretations and perspectives can soften and open up space for new accommodations.'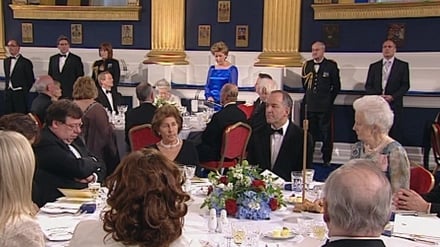 2019 President McAleese has welcomed Queen Elizabeth and guests to the first ever State dinner.
She said it was a culmination of the peace process. While no one could change the past, she said, they can celebrate the future.
She said while the relationship between Britain and Ireland may be a work in progress, it is a work of progress.
2015 There were seven arrests for public order offences at the Éirígí protest at Christchurch.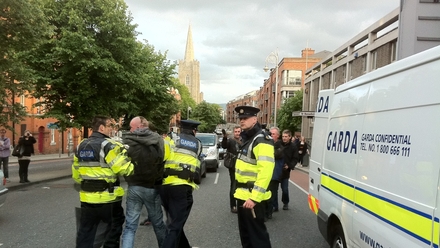 2014 Guests prepared to take their seats at tonight's State Dinner.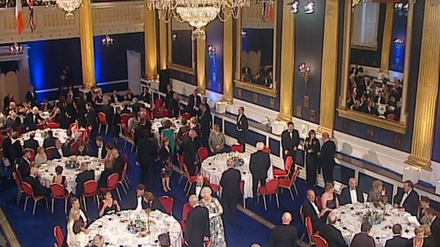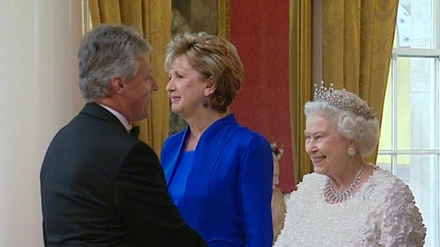 2011 There are bus transfers from Newry to Belfast due to a security alert at Lurgan.
1956 Members of the judiciary, politicians, actors, business people, journalists and several other sectors are represented at the event.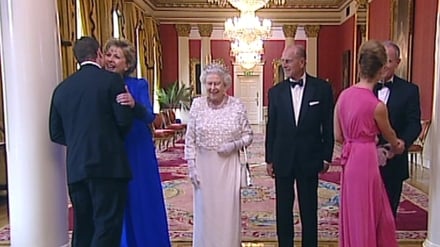 1948 The Queen is expected to make the first and only speech during her state visit at Dublin Castle shortly.
The speech will be made before a State dinner at the Castle, organised in her honour.
President McAleese will make an address and the Queen will respond.
A lot of speculation about the content of this much anticipated speech has focused on the past, perceived wrongs and failings. The speech will not be overtly political, but its understood the Queen will make some reference to the troubled history between Ireland and England.
All the talk in recent days has been about the new relationship between the two countires and the need to move forward. It is likely the Queen's speech will continue that theme.

1946 The Queen and President McAleese are greeting the 172 guests invited to tonight's dinner.
1943 The Queen and the Duke of Edinburgh were greeted by President Mary McAleese and her husband Dr Martin McAleese.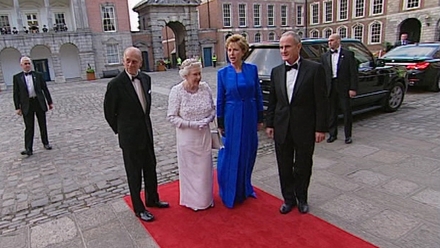 1942 Queen Elizabeth II has arrived at Dublin Castle.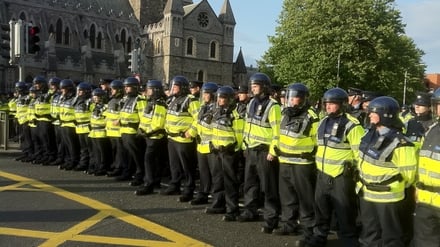 1915 Five people have been arrested after missiles and fireworks were thrown at gardaí at Christchurch this evening.

A protest by the 32 County Sovereignty Committee was prevented from getting to Dublin Castle where a state dinner is being held in honour of Queen Elizabeth this evening.

Demonstrators from the group Éirigi refused to join this protest march because some people had their faces covered.

The disturbances lasted for about 10 minutes. There were no injuries.
1901 Members of the 32 County Sovereignty Committee protesting in Dublin this evening.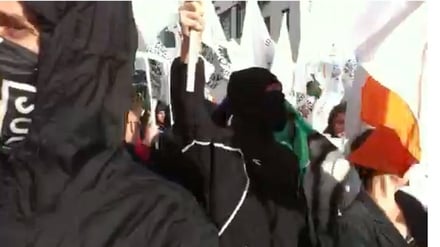 1852 Gardaí say North and South Quays in Dublin are now closed, including cross traffic.
1849 As he sat down to sign the visitors book the British PM remarked 'it's quite a page to fill'.
He signed the right hand side of the book. The left hand side had the signatures 'Elizabeth R' and 'Philip' when the Queen and Prince Philip signed earlier today.
1837 Around 200 supporters of the republican party Éirígí have gathered for a rally before marching on Dublin Castle.
The crowd has gathered outside St Catherine's Church in Thomas Street where speakers have called for a peaceful protest.
1818 People in Britain have been struck by the warm welcome Queen Elizabeth II has received in Ireland, according to Mr Cameron.
Mr Cameron said the engagements which the Queen has carried out have been conducted with enormous sensitivities to the past.
He said the visit would set the seal on a strong relationship between Ireland and Britain, a relationship which could become stronger.
1816 Mr Kenny says he is very grateful to Britain for the bilateral loan. He also says he is delighted that the Olympic Torch may pass through Dublin en route to London next summer.
1816 It is a great honour to have Mr Cameron visit at the same time as the Queen - Enda Kenny.
1815 David Cameron says the relationship between Ireland and Britain is not just about economics and security, but also one of great opportunity for both sides.
1809 British Prime Minister David Cameron has just arrived at Government Buildings.
1712 A security alert at the Clarion Hotel on North Wall Quay has been declared a hoax.
North Wall Quay had been closed for a short period but has now been reopened.
1650 Gardaí have released an updated version of the traffic management plan for Dublin city tomorrow. Read it here.
1623 Dublin Bus says O'Connell Street has now reopened and services are operating through it subject to delays.
Meanwhile, AA Roadwatch says the quays, Gardiner Street, Mountjoy Square, Fitzgibbon Street and North Circular Road have reopened.
1610 Take a look at what is on the menu for this evening's State dinner in Dublin Castle.
1608 Irish Rail says Connolly to Pearse rail line and Drumcondra Station have now reopened.
1558 Prince Philip gets to grips with a hurley, to which GAA President Christy Cooney quipped, 'you can use it in your back garden'.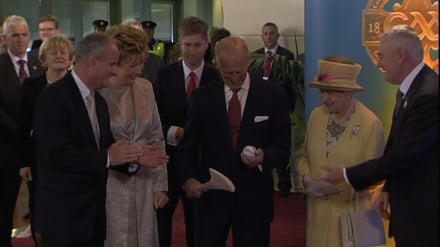 1552 GAA President Christy Cooney has told the Queen of England her visit to Croke Park has honoured the association.
Mr Cooney said the GAA has consistently supported and helped advance the peace process in Northern Ireland, adding that support was offered whilst acknowledging the significance of the past.
He referred to those who have lost their lives, including 'those that died in this place'.
The President of the GAA said that the royal visit would underpin and advance the process.

1549 Queen Elizabeth inspecting the Sam Maguire and Liam McCarthy.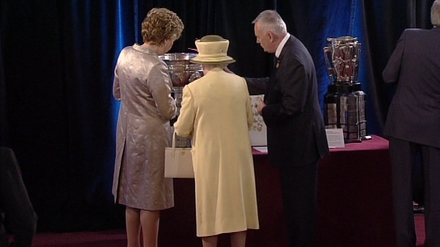 1535 The Queen was treating to a performance of Irish traditional dancing, to which she gave a warm round of applause.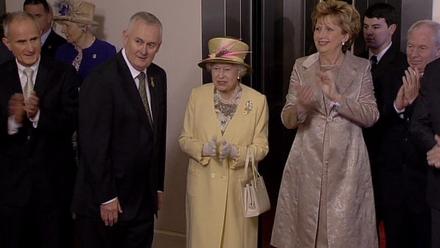 1517 Queen Elizabeth, President McAleese and GAA President Christy Cooney walk onto the field at Croke Park.
Dressed in a primrose yellow coat the Queen also met several GAA players.
She is presently being shown a video on the games of the GAA.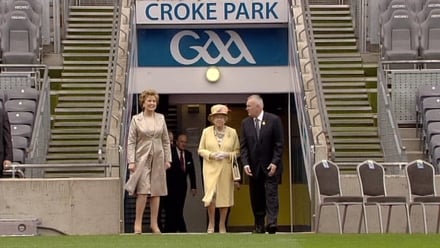 The Queen inspected a hurley while meeting the GAA players.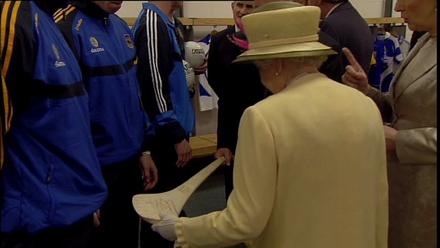 1508 Queen Elizabeth and President McAleese entering Croke Park.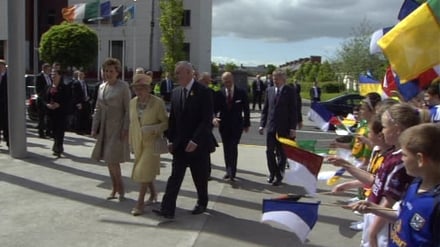 1502 Children await the arrival of Queen Elizabeth II to Croke Park.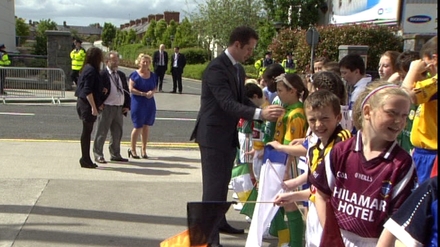 1451 A small protest is taking place in Dublin this afternoon near Croke Park in advance of the Queen's visit.
Around 30 members of Republican Sinn Féin are standing at the junction of Dorset Street and the North Circular Road.
1422 UDA Jackie McDonald was among those who attended the Islandbridge ceremonies.
Afterwards he told reporters the fact that the Queen had been accepted by so many people on her visit here represented what he called a keystone of the peace process.
It showed the two countries could have a shared future, he said.
Asked about criticism of the inclusion of the UDA on the guest list, First Minister Peter Robinson said that people had been prepared to stretch themselves when Republicans had needed to be brought in from the cold and it was equally important that groups like the UDA be encouraged to share a peaceful future.
It is understood that Iris Robinson will be attending tonight's dinner in Dublin Castle, her first public appearance since her withdrawal from public life after controversies over her private life.
1418 Phoenix Park, Parkgate St, north and south quays, Beresford Place, Gardiner St, Mountjoy Sq and Fitzgibbon St are now closed to traffic, according to Garda Traffic on Twitter.
1313 Luas Red Line services have been restored. Green Line services are also operating.
1303 Watch video clips of the Queen's visit from earlier today. Master Brewer at Guinness explains what makes the perfect pint. Later, at a ceremony at the War Memorial in Islandbridge, the Queen laid a wreath.
1252 Around 30 supporters of the Republican party Éirígí protested over the presence of UDA members at today's wreath laying ceremony in Islandbridge.
The group who gathered at Kilmainham Gaol were prevented by gardaí from getting close to the memorial garden.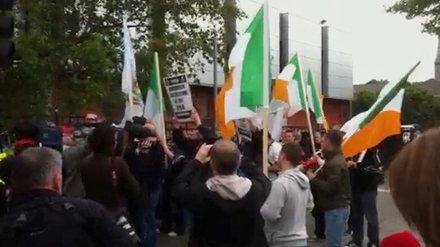 1235 Northern Ireland First Minister Peter Robinson has told RTÉ's Northern Editor Tommie Gorman that the Queen's visit to Islandbridge is a 'very significant moment in Irish history'.
We should all 'remember past and look towards the future,' Mr Robinson said.
Northern Ireland Deputy First Minister Martin McGuinness declined an invitation to attend the memorial service.
1215 Gardaí say Merrion Street Upper and Merrion Square West have now reopened to traffic.
1209 The Queen has laid a wreath at the Irish War Memorial in Islandbridge.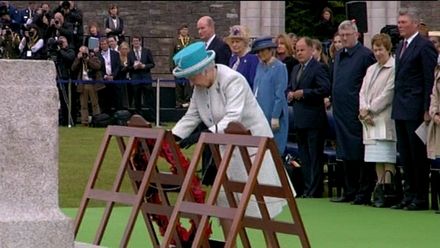 1203 The Queen has arrived at the Irish War Memorial at Islandbridge
1147 Queen Elizabeth II has left Government Buildings on her way to the Irish War Memorial at Islandbridge.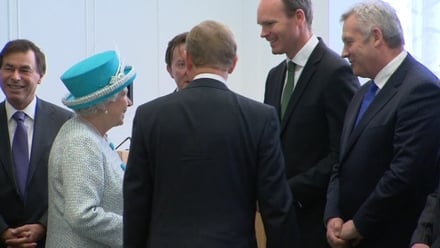 1138 Dublin Bus has warned that there are severe delays on all services due to a build up of traffic.
1127 Irish Rail says Connolly to Pearse is back open. The next interruption is between 1430-1500.
1115 The Queen and Prince Phillip have left the Guinness Storehouse and have now arrived at Government Buildings. They were met by Taoiseach Enda Kenny and his wife Fionnuala.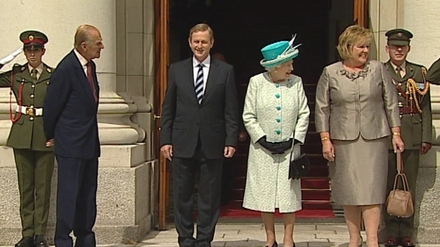 1114 Michael Collins looks down on the royal couple in the Taoiseach's office.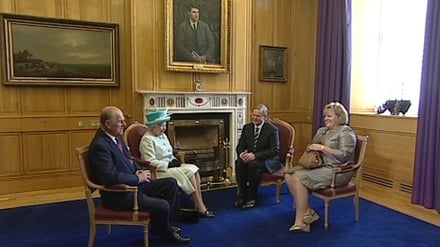 1110 The Queen and Duke of Edinburgh stop for a quick pint at the Guinness Storehouse.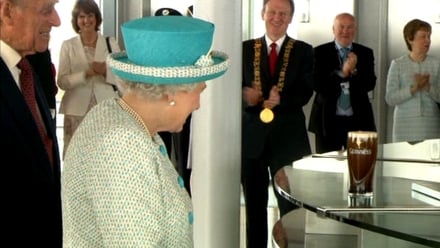 1102 Gardaí say Dublin's north and south quays are currently closed to all traffic.
1054 One of the top stallions at the National Stud in Kildare was killed in an accident yesterday, just two days before the visit there by Queen Elizabeth.
17-year-old Verglas, who was with the stud since 2005, was one of the top ten Irish-based sires of 2010.
The Chief Executive of the National Stud, John Osborne said the horse died following a tragic accident during the normal course of business yesterday afternoon.
1050 Eamon Gilmore said the visit by Queen Elizabeth II to Croke Park this afternoon was important because it would 'lay to rest' a chapter in Ireland's history, but also that it was about recognising the GAA and the work it does in this country.
He said that as Queen Elizabeth has an interest in sport she would enjoy learning about our national games.
1047 Tanaiste and Minister for Foreign Affairs and Trade Eamon Gilmore said the visit of Queen Elizabeth II to Ireland was a great success so far.
The Tánaiste said the security arrangements that were in place were necessary, but that it was regrettable that they were causing inconveniences to the general public.
He said the visit would be a huge benefit to the people of Ireland and also to the people of Britain.
1041 Irish Rail says Drumcondra Station now closed until 1600 today. Maynooth trains will operate but will not serve Drumcondra
Dublin Bus says O'Connell Bridge is closed. Southbound buses diverted via Gardiner Street, George's Quay, Burgh Quay, D'Olier Street and back onto normal route.
1033 The Union Flag is flying at Government Buildings beside the tricolour as the Taoiseach awaits the arrival of Queen Elizabeth II.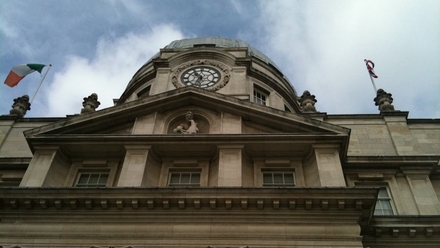 1030 Queen Elizabeth II has arrived for a tour of the Guinness Storehouse. A small crowd gathered on Thomas Street to see her. She was greeted with cheers as she waved at the crowd.
1025 Government Buildings was previously the Royal College of Science, which was opened by the Queen's grandfather George V in 1911. His father Edward VII had laid the foundation stone.
1017 Queen Elizabeth II is to see the earliest known contemporary portraits of a medieval King of England during her courtesy call to the Taoiseach in Government Buildings this morning.
The portraits of King Edward III are contained in the Great Charter Roll of the City of Waterford, which dates from 1372.
Among the portraits on the roll are two of the then British monarch, as well as four of his predecessors.
1015 The red carpet has been laid out at the Guinness Storehouse with the Queen due to arrive there soon.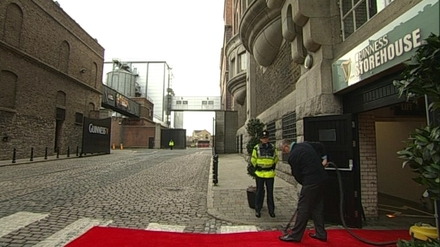 1010 Tánaiste Eamon Gilmore told a business breakfast in honour of British Foreign Secretary William Hague that trade between the UK and Ireland is worth €1bn a week.
Mr Gilmore also stressed that commerce between both countries is thriving.
Mr Hague, who is accompanying the Queen on her first visit to Ireland, also addressed representatives at University College Dublin.
1000 Listen back to today's Morning Ireland, which includes an interview with British Foreign Secretary William Hague.