Updates: (0700 - 1900)
1847 Higgins predicted the United Left Alliance would have six TDs in the next Dáil.
1846 'The budget deficit exists because economic activity has collapsed - cuts will worsen that crisis'
1844 'We will not into govt with any party that would savage the rights of working people' - Joe Higgins.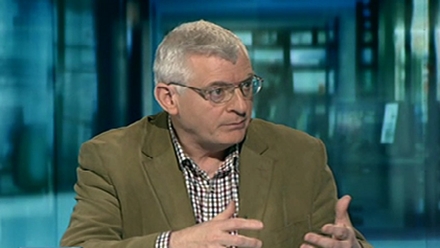 1842 'That's rubbish' says Joe Higgins when asked about Eamon Gilmore's claim that a vote for a smaller party is a vote for single party Fine Gael government.
1831 Gerry Adams says some parties are using scare tactics over the repayment of Ireland's debt.
Adams says the same tactics were used during the Lisbon Treaty campaign.
1829 'There is money in the national pension reserve fund to run the country while bank & state debt is separated,' says Adams.
He says there is €100bn of European money in Irish banks and insists money will not run out under Sinn Féin's plan.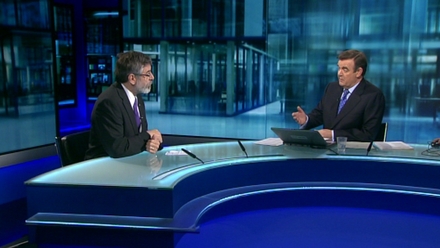 1827 'RTÉ are public service and it is not fair on citizens out there that Sinn Féin are excluded' - Gerry Adams comments on the fact that Sinn Féin will not be part of tonight's debate.

1817 David McCullagh: I expect Enda Kenny to play a defensive game tonight to ensure things remain on course for him and his party. Tonight's debate is 'do or die' for Eamon Gilmore.
1707 Sinn Féin President Gerry Adams has said that all TV election debates should be fully inclusive of all political parties represented in the Dáil.

'The three parties represented in tonight's RTÉ leaders debate are united in their broad approach to the IMF/EU bailout for banks and on the agenda for cuts that will hurt ordinary working families and damage society.

'RTÉ, a publicly-funded broadcaster has a duty ensure that all election debates are open and inclusive.

'The exclusion of Sinn Féin from tonight's debate is wrong.'
1654 The Restaurants Association of Ireland has launched an election manifesto which calls for urgent measures from a new Government about tackling difficulties in their business.

The association has demanded action in five areas. They want a restoration of competiveness, more promotion of tourism especially food tourism, more credit availability for restaurants, job creation, and reform of local authority rates.

Restaurants Association Chief Executive Adrian Cummins said if the restaurant sector is to survive a series of urgent actions is needed immediately.
He said one restaurant per day is closing down and it is thought that around 80% of restaurants were running at a loss.
1650 Tánaiste Mary Coughlan, Brian Ó Domhnaill (FF), Pearse Doherty (SF) and Dinny McGinley (FG), as well as representatives for Frank McBrearty (Lab) and John Duffy (Green), have said there was a serious need for changes to the Common Fisheries Policy.
The Donegal election candidates were speaking during an election debate on Raidió na Gaeltachta this morning.
They agreed that the current policy had done damage to small scale fishermen, and island communities in particular.
1635 The daughter of Jean McConville, who was murdered and buried in Co Louth by the IRA, has asked the voters of Louth to pose questions to canvassers acting on behalf of Sinn Féin candidate Gerry Adams.
Helen McKendry has urged voters to ask whether Mr Adams was involved in the murder and disappearance of Mrs McConville and whether Mr Adams was ever a member of the IRA.
In a statement issued this afternoon, Ms McKendry also asked whether Sinn Féin as an organisation 'should be used to protect those responsible for many murders'.


1552 Bryan Dobson: On Six One News this evening - Latest leaders' interviews: Gerry Adams of Sinn Féin & Joe Higgins of United Left Alliance/Socialist Party
1438 Green party leader John Gormley has acknowledged that his party is facing a difficult fight in Friday's election.
After spending an hour online answering voters questions, Gormley said the Green Party would be battling for the last seat in some constituencies, often against Fianna Fáil candidates.
Green Party activists monitoring the online question session said the most popular topic among questioners was the party's record in Government.

1341 Several candidates from the United Left Alliance staged a protest outside the offices of Anglo Irish Bank this morning. They staged a 'tug of war' with caricatures of Enda Kenny, Micheal Martin and Eamon Gilmore.
Speaking afterwards, Richard Boyd Barrett said the ULA candidates were offering an alternative to the cuts that would be imposed by all the main parties.
He insisted that if elected they could do more than just shout from the backbenches. Boyd Barrett said it would be about championing the rights of workers and people power.
1301 News At One - Studio Webcam live now
1259 Micheál Martin has rejected claims that he has not campaigned extensively in Dublin for the election.
1252 Eamon Gilmore urged people to vote for his party if they wanted a balanced government.
He warned that supporting Sinn Féin or Independents on Friday would increase the chances of a single-party administration.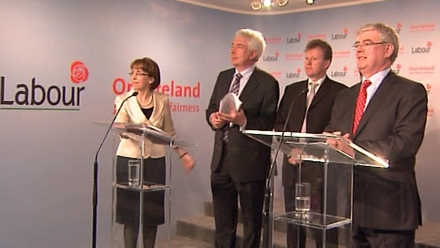 1243 In Sligo-North Leitrim, the prediction is that Fianna Fáil will win one seat at best, Fine Gael will perform well, but Labour will have difficulty because of a divided vote with Independents.
1242 Luke 'Ming' Flanagan is performing very strongly in the Roscommon-South Leitrim constituency, alongside the two FG candidates who are expected to retain their seats.
1241 All three Campaign Daily panelists (Buttimer, Nash and Ó Fearghail) encourage young voters to get out and cast their ballot.
1240 There is a mix of first-time voters in UCD. Some are keen voters, some are disinterested, and some are concerned about job prospects.
1236 Jerry Buttimer says he thinks Fine Gael has enough support in Cork South Central to win three seats, which they 'need for a FG government.' He says FG candidates are focusing on their home areas, and are not overlapping areas at the same time as strategy.
Mr Buttimer is asked if other FG candidates need to share votes to have him elected. He replies that to some extent it is about the team.

1232 Seán Ó Fearghail says both Fianna Fáil candidates in Kildare South were keen to run, and the issue of one stepping down to aid the other never arose.
1228 Candidate Gerald Nash is asked why Labour is running two candidates in Louth. He says it has support and he is confident the party can get a good result.
1225 Harry McGee says he expects tonight's debate to confirm people's expectations. Kenny will be safe unless he makes a major blunder. He also says Eamon Gilmore needs to strike the same confident tone in tonight's debate as he did in the one in Irish on TG4 last Wednesday.
1220 Eamon Gilmore said the focus for his party was maximising the number of first preferences for his candidates.
He said their focus would be on shifting the vote to Labour to ensure that there would be a balanced government.
Mr Gilmore said every candidate was fighting to win a seat and he said 'we don't give up'.
1220 United Left Alliance outside Anglo headquarters this morning...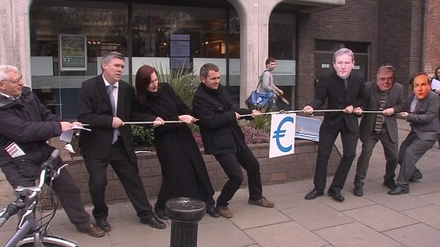 1219 'Creating jobs costs money; and where to get that money creates tough choices' - Kenny.
1217 This has been a party policy election rather than a leader's personality election, which is different than past campaigns, says Harry McGee. Brian Dowling says the public, according to the polls, have already accepted Enda Kenny as Taoiseach.
1216 Harry McGee says Labour should have targeted FG votes earlier in the campaign (rather than Sinn Féin and United Left Alliance).
1213 Should FF average 20% outside of Dublin, it gives them a chance of a critical mass of TDs and being a credible political force – Brian Dowling.
1212 Micheál Martin was this morning focusing on the 'credibility' and detail of his party's plans, says Brian Dowling. Harry McGee, Political Correspondent with the Irish Times, say Martin's key task for the remainder of the week is to mobilise Fianna Fáil's core vote.
1210 Brian Dowling points out that despite public perception, there is still a large amount of policy agreement between Fine Gael & Labour.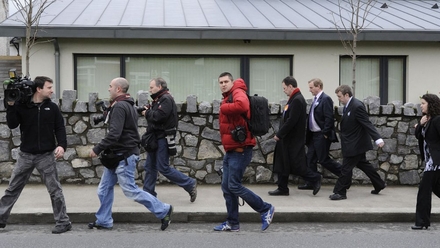 1207 Enda Kenny will be looking to 'keep it steady' tonight and consolidate the FG vote, Brian Dowling tells RTÉ's Campaign Daily.
Eamon Gilmore will be looking to pull votes and convince people of the value of a FG/Labour coalition, while Micheál Martin will be trying for a final push to get FF over 20% of the vote, which is a big ask, Brian Dowling adds.
1205 The Labour press conference has finished.
1204 Eamon Gilmore said his party had been 'direct and straight' about what it differed on policy with Fine Gael.
He said there were many areas were the parties shared 'common ground', but added there were aspects of budgetary policy where they differed.

1201 Asked if he had any nerves ahead of tonight's three-way Leaders' Debate - and what his strategy would be - Enda Kenny said Muhammad Ali used to name the round but in his case he said he was not nervous about this and Fine Gael have a very good story to tell here.
He said that insofar as getting involved with rows with people he is not interested in that
But he said that he is interested in continuing his conversation with the people.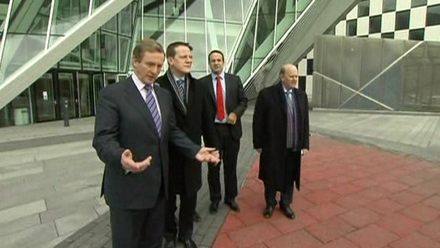 He said that he would say that significant numbers of voters had made up their minds but he said that election debates between the leaders are important but they are not the single issue he said face to face contact with people at thousands of doors was important.

1200 On the EU-IMF deal, Mr Gilmore said Labour has been consistent in calling for the renegotiation of the deal.
He said the banks had to be recapitalised and restructured and, he added, the extent to which they would have to be recapitalised would depend on the stress tests that will be carried out on them.
The Labour leader said he welcomed the decision by Finance Minister Brian Lenihan to defer putting a further €10bn into the banks until after the election.
He also reiterated that shareholders would have to share some of the burden.

1158 On early school education, Labour's Alex White said it needed to be built on and expanded. He said he wanted to bring childcare to the highest possible standard.
Mr White said Labour's manifesto dealt with literacy in the schools. He said the Labour would seek to that no family would have to pay GP fees.

1155 Labour would like to see flexibility in maternity/child leave to allow fathers take some of that time; may suit better in some cases.
Universal childcare needs to be built on and expanded, and Labour would look at that 'down the road,' when resources are available. Asked if children's rights referendum could be done on the day of presidential elections, Labour's Alex White says certainly within a year.
Asked if a children's rights referendum could be done on the day of the presidential election, Labour's Alex White the referendum could certainly be held within a year.

1153 Eamon Gilmore has said the 'home economics' was what really matters in the election and whether the next government would do the right thing for the family.
He said families who had already suffered a cut should not have to suffer again.
He said he has met so many people in the campaign who were worried that their child may have to emmigrate.
That is why, he said, the Labour Party was publishing a manifesto today dedicated to children which dealt with rights of the child.
He said it was the family budget and the needs of children that matters and that Labour would look out for the needs of the family.

1143 Labour would protect the rights of children as citizens and put it in the Constitution, which was not finished in lifetime of the last Government. The Ryan Report recommendations need to be implemented faster; this would be a policy of Labour in government.
1139 'We only hear the issues of children being discussed in public discourse when there's a crisis,' Mr Gilmore says in opening remarks.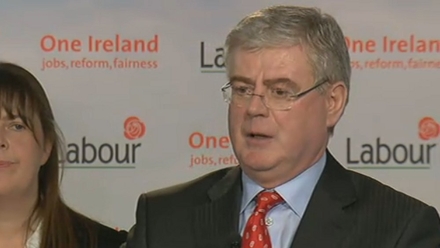 1137 Labour leader Eamon Gilmore says his 'abiding memory' of this campaign is that people want to vote in the way that is best for their children.
1133 Enda Kenny said that the young generation is taking national punishment. He said that the jobs crisis in Ireland isn't just a national headline, it is a national heartbreak. Mr Kenny said, if in Government, Fine Gael intends to create 20,000 jobs every year for the next five years.

1132 The Labour Press Conference is starting now.
1122 Fine Gael estimates that the initial cost of its 'Job Creation Bill' will be €338m in 2011. The €338m cost will be funded, FG says, by a 0.5% levy on pensions funds, which has been agreed with pensions industry.
1121 The proposed FG bill would also abolish travel tax, 'reallocate' the National Pension Reserve Fund, and create 5,000 'national graduate internship places.'
1120 Also in FG bill: 'exempting from VAT service companies that export 90%+ of output ... at present just applies to manufacturing.'
1115 Fine Gael says it wants to pass its proposed 'Jobs Creation Bill' by 1 July, if in government. Main elements of the bill include lowering the 13.5% VAT rate to 12% and cutting the 8.5% rate of PRSI in half.
1111 Keep it here as we'll be offering a live stream of Labour's press conference from Labour HQ live at 11.30am. The party will be discussing its children's manifesto.
1109 Fine Gael's press conference on their proposals for a first 100 days in government is beginning.
1107 The Green Party is today hosting an online Questions & Answers session.
The party says its 15 election candidates - as well as a team of volunteers - will provide direct answers to people's questions submitted online.
The event will run until 8pm. Questions can be submitted by logging on here.
1056 Mr Martin's Q&A on Today with Pat Kenny has finished.
1055 Questioned on energy, Martin says nuclear power in Ireland is 'neither feasible nor desirable,' and wind energy is a better option.
1053 On Freedom of Information requests, a caller says the Government should not be allowed to hide information, and claims Fianna Fáil has restricted flow of information. The caller says the Government introduced prohibitive prices to save money for departments. Martin denies the pricing is excessive and that there is a big flow of information. The FF leader claims that investigative reports in newspapers proves that the FoI system is being used effectively.
1051 Sinn Féin has launched its billboard campaign on the 'consensus for cuts,' saying 'Fianna Fáil, Fine Gael & Labour are one and the same.'
1050 Asked about poor mental health services for the young population, Martin insists that Fianna Fáil is committed to the issue.
1040 On whether public service pensions will be frozen or restored, Martin says reversing cuts will only be possible if economy recovers.
1038 The same caller asks about ministers' pensions compared to the public; Martin says it's excessive and he thinks it will change.

1036 John, from Mr Martin's Cork South Central constituency, queries Willie O'Dea's return to the Fianna Fáil frontbench. Martin says O'Dea 'paid the price' for his decisions, and he still has a contribution to make.
1034 A middle-aged qualified accountant who is emigrating to Edinburgh on Tuesday, leaving his wife and younger child behind, asks Mr Martin why he and people like him are paying for the Government's mistakes. 'There's nothing I can say that will satisfy Eoin (the caller),' says Martin, but we have to create jobs so he can return.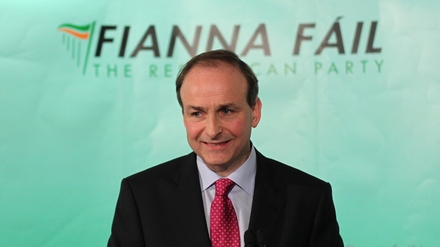 1026 During the good years, local authorities increased in size and capacity, and they 'took their eye off the ball' - Martin.
1025 An engineer calls in to say high taxes are pushing business to the 'black market' economy for services. Mr Martin admits that the black economy costs the State as well as legitimate business, and more needs to be done.
1020 Martin says Fianna Fáil won't win any votes out of the taxi issue. He claims they changed the rule because industry needs assistance.
1017 The National Transport Authority decided yesterday to revoke the 'nine-year rule' for taxi drivers renewing their vehicle licence in 2011 who applied for their first vehicle licence prior to 1 January 2009. A taxi driver says it 'smacks of vote grabbing' to change the rule so late, after Fianna Fáil ignored the issue beforehand.
1014 A listener asks Mr Martin about his teacher's pension, and he repeats earlier assertions that he has forfeited all his pensions as a teacher.
1011 Asked about goods being reclaimed by banks, Martin says there is an investigation in place, but it is for the courts, and not politicians, to prosecute.
1009 Mr Martin says securing the banking system protected the self-employed, as its collapse would have been worse than the recession itself.
1008 Fianna Fáil leader Micheál Martin, speaking on Today with Pat Kenny, says he would be willing to review the means-testing of the self-employed in relation to social welfare.
0953 Watch Labour launch its Manifesto for Children, live at approximately 11.30am
0855 Coveney says Fine Gael would spend €10-€20m fixing damage to the roads done over the harsh winter. Kelleher says road repairs would work in the normal manner, with local authorities applying to the Department of Transport for funds.
0854 Non-profitable bus routes would continue to be subsidised by the state to keep them running, stresses Mr Coveney.
0850 Non-profitable bus routes would continue to be subsidised by the State to keep them running, stresses Mr Coveney.
0847 Asked if Fine Gael's policy would lead to unemployment among bus drivers, Mr Coveney says public operators have to be competitive and offer value.
0846 Fine Gael's Transport Spokesman Simon Coveney says his party would open all bus routes to tender from private companies.
0844 Fianna Fáil's Transport Spokesman Billy Kelleher says there have been vast improvements in the roads infrastructure over the last number of years.
0826 Mr Adams also said that his past has not been an issue for the vast majority of people he has met on the campaign trail.
0825 Asked about Jean McConville's murder which 'dogs' him in this campaign, Mr Adams says he respects the McConville family, but his answer the same - he was not involved with her abduction and subsequent killing.
0823 Sinn Féin is placing a strong emphasis on getting people back to work, Mr Adams says. Politicians are 'debating between themselves about their fat pensions,' he adds.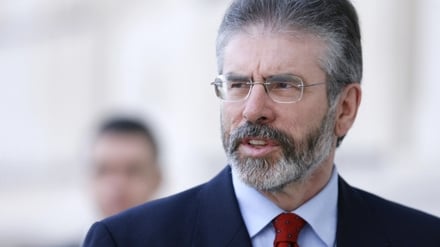 0821 Amalgamating Bank of Ireland and AIB would require €10bn in capital on Sinn Féin's estimates. Adams says €30bn in capital would come from the Exchequer and the NPRF.
0820 Adams says there is €15bn left in the National Pension Reform Fund, as some funds have been promised but not yet paid.
0817 On Micheál Martin's charge that Mr Adams is 'bluffing' the election, the Sinn Féin leader says for Mr Martin to accuse anyone else of lunacy defies analysis.
0815 Sinn Féin President Gerry Adams tells Morning Ireland his party just does not set out its policies on ideological grounds, it just makes good economics. We can't afford this new (EU-IMF) debt, he says.