Fianna Fáil and Fine Gael have clashed over the economy with a week to go to the election, while Labour has claimed the prospect of a one-party government 'worries' people.
At the Fianna Fáil news conference this morning Minister for Finance Brian Lenihan insisted that that Fianna Fáil's national recovery plan was the key to economic growth.
'The party's policy in relation to the economy is the correct and honest plan.'
With Fianna Fáil leader Michéal Martin campaigning in Wexford and Waterford, Mr Lenihan claimed Fine Gael's plans on the economy were dishonest and 'cooked up on the basis of focus group analysis.'
Enda Kenny was in Cork where he said Fine Gael's new ERA stimulus plan, along with their other initiatives, would create 100,000 new jobs over the next five years.
This morning, Mr Kenny refused to say whether the recent spat with the Labour Party would make it more difficult to form a Coalition Government after the General Election.
Speaking on RTÉ's Morning Ireland, Mr Kenny said he was not going to answer a hypothetical question and was not interested in 'spats and point-scoring'.
Labour said yesterday that Fine Gael would 'screw' the country with austerity measures.
The Fine Gael leader said he would wait until 10pm on 25 February when the people had made their choice.
Constitutional plans
Labour was outlining its plans for a new Constitution at its morning news conference in Dublin.
The new Constitution would be drawn up by a 90-member Constitutional Convention, one third representing the Oireachtas and one third from representative associations, community bodies and experts.
Another third of members would be from the public, chosen at random from the electoral register in the same way as juries. The constitution would be in place by 2016.
Labour spokesperson on Constitutional Reform Brendan Howlin said the Convention would present a set of proposals to the Oireachtas within 12 months.

His leader, Eamon Gilmore, is canvassing in the Louth constituency today.
The Green Party has called on people not to vote for Independents in the General Election - but to use their vote to elect a stable Government.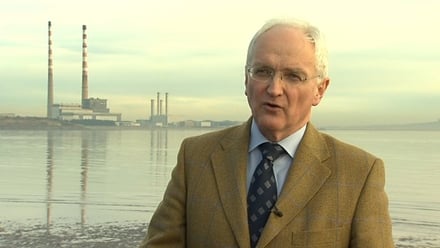 Party leader John Gormley said the polls were suggesting that Fine Gael could be in the territory of forming a Government by depending on a few Independents.
The party was launching its party political broadcast this morning.

Sinn Féin's Aengus Ó Snodaigh has launched his party's proposals for the development of the community and voluntary sector this afternoon.
He said his party would fight against further cuts to community and volunteer groups. Community groups provide vital services and are crucial in harnessing good will in the community, he said.
Meanwhile, ICTU General Secretary David Begg has called on Fine Gael to explain references in its election literature to taking on vested interests who contributed to the economic crisis, 'including the unions'.
Speaking on RTÉ's Morning Ireland, Mr Begg said he believed that ICTU had a good working relationship with the party and he could not understand the reference.
Mr Kenny said later that he was sorry if Mr Begg was offended by the election literature.
'Trade Unions have a job to do and David Begg represents his members. In that respect they are a vested interest. I have a good working relationship with David Begg.
'These comments are not contained in our manifesto.'